Hello everyone , I am Back . Did anyone missed me ?? Tell me pls .
Today's Episode starts…
After 5 years .
Kabir – aree , just make everything perfect after all she is coming  after 5 years .
Servant – yes sir
Kabir  – I can't wait when will you come ?? Pls don't test my patience .
After 1 hour
In the entrance of KR mansion
A car came and stopped in front of KR mansion . A girl and a boy came out of the car .
Kabir – finally , you came , I missed you .
Girl – but I missed very much .
They share a hug .
Boy – ok ok , I am also there . (Innocence) you are behaving like I don't exist for you all .
Girl and kabir – aww…my cute brother
Boy – I am not cute , I am hot
Girl – oh
They all laugh .
Kabir – ridhima , I missed you so much .
Yes , yes is ridhima .
Ridhima – bhai , I missed you too
Boy – and I was missing this house .
Ridhima – Laksh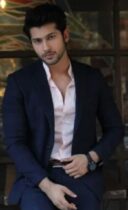 Laksh – ok let's enter inside.
Then they enter inside . After a while Ridhaksh (Ridhima and Laksh ) changed or get fresh and came to kabir .
Kabir – so , finally you managed to agree your seniors to transfer you to Mumbai .
Ridhima – yaa bhai . After a lot of hardwork .
Kabir – ridhu , I am so happy that you became a gynaecologist and  ( I want to be a gynaecologist , it's my dream )
Laksh – me too
Ridhima – bhai , you know , when I did my first delivery . I was so happy . I was holding the small and cute baby in my hand . She was so cute .
Kabir – hmm .
Ridhima – bhai , I can't express that how much happy I am by achieving my dreams .
Kabir – I can understand .
Ridhima – I am back to home town , I missed Mumbai so much . Bhai , I want to go to very shop again and reminisce my memories .
Kabir – yaa
Ridhima – laksh get ready , we will go in evening .
Laksh – why me ?
Ridhima – lakshh
Laksh – uhhh..ohk
Ridhima – that's like my laksh .
Laksh – I am your brother ridhu , you should not black mail me .
Ridhima – I am not blackmailing you . Ok
Evening
Ridhaksh get ready and go to shops .
Ridhima – so , first will go to a cafe .
Laksh – cafe ..ohk
They go to a cafe . Ridhima and Laksh ordered KitKat shakes and pasteries .
They are and left for the juhu beach .
At beach
Ridhaksh sits on the chairs .
Ridhima  – ahh.. finally feeling the cool air of juhu beach .
Laksh – me too
Then suddenly ridhima notices a couple siting . She reminisces her past . She closes her eyes and a year slipped from her eye . Laksh noticed this and thought that she is remembering her past with vansh .
Laksh kept his  hand on her shoulder .
Laksh – ridhu
She opens her eyes .
Ridhima- yaa
Laksh – why are you remembering him ? Why ?
Ridhima – no laksh .
Laksh – what no haan ? Kabir bhai sent you to London for this reason haan…to remember him again . Forget him
She starts crying .
Laksh – calm down and let's go home
They both go from there .
KR mansion
Ridhima 's room
Ridhima took out a photo from almirah and hugged it .
Ridhima – 5 years vansh .  5 years I stayed away from you . You know your ridhima has become a gynaecologist and physiotherapist too .(yes) your ridhima has achieved her dream . Vansh I am missing you . Why didn't you trust me that day ? Why ? I love you vansh . I love you so much.
She slept hugging the photo .
To be continued…
Guys there is a challenge . As I am odia I have few lines to say , you have to tell that what does it mean.
" Apana mane mora ff padhile sethipain Dhanyabaad"
Tell me what does it mean ? And anyone missed me ? I want the two answers
Thank you
Regards
"Kriti"


The post You are my love (Riansh) part 55 by Real@kriti appeared first on Telly Updates.