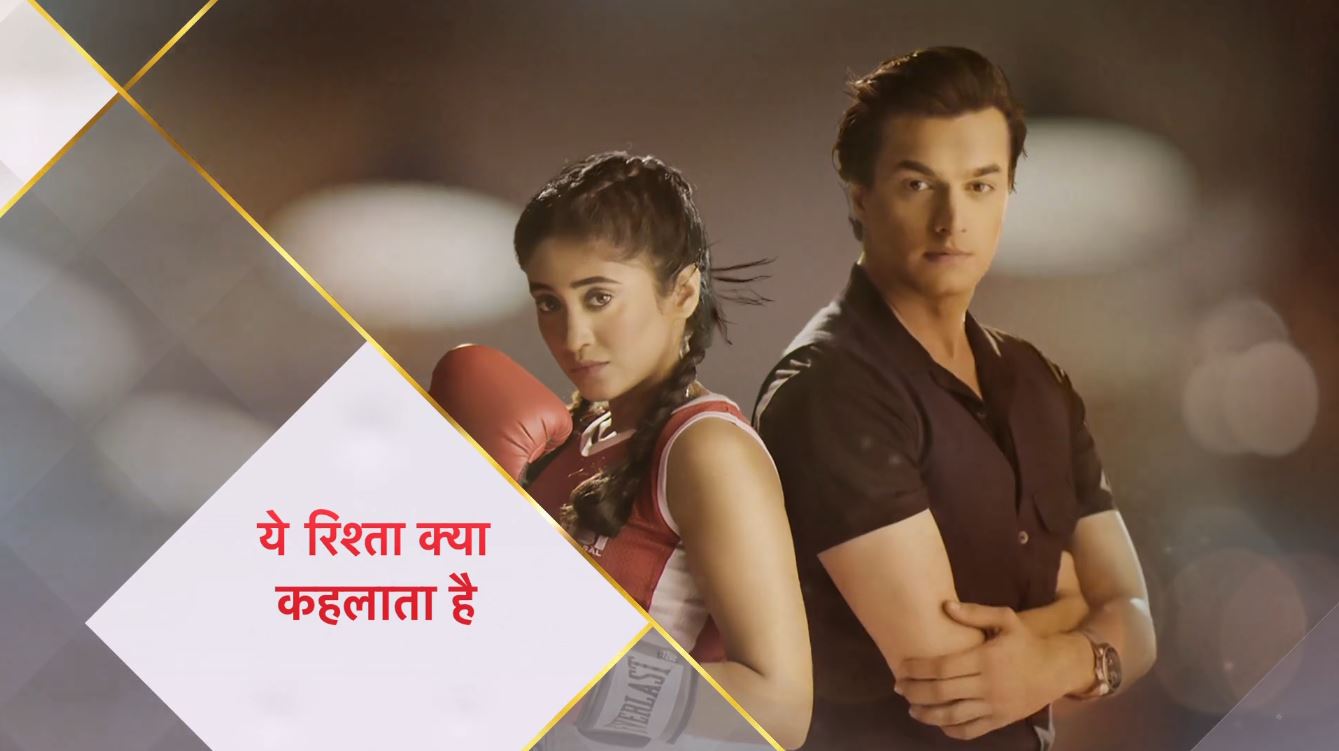 Yeh Rishta Kya Kehlata Hai 12th July 2021 Written Episode, Written Update on TellyUpdates.com
The Episode starts with Ranvir saying I felt this remarriage is strange, but seeing all the rasams, I like it, I felt like marrying you again and taking vows again. Sirat says I also felt the same. He sees the blood on the kerchief. She asks what happened. He says if I m not there, like uncle and aunty got remarried, will you also do. She scolds him. She says how did you think this, doctor said you are fine, why do you say like this. He says I was joking. He hugs her. He says sorry, I will click your pic, you look lovely, storage is full, I will delete something. He gets a big audio file and thinks what's that. Photographer comes to click their pic. Ranvir says what a timing, did Lord send you. He gets their pics clicked. He says I was joking, don't worry, I won't let you go with anyone else until I m alive.
Kartik asks why are you going early morning, you didn't have breakfast. Sirat says we will go home and have breakfast, don't wake up anyone. Kartik says I have to make a video call to Raj, you can go. Sirat says its fine, we will do it. Kartik calls Raj. Raj says my day will go good now, seeing Sirat, I won't be there in the evening, you all handle. Kartik says I will go, Ranvir isn't fine, Sirat will take care of him. Raj says Sirat has to go there, girls will be inspired by her, I have to go to Delhi to see my friend, I make relations, not money. Sirat says I will cancel my appointment and come here. Kartik asks are you sure. Sirat thinks I know your and your family respect are related with this. Raj says thanks, we will talk tomorrow. Sirat says sorry, you were trying to help me, I didn't come even last time. Kartik says forget it. Ranvir says sorry, I promise she won't meet any event. Kartik says she will get inspiration from Sirat. Ranvir says Sirat's personality is such. They hold hands. Sirat says I will meet Kairav and come. She goes.
Kartik asks will Sirat have a problem with this. Ranvir says no, she understood that she is the face of the team, she has to be there, forget whatever happened, she is just taking care of me, I feel guilty. Kartik says you will make her dream true. Ranvir says she would do nursing course for me if she could. Kartik says you are lucky. Ranvir says I don't want to be selfish, Sirat changed after marriage. Kartik says things affect girls more than boys, girls are sensitive, I learnt a lot when Naira was there, after she left also, I m trying to become mum and dad for my kids, we decide by mind, girls decide by heart, they decide by thinking of everyone's happiness. Ranvir says I didn't think of this way.
Kairav says mumma…. and gets disturbed in sleep. Sirat comes and wakes him. She hugs him. She says don't get scared of any dream, I m with you. Kartik comes and says Ranvir is waiting for you. Kairav holds her hand. Ranvir says I will go and see Sirat. He feels uneasy. He calls the doctor. Doctor doesn't answer. Ranvir says I will leave the audio recording. He coughs. His phone falls. Sirat's audio recording plays. He gets shocked. He cries. Kartik gets Sirat. Ranvir leaves from there.
Sirat says where did he go. Kartik says don't worry. She says he isn't fine, I get worried. Ranvir looks at them from far. Kartik jokes. Kairav says even dad doesn't follow me so much. Sirat smiles. She calls Ranvir. Ranvir asks driver to leave. He drives the car and leaves. Kairav and Vansh say Ranvir isn't here. Sirat says he isn't answering my call. Kartik says maybe he was in a hurry, call him again. Jaane tu mera kya hai…plays….
Ranvir cries and thinks of Sirat's words. Sirat says I feel like something is going to happen. Ranvir asks why did you do this for me. He recalls her. He says you married me, but love someone else, it means Chauhan was right, you and Kartik…. why did you play with my life if you loved Kartik, I didn't force you. Chauhan is on call. He says do anything, but I want my son. Lawyer says I will find some way to send that girl away from your son. Chauhan says come with some goodidea next time. He turns and sees Ranvir. Saroj sees Ranvir and talks to Sirat on phone She says Ranvir has come home, why didn't you come home, Ranvir has gone to his dad, did anything happen, he looks very angry. Sirat says just be there, I m coming. Kartik says I will drop you. Sirat says no, just call a taxi. Kartik says don't waste time, come. They leave.
Chauhan asks Ranvir are you fine, why are you sweating, shall I call a doctor, what happened, why are you worried, tell me. Ranvir cries. Kartik asks Sirat not to worry. Sirat thinks why did Ranvir leave suddenly.
Precap:
Ranvir breaks the mirror in anger. Sirat holds him to calm. Ranvir shouts why did you marry me when you love Kartik, this is your truth, I will tell this to Kartik. He makes her sit in the car. She sees a truck coming. She shouts Ranvir. He worriedly drifts. Kartik feels something seeing a toy car falling down.

Update Credit to: Amena
The post Yeh Rishta Kya Kehlata Hai 12th July 2021 Written Episode Update: Ranvir learns the truth appeared first on Telly Updates.