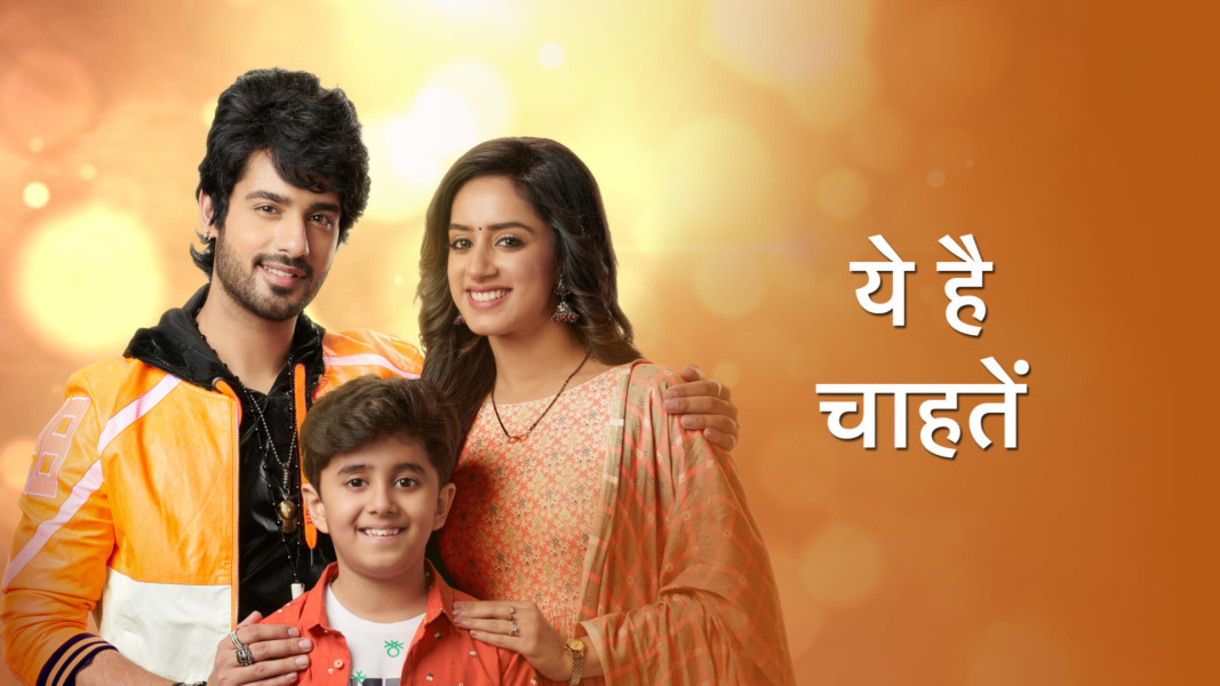 Yeh Hai Chahatein 21st July 2021 Written Episode, Written Update on TellyUpdates.com
Thakur asks Rudra why such a big betrayal. Armaan says that Preesha is equally responsible. They both did a conspiracy together and Devika gave up her life because of them. The inspectors comes and says that they're taking the dead body for further investigation. The inspector asks what could be reason for such a drastic step. Armaan points at Rudra that he died, betrayed, and that is why she committed suicide. Sulochana tells the inspector that Rudra didn't even go to meet her, he was downstairs all the time. Devika's father says that Rudra hurt Devika emotionally which made her take this step. Sulochana says that they didn't want Rudra's past to spoil his present and that is why they hid about Preesha. On top, they are legally divorced. Whatever Rudra did was for Devika's good. And Rudra just came in their lives. Preesha has been with them, then why she kept her mouth shut? Devika's father says that she is the biggest culprit and asks the inspector to arrest Preesha. He questions Preesha's character. Preesha's mother says that's enough. He's crossing his limits now. Preesha did so much for his family. He asks who she is to interfere in their family matter. Armaan says she's Preesha's mother. Devika's father asks how many more secrets she kept from them. She again tells the inspector to arrest her. The inspector says that they cannot arrest her, but can take her for questioning. If he feels that Rudra and Preesha are responsible for suicide, then he can file an FIR. He says he will definitely do that, but for now, he tells him to take them. Police take away Rudra and Preesha.
Rudra and Preesha's families are at police station. They request to release Rudra and Preesha. The inspector says they are directly connected and he will have to question them.
Rudra and Preesha are sitting on a bench. He holds her hand, but she pulls her hand back. He says all this happened because of him. She tried to make him understand, but he didn't listen. She says she's responsible as well. He says he didn't think Devika would take such a step. She says Devika used to love him a lot. He says this time he didn't do anything wrong, he brought barrat to her home as well. She says that Devika saw her, his, and Saransh's picture that she kept in a cupboard. She was coming to talk to Preesha when Preesha was telling the truth to Armaan. She heard all that and couldn't take it. He asks that she hid their photo? This proves that she still loves him. They got separated, but their love didn't end. Both look at each other. Rudra walks to the inspector and says he accepts his crime. He's surrendering himself. He lied, betrayed to Devika and that is why she committed suicide. He asks the inspector to let Preesha go. Sulochana says now she gets why he's saying this. She tells him that Preesha is equally responsible. Rudra says that Preesha warned him that Devika can do anything, can hurt herself too. He asks the inspector to arrest him. Preesha takes him to a side and asks why is he doing all this? For her? He says for himself. Today he saw the love that he always wanted to see. He can spend rest of his life at any place now, even in jail. She tries to stop him, but he doesn't listen. The inspector says Preesha still can't go anywhere because Devika's family filed complaint against Preesha as well, so they must take her statement as well. Preesha's father asks how long to take the statement? The inspector says he can't tell that. Preesha and Rudra send their family members home.
Rudra and Preesha give their statements to police. The inspector says he is not able to understand why they didn't tell their partners about their past. Rudra says he will regret that for his whole life. Devika might have been alive if they told the truth. The inspector says they will wait for the forensic report now. Rudra asks what they should do till then. The inspector tells them not to leave the city, they will be called again as needed. For now, they can leave.
They come outside police station. Rudra tells Preesha that he will drop her. Armaan comes saying that's not required. He's still alive and he has come to take Preesha. Rudra asks meaning? Armaan says that he has come to take Preesha home. She is still his wife. Rudra says and he was accusing her for Devika's death. Armaan says, so what? He thought that he would leave her? So she can go back to him (Rudra)? He knows that Rudra never loved Devika, he was just using her to get close to Preesha. But Preesha won't go anywhere. She's a mother as well and he knows that she loves Anvi a lot and will not betray her. Preesha says that she can't leave Anvi. She goes with Armaan. Rudra watches Preesha as she leaves.
Devika's father asks Armaan why he brought Preesha home. Everything happened because of her. Armaan says that he's forgetting that there is a child in the house as well. Anvi comes and hugs Preesha. She asks where is Bua? What's going on? She is still wearing wedding dress. She asks when wedding will happen? Preesha says now marriage won't happen. Anvi says because Bua went to stars? She cries saying she wants Bua there only. She wants to see Bua. Everyone cries. Preesha takes Anvi to a window and shows her a star saying that's Devika. Whenever she wants to talk to her Bua, she can see the star. If she becomes sad, then her Bua will also get sad. Preesha then takes Anvi to her room to make her sleep.
Precap: The inspector comes to Armaan's home and asks him to call Rudra and his family there. Rudra and his family come. The inspector says that the forensic report has come. Devika didn't commit suicide. She was murdered. Everyone is shocked. The inspector says that now one thing is clear – whoever did the murder is from this house.
Update Credit to: Simmy
The post Yeh Hai Chahatein 21st July 2021 Written Episode Update: Rudra takes all the blame on him appeared first on Telly Updates.