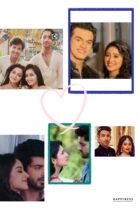 Hai guys , too much apologize for being late . Here is the promo . Next update tomorrow .
In college ,
Rudra – I love you Preesha . I can't express it clearly , because of you I am happy and now I will make you happy .First time ,I saw you I was wondering about you everyday .
Preesha – Rudra , it might be infrauation (don't know how it spell) We just have meet . I even don't know clearly .
Rudra – Fine , whatever you think , but it is love and will never change . You have time of 1 week . Accept or break two hearts .
Scene Freezes
Singhanias and Goenkas have fixed keesh engagement (Arrange) . They are going to mountain temple .
Busgot stuck in the end of a cliff . Twop people fall from cliff , confessing their love .(who are they)
Naira is about to fall but is saved by Kartik . And the rock is breaking
.
.
Naitik regains memory .
Scene freezes
Neil – I will propose Avni .
Avni – I will propose you in a different style doctor .
Neil – See my style .
They are about to go but both get anonymous call .
Avni – Neil got in an accident .
Neil – Avni got into an accident .
.
.
Neil – I am sorry Avni . I will never do prank . But you have done prank too .
Scene freezes
In London ,
Mishti – I love you …..(who ??)
Abir- Mishti ,I will save you .
1 enmity later ,
(Joking)
1 week later ,
Truth and dare.
Kuhu – Kunal , propose your crush .
Kunal – Umm , I will do it at the end of the year .
Kuhu – Ok ,padhaku .
Kunal – Don't call me that .
(Will Kunal propose kuhu ? A shock is waiting)
Police comes in between .
Cop inspector – You are under arrest .
Scene freezes.
I will try to update,but possibly it will be updated on Monday . Pls comment (I know you all will be angry but ,still ,
Atleast 2 )
Stay safe,
Bye
The post Will be friends forever Promo appeared first on Telly Updates.