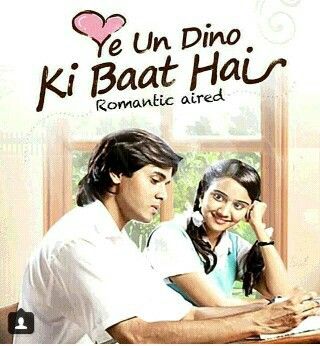 Author's note:  I am aware that it has been 2 months since I updated the story. I am extremely sorry for being too late. Actually, I have some confusions regarding the pace and I don't want to make decision  out of haste as it is my first FF crossing maximum no. of chapters so I wished to do full justice to it. Now I got everything clear. The story is at its end pace. The updates would be fast in this week. Now, I have come up with a new episode. I hope you all the enjoy the chapter and do let me know in the comments.
[Past Scenes – Normal Font
Present Scenes – Bold+ Italicized]
30. Christmas Evening
After so many days, on a beautiful sunday, everyone gathered at Samaina's house. Munna, Pandit, Dev, Sonakshi, Preeti and Swati are sitting together.
Sameer: So, we ended at Sonakshi Di indirectly accepting Dev Jiju's proposal…. Sonakshi di, even you know to propose diplomatically.
Sonakshi: Why not? After all, I am Dr. Sonakshi Dixit.
Naina: What an excuse! Do you know one thing? In our book, we named your character as Laila and Dev Jiju as Majnu.
Dev: Aww! My Jiji has given privilege.
Sonakshi: Shut up Dev. (Dev sighs and Sona looks at Naina) What? Laila and Majnu have a sad ending. I don't want such ending. (makes faces) Also I have seen in movies where many bar dancers are named as Laila.
Naina: Oh my Sona!
Sameer, Pandit, Munna, Swati, Preeti and Naina laughs at Sonakshi. Sonakshi pouts.
Sonakshi: What is your name in the story?
Sameer: We have the same name in the story. Friends and Parents names are changed in the story.
Sonakshi: Ajeeb Baat hai na, Dev (isn't it weird, Dev?)
Dev and others: No…
Sonakshi: Achha! (Alright!)
Sameer: Mom revealed to dad about me and Naina that night. I expected a not so huge storm in the house. But things were quite calm. Mom speaks to Naina's mom and taiji regarding this. But, surprisingly both mom becomes friends soon. Naina and my mom too speak with each other for hours gradually. Poor Naina's dad came to know very later.
Naina: Yeah. I thought she is a terror lady. But she is a sweetheart. Even Sameer is not so sweet to me.
Sameer: I am your husband, Naina. Not my mom.
Sameer understood what he said suddenly… Naina nudged his shoulders. Others are laughing at Naina.
Naina: I have become a laughing-butt for this gang. So bad.
Again others laughed.
December 25, 2016
Shefali's house
Arjun, Rakesh, Naina, Preeti are present at Shefali's house for the Christmas party in their house. Shefali is decorating the Christmas tree busily.
Mr. & Mrs. Victor welcomed the Agarwals. Arjun takes blessings from Mr. & Mrs. Victor. Shefali smiles at all.
Mrs. Victor – "Welcome you all! Come on, sit here. Shall I bring juice for you all?"
Rakesh nodded with a smile.
Mr. Victor – "Where are others, Rakesh ji. Beena ji, Bela ji, Naresh ji and Anand ji are missing here."
Rakesh – "They would join in 15 minutes. Naresh is in some meeting and Anand has got some call."
Mr. Victor – "Oh okay ji."
Mr. Victor and Rakesh are engaged in some political talks for sometime. Naina and Preeti are bored to hear all that. Arjun gives a sheepish smile and goes to Shefali. She is setting up bulbs on the Christmas tree.
Arjun – "Shefali, this looks beautiful."
Shefali – "Yeah, Arjun. Decorating this tree is such a lovely experience. I have been doing this since ten years."
Arjun – "Did you remember Pooja di 's wedding where you only setting up the lights? That time, you fell down and I caught you. Then, you and me felt awkward and run away from each other. We didn't meet each other till the end of wedding."
Shefali – "Duffer! On hearing it, do you want me again to fall down?"
Arjun – "Why not? I am there to catch you, right?"
Shefali – "Actually I meant the incident because you were setting lights. But you turned it as falling down."
Preeti calls Shefali from there. Naina laughs.
Preeti – "Shefali, how are you?"
Arjun – "I don't know why only I get witches in the form of sisters. Didn't they meet you two hours before? Or didn't they see you ?"
Shefali chuckles at Arjun and replies Preeti, "I am actually fine, Preeti. How are you?"
Arjun – "You're proving that you're their friends by the way."
Shefali gives a sheepish smile and goes to Preeti and Naina. She greeted Rakesh and took blessings from him. Shefali took Preeti and Naina to her room.
Preeti – "Did Arjun bhaiyya say that I am a chudail?"
Shefali – "No, he didn't. Why should he say?"
Preeti – "Lies."
Shefali – "Its true, Preeti."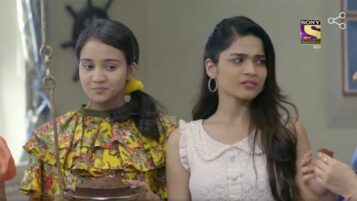 Naina – "So bad, Shefali. Now a days, you're supporting your husband more than your friends."
Shefali – "Arjun is not my husband yet, Naina."
Naina and Preeti pouts while Shefali chuckles. Shefali takes a box from her cupboard.
Shefali – "These are foreign chocolates. You'll be loving it."
Shefali gives chocolates to each. Naina and Preeti hugged Shefali.
Preeti – "You're my favorite bhabhi…"
Shefali – "Someone said that I am unfair with you."
Naina – "No one said like that. You are hallucinating things now a days, Shefali."
Three of them laughs and feed chocolate to each other.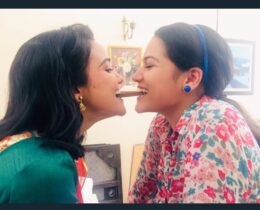 Preeti – "Shefali, don't give this box. Wrap these chocolates in paper… If Chachi and Taiji see this, they would say you'd get inflammatory teeth etc. and never let us taste it."
Naina – "Leave Chachi and Taiji… If Sonakshi see us eating chocolates like this, she would dance from Earth to Mars."
Shefali – "Yeah, don't worry. Chocolates and cakes are normal in Christmas. We would send some gifts. There I mix this chocolates secretly."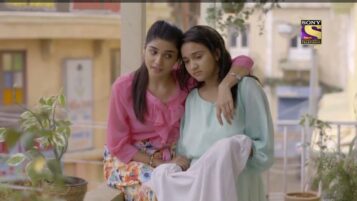 Naina – "Now you have proved that you're my crime partner."
Naina, Preeti and Shefali shares an hi-fi.
After some time,
Swati, Priyanka (Swati's mom) , Sonakshi, Bela, Beena, Naresh and Anand joined the party.
Shefali and Arjun cut the cake as per the request of the Victors and Agarwals. Shefali fed cake to Arjun. Arjun felt a bit shy. Agarwals reassured him and Arjun fed cake to Shefali. Then, Arjun and Shefali fed cake to others.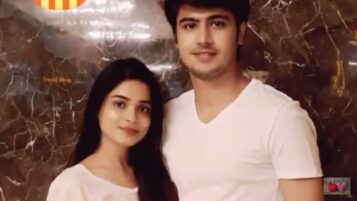 Shefali takes Arjun to her room.
Arjun – "Finally you got sometime for your boyfriend."
Arjun makes faces. Shefali caressed his face controlling her laugh on seeing his face.
Shefali – "Sorry baby, I know you're angry with me…"
Suddenly Shefali laughed, Arjun pouts.
Shefali – "Okay, sorry Arjun… I have something special for you."
Arjun – "You keep it to yourself."
Shefali – "Really?"
Shefali shows him a red rose.
Arjun – "If you give rose, will I melt easily?"
Shefali – "If you didn't get it, I'll laugh again."
Arjun pouts… Shefali chuckles.
Arjun – "I'll get the rose but I won't melt."
Shefali – "Ohho!"
Arjun chuckled and pecked Shefali's nose.
Arjun gets the rose and hugged Shefali. Shefali too hugged Arjun.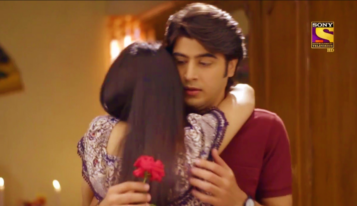 *****
January 15, 2017 (Makar Sankarathi)
Naina, Sameer, Swati, Munna, Pandit and Preeti participated in a kite competition.
Swati and Munna won the competition and they danced happily.
Munna – "There is another happy news… Swati mom and my parents have approved our relationship today."
Swati – "Yeah, our struggle has bore fruits today."
Preeti and Pandit – "When will you give us treat?"
Sameer – "They should give this week. Otherwise, we won't let them romance."
Swati and Munna makes faces.
Munna – "Let us go now then…"
Swati – "Yeah, in fact we have planned a lunch today. Let us go."
Others are surprised. Swati and Munna laughs at them. They took Preedit and Samaina to a hotel and they had some food there. Naina started the conversation.
Naina – "Preeti and Pandit, when will you both talk to our parents?"
Preeti and Pandit – "Actually, it is…."
Sameer – "At least in our case, my parents have accepted Naina and from Naina's family, Chachi and Taiji accepted me. Just three members are there."
Naina smiles proudly.
Preeti – "Three members…. Not just three members…. Are you thinking that it is easy to convince Rakesh uncle?"
Naina – "Yes, its true. But if these many people accepted us, why not them? I am praying that Dad would agree to our relation."
Pandit and Preeti – "Definitely god would fulfill your wish. Because we have contacts with them."
Naina – "Yeah, definitely. That's why we saw Preeti and Pandit's romance in the suitcase."
Preeti and Pandit makes faces at Naina. Others laughed at them.
Naina gets a phone call. It is from Bela.
Naina – "Hello Chachi…"
Bela – "Naina, come to our house fast. Sameer's parents have made their visit here. I didn't expect it."
Naina – "What?"
Bela – "There is no time. Come soon."
Bela cuts the call.
Naina says to others, "Sameer's parents have visited our house."
Sameer himself was shocked to the core.
Sameer – "What?"
Naina and others run towards the Colony.
Naina – "Preeti and I enter inside. If things goes worst, you run from here. If Preeti signs you that situation is going well, wait here or hide somewhere. Ok?"
Others nodded anxiously without hearing her properly.
Naina and Preeti goes to their house and looks at others.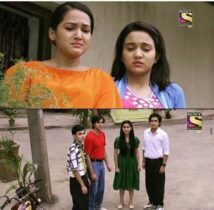 Others gives a thumbs-up to Naina. Naina and Preeti enters the house.
To be continued…
The post Walking Together though the Memory Lane – Episode 30 (Samaina FF) appeared first on Telly Updates.