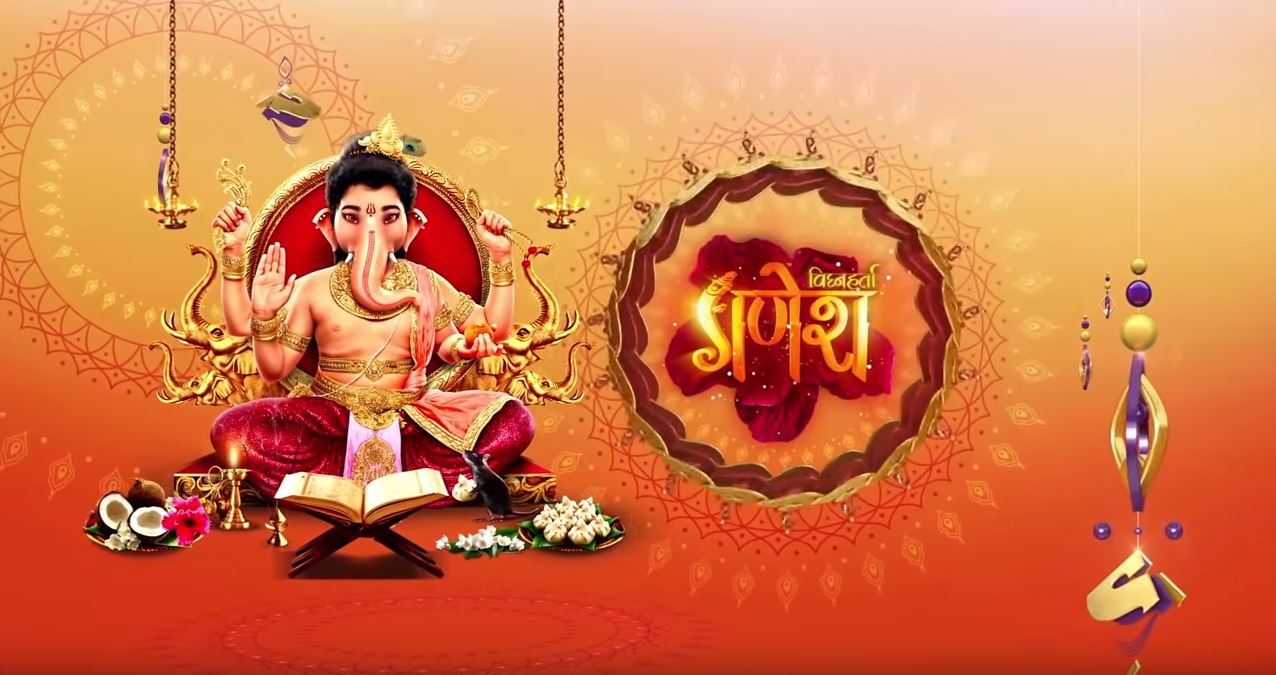 Vighnaharta Ganesh 16th July 2021 Written Episode, Written Update on TellyUpdates.com
The episode starts with Tulsidas watching his wife Ratnavali's face & praises her beauty while she says that I know you were trying to see my face & he blushes while she asks what you feel & he says I feel like you are my ultimate motive & she smiles but Mata Paravati & Prabhu Mahadev are surprised watching this.
Ganeshji says this way Tulsidas began feeling attracted to his wife forgetting his actual motive because whenever he performed his Shri Ram Paath then he use to leave early to his wife resulting people to wonder & also Shri Hanuman who was confused watching this.
Tulsidas once sees his wife's brother had arrived to take her but he tricks them for stopping Ratnavali from going to her father's place leaving him alone which is understood by his wife who likes his smartness but tells him that tomorrow I'll also come to see how you perform your duty of Shri Ram's Paath.
Tulsidas is performing his class of Shri Ram's Paath watching here & there if his wife is coming but she doesn't come while his devotee students including his friend Shrikant along with Shri Hanuman wonder where he is watching. He is getting ready to leave due to his wife's attraction but some student devotee's are trying to ask him some query while his friend Shrikant explains them about his family life's duty hence he leaves but Shri Hanuman falls in confusion.
Tulsidas comes quickly while Ratnavali was working preparing some grass materials & he asks her why she didn't come but she tells him she didn't wished to disturb him in his Shri Ram's Paath & completed this work hence they both are sharing their love for each other.
Ratnavali's brother again visits their house next day asking permission from him to take her to their place but Tulsidas again feels depressed hence he asks Ratnavali who also expresses him that you should concentrate on your work & I'll return soon after meeting parents & he packs her things but while she leaving he again tricks her of stomach pain hence she stops & her brother leaves along with his wife. Ratnavali asks did you again fooled & he smiles.
Ganeshji says this way Tulsidas fooled her again to stop her from leaving him alone but Jaya asks him he was born to spread knowledge of devotion then why he lied & he says in such Kalyug world human also loses his control in his behaviour.
Tulsidas while performing his duty faces stormy weather informing his students that it seems heavy rains will be arriving hence for two days no Paath will be performed but one of devotee student asks him how they'll relax without hearing the Paath & a great teacher like him shouldn't say such thing hence feels wrong about himself & goes to plead Sankat Mochan Hanuman to show him the right path if he is losing control of performing his duty while Shri Hanuman also follows him watching this & smiles.
Ratnavali's brother comes to inform her that she has to come to her parent's house anyhow because of her father's health deteriorating & she asks her Swami isn't arrived to inform him but he advises her to keep note with neighbour while Tulsidas's friend Shrikant arrives to his house wondering where Tulsidas went but Ratnavali gives him the note to inform him about her father when he returns.
Precap: Tulsidas receives letter of Ratnavali from his friend Shrikant of his wife who left to her father's place hence he breaks in emotions & also leaves to be with her over-coming rainy storm in his way but his wife abuses him saying that this is shame on you because if any small trouble you had taken for your Shri Ram then he would had met him while he feels very shameless.
Update Credit to: Tanaya
The post Vighnaharta Ganesh 16th July 2021 Written Episode Update – Tulsidas gets immensely attracted towards his wife. appeared first on Telly Updates.