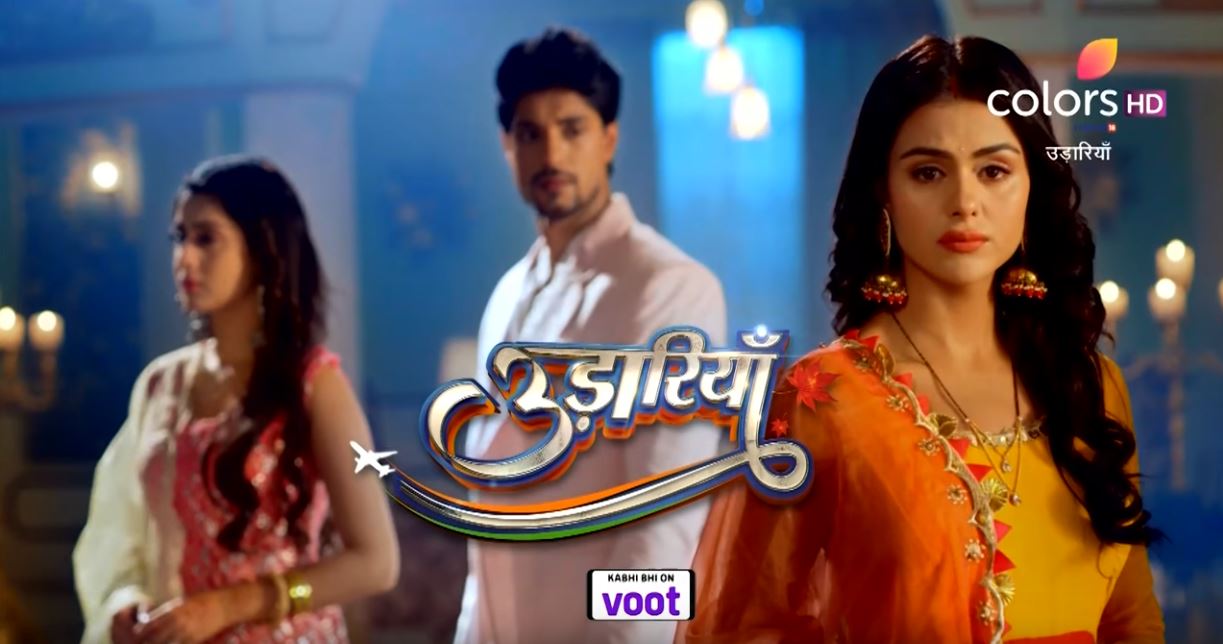 Udaariyaan 20th July 2021 Written Episode, Written Update on TellyUpdates.com
The Episode starts with Dada ji and Mahi asking Gurpreet not to call Fateh and Tejo, don't disturb them. Mahi says Tejo was positive, now Fateh also got the symptoms of love. Fateh and Tejo run to some place. A party is going on there. Fateh and Tejo join. They dance. Amrik says Tejo had gone to meet Gippy, Fateh went to pick her, he couldn't control seeing Jasmin and Gippy, so he took his wife out today. Mahi says he has fallen in love with Tejo. He says I know, Fateh can never love anyone else than Jasmin. Jasmin calls Fateh and Tejo. She worries. Fateh gets recognized as a boxer. The girl praises him. Tejo smiles.
They get non-alcoholic drinks. They drink. Tejo says its so tasty, thanks guys. The girl asks newly weds, love marriage, right. Tejo signs no. Fateh says of course, yes. They laugh. The girl asks their love story. The guy asks was it love at first sight, but it doesn't happen in real life. They all ask about their love story. Tejo says tell them now. Fateh says you are a good story teller, you tell them. Tejo says okay, I m a lecturer, I teach in college, I will tell you my love story today. She narrates a fake story, when she was troubled by the goons on the way to her college, then Fateh came riding a horse and saved her. Fateh smiles. In her story visuals, Tejo falls in the dirty mud. Fateh comes and makes the goons run away. He gives his hand and takes her on the horse. They leave. He throws her in the water to clean the dirt. They have an eyelock. She says he saved me and protected me, I didn't know I will fall in love with him one day.
Fateh says not bad. The girl says this is called love at first sight. Another girl asks Fateh did it happen with him also. He says no, but I gradually fell in love with her. The girl asks what happened then, dating or direct marriage. Tejo says no, my marriage was fixed somewhere. The guy asks did you run away from the house. Fateh says no, my heart was broken that day, I cried a lot, I felt I lost everything, our story was different than Heer and Ranjha, my Heer is solid, she never lost, when I never confessed to her, even then she knew I love her, Lord had tied our heart strings, we couldn't live without each other, if we didn't meet, my Heer didn't get scared, she left the marriage mandap and came to me. He visualizes Tejo coming to him and hugging him. Tejo says we are now together for many births. The guy says but every love story has a villain. The girl says there would be any villain in your love story. Fateh thinks of Jasmin.
Jasmin calls Sweety. She says I know Fateh is doing this to make me jealous, their phones are off, how shall I find out about them, I have a way. Mami looks on and smiles. Fateh says there was a villain, she had big dreams, her name was Chameli. The girl says lol, what's this name, where is she. He says forget it, I don't care for her, I m very lucky because my Tejo is here. Tejo smiles. The girl says yes, love just happens. They all laugh. Tejo says one more drink please. Mami says you didn't had food well, so I got milk for you, have it. Jasmin says keep it and go. Mami asks why are you so angry, are you thinking how Tejo and Fateh got so close. Tejo says we will not go now, that traffic jam… Fateh says we will go. She asks him to drink. He holds his head. Mami says you are thinking of their honeymoon. Jasmin gets angry and says I get what I want, I believe myself and also on my love. Mami says its not love, its adamancy, Tejo and Fateh have true love between them. Tejo dances. Fateh smiles seeing her. He dances with her. They hug. Fateh thinks of Jasmin and Gippy's hug. He hugs Tejo tightly. She feels uneasy.

Precap will be added later
Update Credit to: Amena
The post Udaariyaan 20th July 2021 Written Episode Update: Fateh and Tejo share their romantic love story appeared first on Telly Updates.