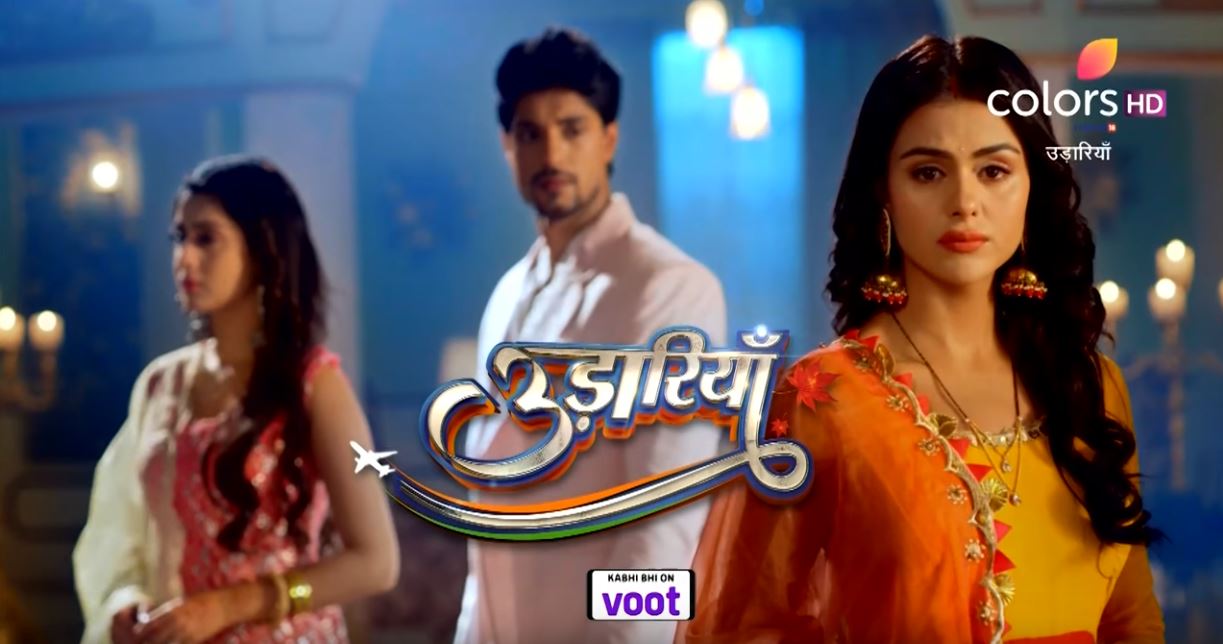 Udaariyaan 13th July 2021 Written Episode, Written Update on TellyUpdates.com
The Episode starts with Jasmin saying Fateh is still standing there like his world has shaken, he still loves me. He gets Tejo's call. He leaves. Jasmin comes home happily. She smiles thinking of him and dances. Mami comes and says you went to meet Fateh right. Jasmin thinks how does she know. Mami says you don't get so happy after meeting Gippy, tell me what are you up to. Fateh gets a gift for Tejo. She asks is this for me.
She says Dilraj would have told you that its my birthday. He says I know its not your birthday. She says there is no occasion today. He asks does a husband need any occasion to gift something to wife. She checks. He closes eyes and thinks of Jasmin. She likes the saree. He asks do you like it. She asks how did you know its my fav colour. He thinks of Jasmin. He says I will get ice pack for your injury. Mami says no one knows that you proposed Gippy for marriage in the restaurant. Jasmin asks what are you saying. Mami says I knew why you proposed Gippy, because Fateh was there, you are proud of yourself. Jasmin asks her to go back to her house. Mami scolds her. She says I won't go back, I know you are fooling Gippy, you won't marry him, you are using him to get close to Fateh, I will tell everyone.
Jasmin asks her to go and tell everyone, no one will believe her. Mami claps and says look, my work is done, if you do anything now, then I will expose your truth. Fateh cares for Tejo's back injury. She smiles and hears his talks. Music plays… She says I m fine. He asks what to do in the party, we have coaches, investors, dad said we will have a relaunch party. She says I m glad to see your excitement for the party. He says all thanks to you. She says you worked hard to move on, Jasmin will get married and go to Canada. He makes an excuse and goes. He thinks of Jasmin.
Its morning, Tejo greets Biji and takes blessings. Mahi says we are going to Malhotras function, mum and Machi went out. Tejo asks Biji not to worry for the work. She asks Mahi to give her message to Gurpreet, Jasmin's marriage is fixed, she has to go for shopping. Mahi says get her married and send her away. She goes. Jasmin comes home. She calls Tejo. Tejo says I need some time. Jasmin says I already reached here, I had to go to washroom, its fine, I will go back. Tejo says don't go back, come inside, there is no one at home. Tejo opens the door and asks Jasmin to come fast. Fateh comes and holds Jasmin's hand. Dil utthe….plays… Tejo asks her to come. Jasmin's imagination ends. Tejo asks her to use her washroom and just hurry up. She says I will finish my work till then. Jasmin goes to Tejo's room.
Satti says Tejo always goes for shopping with Jasmin. Mami says you are not understanding Jasmin seeing her behavior. Jasmin goes to the room and sees the changed pics. She gets upset. She says this room had to be mine and Fateh's, not yours. She goes to the washroom. She gets Fateh's shirt there. She thinks of Fateh. Satti calls Tejo. Tejo says Jasmin and I will be going for shopping, Fateh is also busy. Satti says you go to have lunch with him every day. Tejo says Fateh isn't coming with us, just Jasmin and I are going. Jasmin hugs Fateh's shirt and misses him. Tejo walks towards her room.

Precap will be added later
Update Credit to: Amena
The post Udaariyaan 13th July 2021 Written Episode Update: Jasmin steps into Fateh's house appeared first on Telly Updates.