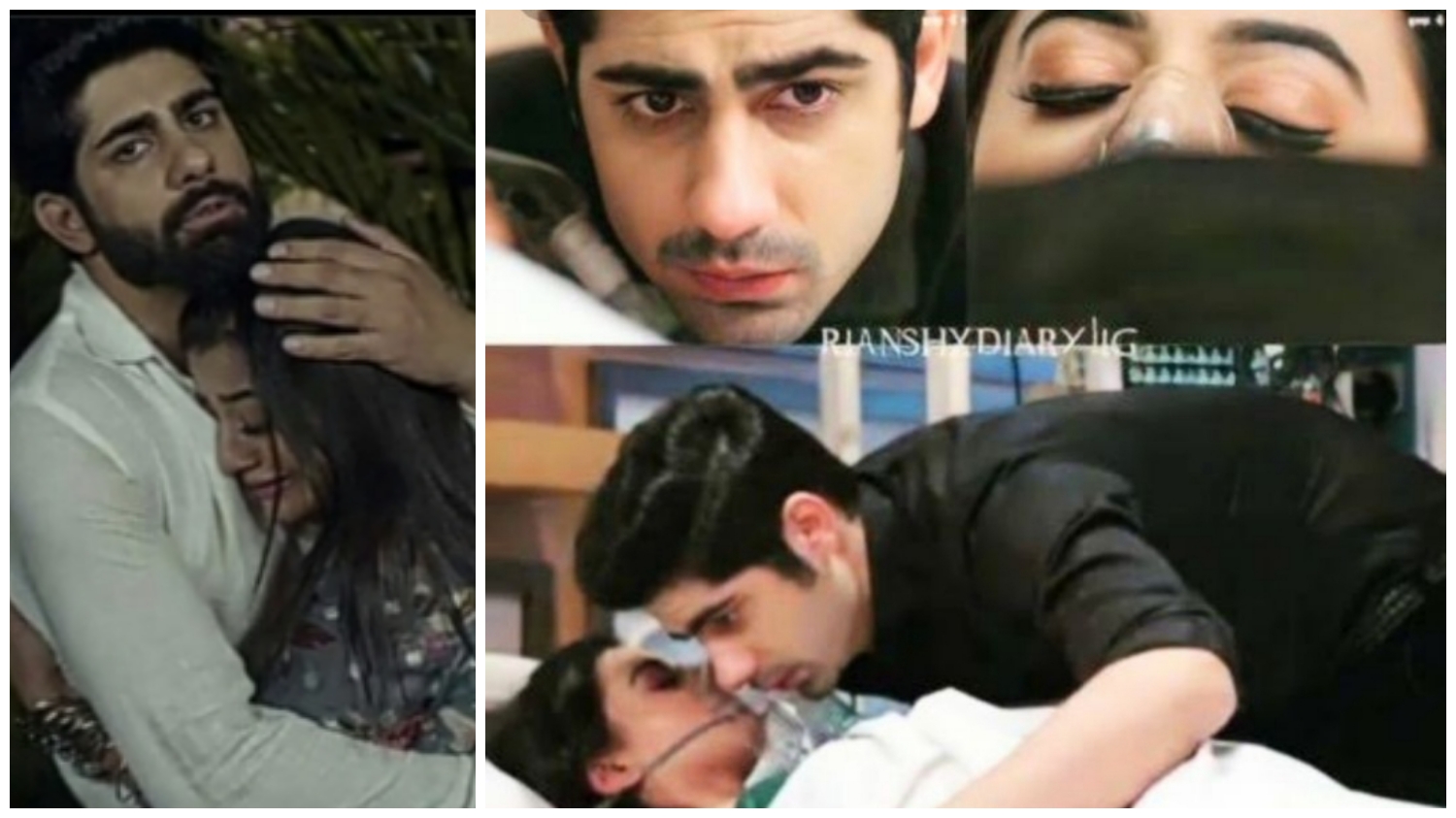 TUM HI AANA – A RIANSH OS
Hello Guys
Am back again
Hope you all like my this OS
In this OS
Ishani is Riddhima's cousin and they both have a great bond
Riddhima's health was ruining day by day due to . So now she was shifted to hospital
A day
Ishani : Riddhi di , pls just forget that rascal Kabir na !! Don't be like Mother Theresa , he said to me one month ago that he loves you and his love isn't a teenager love and then he broke his relationship with you without any reason and then he lost his memory of 6 months and now he proposed to that Ahana , just tell me one thing that if he had feelings for Ahana 3 months ago and 6vminths ago then why the hell he was flirting with you !? What the hell was wrong with him !!? Or you were a option for him that if Ahana didn't agreed then it will be you and if he loved you na then even after losing his memory he would have atleast felt those emotions !!!
Riddhima : Ishu , pls calm down !! Be was my first love it is very hard or almost impossible to forget your first love !! And am still afraid to tell him what happened between us , but atleast am still his best friend in his sight na and plus my health condition is very ruined now and I may due soon if I get heart attacks you know na that's the reason I can die soon as my body is very weak .
Ishani : Di , pls don't talk deaths and all and remember we have to celebrate friendship day and you promisee that u will be with me forever !!
Riddhima : Ok fine
And am really sorry for my mother's rude behaviour with u
Ishani : Are it's ok
It was a mother's feelings
Riddhima : But still Ishu
She can't hurt you
Ishani : Ok fine , you are correct am wrong !!
Riddhima : Ishu !!!!!!!!!
Ishu am bleeding from near my heart may be due to the last unsuccessful heart surgery !!
Let me call my doctor !!
Ishani : Pls , Riddhi di take care
After 1 hour
Ridhima :  Guess what yaar Ishu
That handsome and cute doctor was helping me and he is my doctor now not that rude and Khadus one but my family was just standing there . They were just seeing me and mom came to hospital she said ki everyone is having pains and am over reacting !! Wow Ishu I am a drama queen !! And that doctor hugged me as he was able to feel my pain and he didn't had bad intention and he was the 2nd one whom I hugged after Kabir
And then Ishani consoled her
And Riddhima and her mother's realtion was not good as Chanchal ( Riddhima's mother ) got to know that her daughter was loving Kabir and she scolded her badly and said her to never be in a relationship she just knew that Riddhima was loving Kabir not anything else
On that day Riddhima had a back surgery as she wasn't able to see anything properly and she feel down it was a dangerous one but it was successful
On the other day at evening
Riddhima was feeling all alone and Ishani's phone was taken by her mother and she got scolding for using phone more and Riddhima was feeling alone and her that handsome doctor came and he asked her to hug him , she was shocked but just like today afternoon he just wanted to give her peace and pain and didn't had any bad intentions ! And gues what her parents saw them hugging and they took her forcefully from there and after giving a tight slap to her in front of that doctor and they were about to insult him but Riddhima took all allegations !
And then her parents beat her with belt !!! And she was pleading them as she had a surgery yesterday !! But they didn't listened to her and Ishani was very sad for her that she wasn't a to save her and the next day as her health want good so she was taken to hospital and she was alone there her parents didn't came to see her and she was very sad infact her doctor was crying and saying hey sorry as according to him or was because of him
And she tried to slit her neck as the other day when she get those insulting words from her parents after messaging Ishani but she wasn't able to reply that evening as it she had to go for her chech up and it was raining heavily that day and so she was also having network issues but when she saw her messages she was very afraid to lose her favourite cousin whom she was loving more than her own di and she tried to msg hey and then she got message from that doctor that he saved her at that perfect time and she scolded to get Riddhi di and then the doctor was leaving her when she tried to stop him . What she heard made her shock . The doctor said he was living her from the 1st time he saw her but he can't see her doing like this and he said that he want to go away from their or he would do something which would make her uncomfortable and he added to that my ki he knows that she isn't loving him and he can see love in her eyes due someone else and he isn't forcing to love him and he went away and after sometime when he came Riddhima fall unconscious in his arms and when he checked her temperature was 107 F and he messaged to Ishani as he know their bond and he said hey that he is a doctor now and he should be strong this time but right he is a person who loves her madly and he used to inform her about Riddhima's health about hey fever . The other day her busy for very cold suddenly that hey temperature went to 70 F and she was shivering be and other all Doctors were trying their but her temperature was reducing and finally get dictator made her temperature Normal but after 10 minutes her temperature again increased and it was around 104 F and the most worried were Ishani and that doctor and at night her temperature was around 109 F which was the worst the doctor was with Riddhima everytime and he used to calm Ishani and after 3 days of his proposal Ishani for to know that Riddhima was the 1st case of that doctor and his name was Vansh and then Riddhima says that he was a volunteer on that hospital so she knew him and he was around 23 and she was 18 .
And the next day when Riddhu came from taking shower she wasn't able walk and the nurses were not free so Dr. Vansh was helping her and he was holding her closely and possessively and protectively to help her in walking to her bed and her parents saw this and what they did was unexpected and horrible !!!!
They took Riddhima with them forcefully and beated till almost an hour in the car and she was begging to them but they didn't stop as both the times according to them it was a sin done by her and at last she fainted in thier arma and found herself in hospital and Dr. Vansh was hugging yer and Crying saying it was his fault and he was broken and she consoled him and he gave her peace and secure feeling thorough his hug and tried to heal her wounds and Ishani was angry on her uncle and aunt but as usual Riddhima calmed her
The next day her reports came . It was saying that her if she would do surgery then she can walk or else she will be on wheelchair and if the surgery got successful then she can walk or if the surgery got unsuccessful then she may slip into coma !!!
And she had to make a decision , Ishani was hell worried for her health ! And then in the morning she got to know that Riddhima's surgery was done at night as her health became worse and she still she didn't got conscious in the morning and the next day was a very auspicious day and Vansh consoled her and said that her surgery was successful but ahe isn't conscious and pray for her and she Riddhima got her consciousness in the afternoon and the 1st thing she did was to message her Ishu as she know that she is worrying and stressing a lot and a bit stress can cause her headache and as both are inseparable sisters and she knew that her Ishu will cry on small matters related to net life .
Then the horrible part of life starts !!! Her grandma came to take her home as it was very auspicious day and festival tomorrow and she wanted to celebrate it with her but she didn't knew what has happened as she was in different town so when she reached her home hey parents started insulting her and from her home only her grandma supported and no one else . They tortured her by not giving her food and kicking hey in her room and the most vulnerable part was ki they built a wall inside her washroom door so that she can't use washroom also !!!!
And when Ishani got to know all this she was hell angry and Riddhima was telling it is good for her parents that she isn't with them out else it would had for them from the time when they beat her di for the 1st time she would have fought for her but as her Riddhi di was like Mother Teresa she said that it was her parents anger that as what she did in hospital and she said ki it's good that they don't know that Kabir used to come to her room and they both hugged each other or else she won't be able to talk to her and her freedom would have been snatched and Ishani wanted her to take any legal step but Riddhima ignored her talk saying that at the end they are her parents and she agreed her how to open the door and then Ishani helped and finally after many tricks and tactics she was able to open the door and when she was going back to her room by taking food and water her parents beat her butt at that time her grandma saved her and she helped her to get into her room and made her eat food and her younger sister brought sweets for her so that she can eat them when they again lock her and after sometime when she tried to lock her room door from inside so that they don't barge in and beat her , hey parents came very carefully and beat her again and then she was unconscious and there Ishani was hell nervous for her cousin now and she got more nervous as her dad took her phone as that day she used net phone more than 13 hours and as she had shifted with her parents in UK so the 1st thing she hated was she can't meet her Riddhi di , the 2nd was the time difference and the 3rd was her do was just like the avatar of Mother Teresa and then when she got to know that what happened with her di she was hell angry and helpless as she can't able to do anything rather then giving her support from phone she can't come there and her parents realtionship with Riddhima's parents was very bad from last year so they didn't told to their parents that they are in contact with her each other but Riddhima's dear mom knew about and she scolded both of them a lot and thing that made her relaxed was ki Dr. Vansh came to meet her by climbing the balcony of her room as she when she got conscious he was in front of her and she hugged him and got her peace and secure feeling back and then he took care of her and when she slept he went away as it was early morning time and the next Riddhima got happy as she was visiting her uncle's home and she enjoyed with her cousin she wanted to stay there but if she told her parents then they can do anything with her in from of her uncle's family so she didn't got courage and she said Ishu to not worry and do work as Her Ishu was spending her most of the time with her and plus she was neglecting her health , her studies and her family time  and her habit of watching cricket matches !! After sometime Ishani was convinced . And when Riddhima and her family were heading to their home in car only they started insulting her and then at their home they again beat her even they tried to throw her out of the house by pulling her leg and her health was worst now and when the next g'day Ishani got to know about this she was hell angry ans she said her that this torture isn't don't prisoners even with them such behaviour isn't done then why the hell her parents are hell bent on killing her by their torture just because she hugged her doctor when she was alone and her family left her in hospital and she was close to her doctor as her doctor was helping her to walk , and from which angle it was a sin from  and the grave sin was done by her parents when they beat her this much !!! And she was really very angery she was continuously telling her to take legal action and then her parents again beat her as she was using phone and then Dr. Vansh came to save her and when he came to take her hospital he found her unconscious and by seeing her blood he thought it to be poisoned and so when reports came he got sure about that the poison in her body were assuming it to be the poison of belt !!! And it was spreading in her body !! And then Ishani was praying and crying for her di and infront of her parents she tried to be bubbly and carefree Ishani and she tried to lock herself in room most of the time as if her parents got to know that she is in contact with Riddhima then they can snatch her phone and she can't lose her di now and finally the poison was our from her body but it already caused harm to her other organs at that time Vansh asked her to marry him !! And she was Shocked , she took it as a pity in her and she wasn't liking that he is asking her for marriage because he is pyting on her and on her state and then he went away and here Ishani was having her extra class and then when she read that she was teasing her like ki
Riddhi di I will miss ur marriage , it was my dream to be with you in your wedding from last two months , I will miss my dream now but you will have to surely come at my marriage or else I won't talk to you . And don't worry I will join your marriage virtually 


and before Riddhima could reply her properly Dr. Vansh came back again after a hour or two and he asked her to be his wife !!! He said that " He is keeping saying that and he is saying that he will not stress me at all and he will do anything and everything she want it. He was saying that he will make me complete her studies and will make reach to the career that she want it. He is also saying that he is still doesn't really want anything from her. He just wants to be with her and protect her "
He was broken. Riddhima could feel that from his voice and the way he is hugging her with it.
And then he left and then it was Ishani who helped her to clear her mind and thoughts and helped her to take decision she told her to have a talk with him and then Riddhima wa saying yaar Ishu I will miss you in my marriage atleast no one from my family but I want you I already thought that you will be specially present in marriage and not this marriage without you !!! And then she decided that when he will come she will say yes to his marriage proposal as her Ishu told her when was unconscious ie something happened to her na Dr. Vansh said that he love her Baldy can't stay strong seeing her in that condition and he will never leave and will take her care till last moment of his life and then when they were talking casually and then Riddhima got the biggest shock of her life
It was the death news of
.
.
.
.
.
.
.
.
.
Dr. Vansh
Why he has left me?!!!!!!!!
No!!!!!!!!!!!
He has died!!!!!!!!!
No!!!!!!!!
Vansh!!!
I don't know anything now!!
I just have known this thing just now!!!
I'm not able to have the control on my senses
I was going to be with him Ishu
I was very very feeling relaxed when we talked
I was feeling that he is the one
Why he has left me?!!!!!
Why?!!!!!!
Why everyone leaves me?!!!!!
I'm not able to breath
He has left me!!!!!!
Why?!
Two nurses were talking near my room and they were saying that he has just died and no one knows how they could tell to his beloved ones that and they were saying that his case can't know that now( they mean me). They weren't knowing that I was hearing them and I have known that
I'm drinking that juice that he has left it to me at the fridge so his soul could be seeing me now and knowing that I'm doing like he wants
I drank it while crying badly
I didn't imagined that he will leave me
I wished I have accepted him since he has said that he loves me
I wish we would have been together
I'm sorry Vansh
I'm really sorry
I will miss you a lot
Who will save me after him now?!!!!
What God has planned it wouldn't have changed
But at least I was able to spend those days with him as being his
I'm so fool
I have lost him now
Forgive me Vansh I'm really sorry
You are just Vansh for me not Dr. Vansh I have just noticed that after you have gone
I'm sorry
I accept it Vansh
I accept you
Please return back
It is too late now Riddhima !!!!
He has gone now!
It is my fate
I'm manhoos I swear
After 40 minutes
I have known the whole story
He has really died!!
It was an accident
He was at the street getting something and there was a very stupid car on a very high speed and not noticing that it is time for the people to cross the stress and it has hitted him badly
It was a horrible accident
This what the nurse is saying
She is saying that he was still alive when they have took him to the hospital
He was saying my name
He was saying that he loves me
He was saying that he will always here to protect me
And now he has left me!!
He has died and left me at the same time that I was going to tell him that I will be with him
I'm paining badly
I was going to be protected with a man who loves me
I wasn't going to be insulted or bashed or beaten
I was going to be happy and relaxed
He was giving me safety
I was feeling safe
And he has took my safety away
His funeral will be tomorrow
I will see him for the last time
I will go there
I know that I can't go
I'm on a wheelchair
I am not able to move
But I will go
He was the one who supposed to heal me
He has told me that he will make me move before my graduation party
He has said that he will make me super ready for this
And now he has left me
He has left me and died!
Why?!!!!!!!!!!!!!
Ok the morning Ishani asked her why are you Crying from last night ?!
[Riddhima :How you have known that?
I have seen him for the last time
I wasn't able to imagine that he has really died
I'm feeling that he will come now and tell me that he was just doing was doing a very stupid prank
I just have came now from his funeral
I'm shivering
Why he didn't waited for me?!!!!
I swear I was going to make so happy with my decision
Why he was so hasty to leave?!!!
Ishu !!!!!!!
I'm losing everyone from me
I'm losing all my beloved ones!!!
My close friend is in a very bad health state!!!!!
I'm going to lose her as well!!!!!!
It is just because of me
Why should I listen to her insisting and tell her about what has happened and Vansh's death and I know that she panics a lot about anything related to me?!!!!
Why I'm losing everyone whom is very important to me?!!!!
Why?!!!!!
I'm too bad
I'm very bad
Very very very bad
I hurt all my beloved ones
I'm so bad
I have to die
Almost after 50 minutes
Ishu !!!!
I'm sorry
I have lost my support Ishu
I have lost the man that I have really felt that he is the perfect one for me
He has left me
Why he has left me?!!!!!
Why?!!!
But what about me????
Why God always do that with me?!!!
Why he always hurt me that much?!!!!!
Am I that bad?!!!
You know what makes me cry so much now
I have found my nurse coming with a plate covered and said that this plate was being left for me since evening at the fridge to take some cold and it was written on its cover my name
When I have opened it, I have found a plate of kheer( which is my favorite dessert) and it was having a chit written on it:
It is my first trail to cook something and this is just for you my angel. I know how much you love the kheer so I have done it for you. I know that you are confused and don't know what to say after I have told you those words, but trust me I will never pressure on you. I love you so much and I will keep loving you forever
Why I'm getting that hurt?!!!!!!!
Why??!!!!!!!
I'm sorry Vansh
I'm really sorry
Ishani : What about his parents and family di !?
I have met them yesterday and today at the funeral
I was just knowing his sister Siya
I have met her twice when she has came to meet him
They were all crying badly
Siya was with me
It was so hard on me
It was very hard
They were knowing that he loves me and want to marry me
He was so innocent
He was wanting everything official
I have lost him
I will never find a man like him again
So will you be with me !?
I need you
It is time to be selfish and tie you with me
Don't leave me today
Please
I have tried to kill myself 2 times
When you weren't here
Tell him to return back to me
Tell him that he can't leave me
Tell him that he has caused hurt to me by leaving
He has to come back to me
Otherwise I will go to him
I will keep trying to end my life till I go to him
And why to try?!
My parents will do that
They will end me very soon
So why to worry it is already will come very soon
I miss you a lot Vansh
I miss you so much
I wished I wasn't that fool
I wished that I accepted you from the beginning
At least I would have lived with you for sometime before you leave me
These tears will also not stop it
It is for him and I will not stop it
He deserves those tears
He is the most innocent man I have met him
But I'm not able to stop them
It is very very very very hard
The pain is unbearable
I don't which pain hurts more
My physical pain or my emotional pain
I miss him a lot
I'm too fool
I have accepted him after it was too late
I wish he could come for 5 minutes to hug him and tell him that I accept him
I'm saying it loudly so he could hear it
I know that he is around me
I could feel his presence
I know that his soul is around me
But he is now in a better place
It is a punishment for me
When someone dies, he/she don't suffer
Their beloved ones are the ones who suffer
When someone dies, he/she don't get pain again
But their beloved ones are the ones who get pain
Don't worry
This pain is just for me
God enjoys giving me pain
He enjoys seeing me paining
He enjoys seeing me crying
Thanks to him for making me that weak
After 20 minutes
Ishu !!!!
I wasn't seeing
I wasn't seeing at all
I'm not able to breath
Please don't leave and be just online here please
I could die anytime
Please be here
[But pls tell anyone to msg me if something happens to u
Who I could trust after him?!!!
There isn't anyone who I could leave my phone to him/her more than him
I miss him a lot
Tell me anything to divert my mind with it
Get me from this dark mood
I'm thinking of death again I swear
Ishani was successful to divert her mind for almost 20 minutes
Wait!!!!!!!!
His sister came
She is holding something for me
She is crying badly yaar!!!!
Give me few minutes
After few minutes
Ishu!!!!
Why he has left yaar?!!!
Why?!!!!!
How he is able to remember such a little details like that?!!!
Siya has given a box and when I have opened it I have found on it heels for me
He knows that I don't like heels much he has left a message with it saying ki:
I decided to get you this heals because my angle must look so different at her graduation party especially after you have chosen this awesome pink dress so I have got you this heals and you have to wear it. I know that you don't like heals much and you aren't liking those girly stuff, but still I wish I could add you wearing those heals. I love you so much angel. I love you a lot.
And I was idiot!!!!!
It is my bad luck
Ishani : Di I wish I could be with u and would l have gave u atleast a bit of warmth
Riddhima : I wish the same
I wish you were here
I miss you so much Vansh
I will go with his sister to his grave
I have missed him badly
Ishani: You are going now !?
Riddhima : I need to be with him even if he will be under the soil and I will be above it, but still I know that he will feel about about me
Ishani : I wish ki atleast one day extra he would have live on the earth
Riddhima: Yes just one day
We would have been together
Just for one day
Ishani : Hey di
Did the police get to know
Who was the driver
Was it a murder or a just a accident
Riddhima: Why do you think that it could be a murder?
Who could kill this innocent man?
He is so innocent Ishu
Oh!!!
Sorry he was!!!
I can't imagine that now I call about him that he was!!!
It is so hard!!!
I didn't have seen a man that innocent
That's why God has taken him because it is very rare to find such an innocent man like him
I'm afraid to breakdown when I go there
The doctors are forbidding me from doing that
My back still isn't working at all
I'm using wheelchair still
He was the one who told me that he will cure me
He has said that he will make me move again before my graduation party
So where he is now?!!!
I have reached there already
That's why I'm keeping online and offline
Just be here please
It is so hard
It is so painful
After sometime
They have took me back to the hospital
I got a panic attack
I was screaming badly
I wasn't able to control myself
Why he has left me?!!!!!!!
Why?!!!!
I want to tell you something important
I will do another surgery today
On my back
So I could move
I will just do it for him
Because I know how much he was wanting to see me walking and moving
I don't know when it will be
I'm waiting for the doctors to tell me
It could be at any time
Maybe it could be at night
Still I don't know
And now he isn't with me
Ishani : Did ur grandma came to see you di !?
Riddhima : She is calling me, but she isn't able to come
She is unwell
So that's why she isn't able to come
I can't lose all my loved ones at the same rimeI can't
I will not be able to bear it at all
After 40-50 sometime
I'm paining badly yaar
Let me check my temperature
Oh shit!!!!
It is 108 F!!!!!!
He was always here with me when I get scared seeing that high temperature of mine, but now he isn't here for kw
I miss him badly
Ishani : So now what ur that another doctor is doing
Riddhima : I don't give a dam to any other doctor
I'm not accepting any doctor to be with me like Vansh was doing
I don't want any doctor with me after him
All the doctors are so rude
He was the only kind one
And he has left me to those rude ones
Wait!!!!
I'm hearing his sound!!!
It was just my imagination!!
I got mad
I got mad after he left me
I need him badly
Where are you Vansh ?!!!!!
He knew that I just find my safety with him, so how he could leave me?!!!
Why?!!!!!!
Shit!!!!
I'm losing my senses!!!
I'm bleeding
After almost a hour
Ridhima : I will enter the operation room now
For my back surgery
hope it could finish soon and I could come soon
After almost 2 and a half hour
Hello dear
I'm Riddhima's nurse
She has asked me to text you when she finish the surgery
She is now unconscious
But the surgery got succeeded
That's it for today guys
Hope you like it
Every love story doesn't have a happy ending
Kindly ignore the grammatical and spelling errors
The post TUM HI AANA – A RIANSH OS appeared first on Telly Updates.