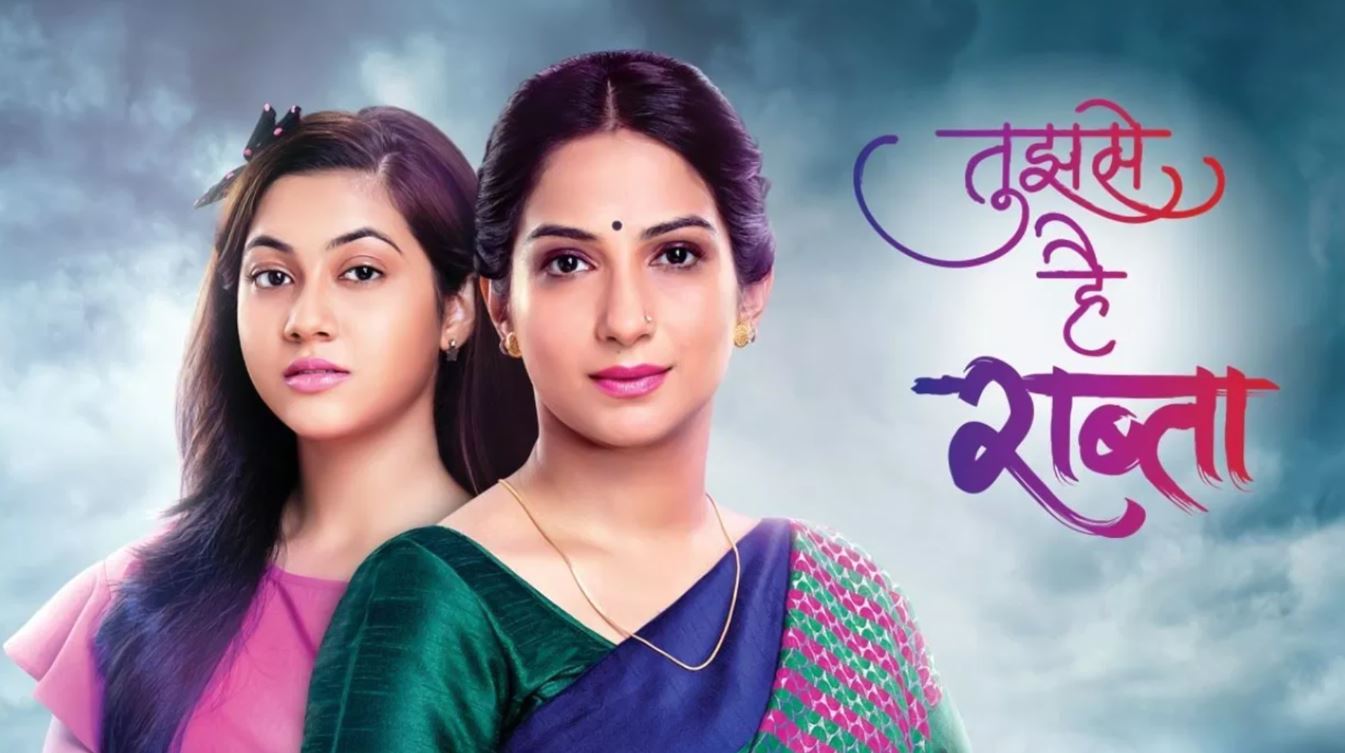 Tujhse Hai Raabta 21st July 2021 Written Episode, Written Update on TellyUpdates.com
The Episode starts with Kalyani and Malhar get thinking hearing Gungun's trick that when one joker hides another comes up. Kalyani thanks Gungun and asks her to go and sleep. Ajinkya's twin comes to him and makes him unconscious using chloroform. Ajinkya faints. The twin then makes him lie down on the bed. Kalyani tells Malhar that he was right, he saw Ajinkya's lookalike. She tells that just like Gungun's magic trick, when one hide then other come. Ajinkya's twin comes to Godaveri's room. Godaveri asks what are you doing here? He says he came to give her wife's rights, which she wanted. Godaveri pushes him and asks him to stay away. Malhar and Kalyani hear the sound and come to Godaveri's room. Ajinkya's twin switches off the lights. Malhar and Kalyani come inside and see Ajinkya on the floor unconscious and Godaveri standing holding the knife. Malhar checks him and finds him unconscious. Kalyani brings Godaveri out of shock and asks her to tell what happened? Godaveri tells that Ajinkya behaved strangely and also that he misbehaved with him. Malhar makes him come in his consciousness and confronts him. Ajinkya tells that he came to apologized to Godaveri, when suddenly someone made him unconscious. Malhar tells that he will take him to PS. Kalyani stops him and tells him that Ajinkya haven't done anything. Malhar asks didn't you trust your sister. Kalyani says she trusts her, and also knows that Ajinkya can't do such a thing. She says surely his lookalike must have done this. She tells Malhar that they are right about his twin or lookalike. Malhar asks Ajinkya if he has any twin brother. Ajinkya says he is not aware of him, as his Aai haven't told him. Kalyani says she knows how to make Indu speak up.
Ajinkya comes to Indu and says why did you bring me here? He says I was happy at my place and tells that you trapped me in this mess. A fb is shown, Indu shows Godaveri's pic to Ajinkya and asks him to marry her. Ajinkya refuses to marry and asks what about this girl's happiness. Indu threatens to commit suicide if his truth comes out. He says he will tell that he is not interested to marry. Indu says people laugh at me and asks him to live life like he wants, after her death. She blackmails him to marry Godaveri. Fb ends. Ajinkya tells Indu that now they came to know everything. Indu says it is good, but they will not tell anyone. Ajinkya tells Indu that Kalyani and Malhar are doubtful that he has a twin brother. Indu asks him not to say louder. Ajinkya asks if this is truth. Malhar and Kalyani hear him on spy recorder. Indu tells Ajinkya that his twin brother is Akshay and says if I had told you then you wouldn't have agreed to marry Godaveri. She says she had dreamt big for Akshay, and fixed his marriage with politician's daughter, then Akshay's video with Godaveri got leaked and that's why I made you married her. Ajinkya asks what was my mistake? Indu says Akshay is planning something big.
Godaveri comes to Gungun. Gungun says she wants to be a lawyer and that's why drew lawyer on the paper. She asks Godaveri what she wants to become? Godaveri says she never thought about it. Anupriya comes there and asks her to think it now.
Update in Progress
Update Credit to: H Hasan
The post Tujhse Hai Raabta 21st July 2021 Written Episode Update appeared first on Telly Updates.