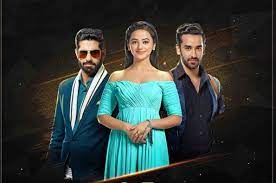 Gol Daana
Heyy guys, thanks for all the support from the previous episode! I'm glad ya'll are liking my FF. Please keep commenting and supporting in the comments section.
So majority went for Singapore so I'll be choosing it.
Previous Episode
So Invitation to today's Function!!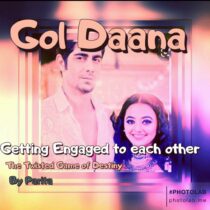 Episode Starts
A bright new sunny and warm day where the sunshine sent its rays in VR mansion bringing smiles on everyone's faces. The mansion was filled with numerous people walking hither and thither, running from one place to another with decorative items in their hands. The entire mansion was once again being decorated just like a wedding house. Dadi, Siya, Ishani and the kids were in the living room instructing the workers to do their work appropriately.
Dadi: Work faster, Aryan and Kabir would be coming for the Chandlo Matli ceremony! (shouting)
Ishani: Dadi, relax everything is going in the right way. Chandlo Matli anyway doesn't need much decoration
Shayne: Masi what exactly happens in Chandlo Matli? (curious)
Ishani: Chandlo Matli is a Gujarati ritual we do before anything else. It's when the bride's family arrive to the groom's place and accept him by placing a small tikka on his forehead and from there everything is decided; all the rituals and dates.
Shayne: Oh okay. So where's Aryan uncle?
Dadi: He'll be coming soon.
Anisha: (coming to them) And Riddhima mami?
Siya: Rivan and Riddhima Bhabhi won't be part of this ritual but will straight come for the Gol Daana. By the way you both go and check if Riva and Vansh are ready or not or are they still sleeping? (chuckling) Both are sleepy heads.
Angre: (laughing) I doubt that, in fact I'm sure Bhai must have not slept the entire night waiting to see Bhabhi today!
Aryan: (entering) Not so soon (laughing) He'll have to wait
Kabir: Absolutely!
As they entered, their men brought in a few plates covered in red cloth and a few gift boxes and ordered them to keep them aside on the table for the later ceremonies. Riva and Vansh descended with a smile lingering on their faces and excitement on their faces. Vansh sat on the sofa beside Dadi and they commenced the Chandlo Matli ceremony.
Aryan took one of the plates which had a bowl of sandalwood paste, and other bowls had sugar cubes with sweets. He took some sandalwood and did a small Chandlo on his forehead and fed him some sweets. Kabir took the other plate that was covered with the red cloth and handed it over to him, it was shagun; auspicious material needed for the wedding and rituals.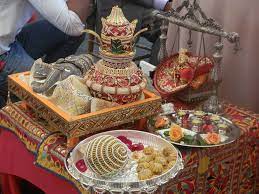 Kabir: We are personally inviting you tonight at the Raichand mansion for Gol Daana. We will see you straight there.
Aryan: Yea be on time. (smiling)
Vansh: I can't wait to see you sweetheart! (murmuring)
Aryan: (heard it, whispered to him) Some patience Vansh! (teasing)
Aryan and Kabir left for AKR Mansion which was glammed up with lots of beautiful lights and flowers, decorated wonderfully. There was a stage in the middle of the hall and a crescent. It was finally the time for the Gol Daana; their engagement. Their house was filled with people and soon stepped in the Rai Singhanias.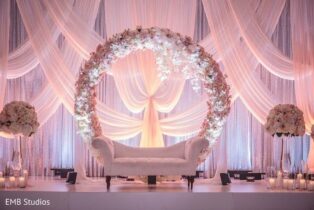 Vansh was wearing a white sherwani with intricate gold designs. The theme was soulfully white gold. Everyone wore white and gold gowns, lehengas for the ladies and white and gold sherwanis for the men. Riva who walked hand in hand with her father wore a white gown, she led Vansh to the crescent. Vansh on the way to the crescent had his eyes moving around, looking for his lady love.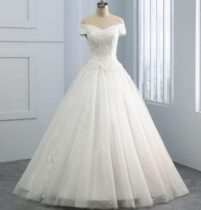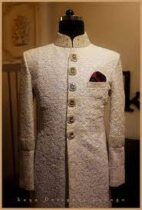 Riva: (whispering) Come on dad, patience. She'll be here soon. Come on now sit down.
Vansh: I'm dying to see her, I even asked for a photo of hers but your smart brother interfered. (annoyed)
Riva laughed at his state. As soon as he settled down, the lights went dim and the spotlight stuck on the stairs. Rivan hand in hand walked with Riddhima; he had worn a gold sherwani and Riddhima just like angel wore a gold lehenga. Vansh adored her as she descended with Rivan and was soon brought to the crescent. As she sat down she blushed looking at Vansh.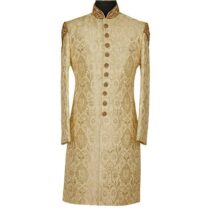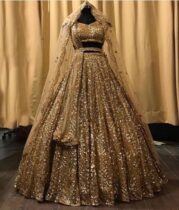 Vansh: Gorgeous!! (whispering)
Riddhima: (blushing) Handsome!
Vansh: Your son didn't let me do what I had to do first (pouted, whispering)
Riddhima: (laughing) You weren't supposed to see me
Vansh: But only I had the right to see you first! Only had to have a video call but no!
Aryan: (spoke loudly) Welcome to their Gol Daana; their engagement.
Everyone cheered and they entangled their hands together while seated on the crescent. Riva and Rivan walked with two platters which had their rings. Both the families happily clapped and celebrated their engagement. They took the rings and exchanged them, making each other wear them. Riansh smiled at each other enjoying their moment. As they exchanged their rings, the crescent rose up a bit while everyone cheered.
After some time they descended back and got down to cut their cake. A huge cake arrived before them and they cut together, with their eyes locked lovingly. They fed each other and the rest of the family. Soon the dance floor was set up after which they grooved on some soft and joyful music. They had a photo session where Riddhima, Vansh posed for a few alone, the rest with their children and the rest with the families.
Riva: Riv, all this is so magical! (whispering)
Rivan: Yea it is, we finally get to see our parents happy and also we must be the first children who are conducting their parent's marriage! (laughing)
Riva: Right! (laughing)
On the other side
Vansh: (pulling Riddhima to a corner) Sweetheart happy engagement! (winking) I need a gift!
Riddhima: Which gift?
Vansh: You very well know! (smirking)
Riddhima: (thinking) Ohh that! Hmmm forget it!
Vansh: Forget it! What do you mean Mrs Rai Singhania? (leaning closer to her)
Riddhima: Aha….not Mrs Rai Singhania, Ms Raichand for now. (Pushing him) But I never imagined we'll get to live everything once again and that too with the entire family! I'm so happy!
Vansh: Me too sweetheart! Now nothing can stop us from uniting!
Riva: Caught you!! (disrupting them) This is where you were hiding?
Rivan: Dad I told you  no meeting mom secretly!
Vansh: Mom ke chamche! Stop spoiling my romance!
Riva: Come on Dad, you have a whole life to do that, just save it for then.
Riddhima: You three are so shameless! Just like (interrupting)
Twins and Vansh: your dad! (laughing)
The four of them shared a hug, waiting for the next day of rituals.
Precap:
Mehndi
I hope you enjoyed reading this. The more the response the earlier I will post

Please let me know how you found it in the comments section.
hope you enjoyed the first two rituals of the wedding.
Will post next on Monday as i'm not feeling well.
Please keep commenting and do let me know how you found this episode

Parita

The post The Twisted game of Destiny- Gol Daana IMMJ2 Fanfic appeared first on Telly Updates.