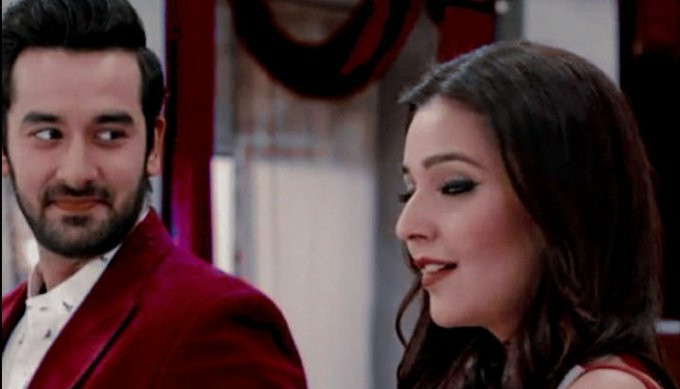 Here we go:
Everyone in VR mansion were busy in doing preparation for the surprise party.
"Bhaiya, I said to not put that light there!"
"Now put it there" Riddhima said pointing towards a pillar.
Bringing a glass of water, Vansh spoke- "Sweetheart, everything will be done smoothly! There is still two hours for Kabir to come, you relax!
Riddhima drank the water and was about to continue the work.
A person came and holding her from her shoulders, made her sit on the sofa.
"Riddhima, I am too there! And don't worry much, there's still some time for him to arrive"
"Ahana, I know, but, it's his birthday, and I wanna to do everything perfectly! Remember, he planned such a big surprise on my 25th birthday "
"Yeah! I remember, and don't forget, I too helped him in that surprise"
"Yeah! I do remember!
Ahana did all the preparations for next two hours.
____________________________________
"Hey! I am back" a loud voice came.
Lights were off and nothing was visible in darkness. And the voice echoed.
"Is anyone there?" Kabir again spoke.
"Surprise" this sound came loudly.
Lights went on! And the mansion was beautifully decorated!
Everyone came and wished Kabir.
Kabir hugged Vansh and thanked him and Riddhima.
"Riddhima, it's so beautiful surprise! Thankyou!"
"Credit goes to Ahana! I did only few things. But Ahana was the one, who cross checked everything! And planned it!
And you know, she called me yesterday only, to discuss about the surprise!"
Kabir went near Ahana, and thanked her.
Ahana whispered "Your welcome"
_____________________________________
Riansh's room-
R- Vansh, I wanna talk about Ahana and Kabir with you!
V- I too wanted to talk about them!
R- First, me!
V- Okay!
R- I read Ahana's diary!
V- It's wrong thing!
R- I know, par, kuch sahi karne ke liye, kuch galat karna hi padta hain na!
V- Okay! Tell what special thing you got, that you are to excited to share with me!
R- I clicked that page's photo.
She said sticking her tongue out!
V- Riddhima!
R- Now, read please!
She said unlocking her phone, and showing that picture.
It read–
"I know Kabir since a long time. But, since one year whenever I meet him. I feel a different emotion. I just don't know, what's happening with me!
.
Bappa, help me!
I am feeling sleepy, diary!
And am sure enough that I will get wierd dreams of Kabir rejecting my proposal!
Anyways, good night!"
V- That means she too loves him!
R- Too? Who else, loves her!?
V- Kabir too loves her!
R- What?
V- Yes! He told me this, I guess 3 or 4 days ago.
R- That means- Pyaar dono ko hain! Par izhaar kisi ko nahi karna!
V- Exactly!
R- "Toh, let's do something for them!"
V- Why not, sweetheart!
He winked.
Next day-
Riddhima went to Ahana's home.
Bringing two cup of coffees and, after keeping one cup on the table and sipping the other coffee.
Ahana said- Why this sudden plan of coming, here?
Riddhima- I can't come without any reason! You don't consider me your friend more!?
Ahana- Drama queen
And saying so, she rolled her eyes.
Riddhima- Acha, listen!
Ahana hummed.
Riddhima- Kabir loves a girl!
Ahana- What!? W-who?
Riddhima- I don't know, but, Vansh said Kabir was praising her! And was even saying- She is beautiful!
"Beautiful?" Ahana mumbled and continued sipping her coffee and pretended to ignore what she said!
"I was thinking why not go to that cafe and then see who that girl is!"
"I am not interested" Ahana said with a hope in her eyes, that, Riddhima will insist her to accompany her to the cafe.
"As you say"
Riddhima was about to get up from the sofa but Ahana kept her empty cup of coffee on the table and held her hand quickly.
"You are insisting, that's why only, I am coming with you" she said instantly.
"Nice descision!" Riddhima exclaimed!
And hugged Ahana.
In VR mansion, Kabir was all set to know the one whom Ahana loves!
At the Cafe-
Ahana with Riddhima while Kabir with Vansh reached.
They both found seats. And everything was going as per the plan of Riddhima and Vansh.
Riddhima texted Vansh-
"Come outside, after making any excuse!"
The message got seen and soon he came outside and then, Riddhima too came outside.
Kabir, noticed Ahana and after thinking for a while, went near her.
K- "Hi"
A- "Hello"
K- "For whom, you are waiting?"
A- "No one"
K- "Oh"
She is lying to me.
A-"Yeah"
He is acting all innocent, and, asking me for whom, I am waiting!
A-"Why you are standing? Sit please"
They both were now sitting opposite to each other.
Just then, Kabir saw Riddhima!
And Ahana too saw Vansh!
Ahana- Vansh!
Kabir- Riddhima!
They said in unison.
Kabir- Vansh came with me.
Ahana- And Riddhima came with me!
After pausing for a second.
"Leave, all these! Tell me, who is the so-called beautiful, lady love of yours?"
"First, you tell me! Who is the guy, you came to meet?"
"I don't love anyone except you!"
"Same here"
And then, they both realised what they just spoke!
Voice of Riddhima and Vansh came from behind –
Mission successful! And what a proposal!
———————————————————–
Mera Dil Bhi Kitna Pagal Hai
Ye Pyar To Tum Se Karta Hai
Par Saamne Jab Tum Aate Ho,
Kuch Bhi Kehne Se Darta Hai
———————-The end————————
Thanks for reading!
And guys, few of you, wanted me to write poem on other characters of Immj2. But, am not that good at poems and I just wrote that one with flow. So, writing about other characters is not possible! Hoping that, you guys will like this one shot.
The post The proposal (Ishq mein Marjawan 2) appeared first on Telly Updates.