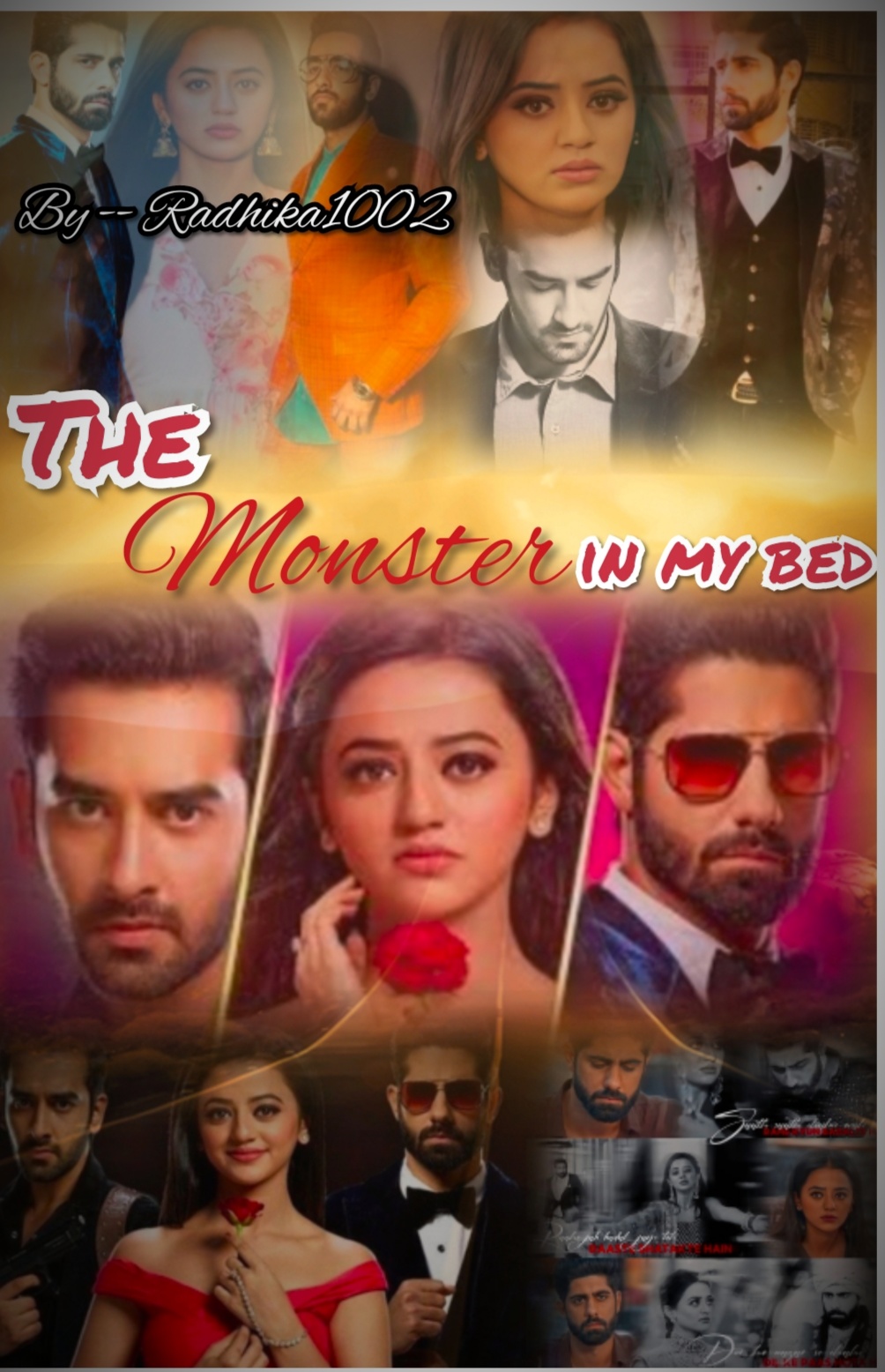 Today I am very happy. Do you know why? Today I completed 100 posts
. This is my 100th post. I never imagined I will be able to complete 100 posts. Totally unexpected!! Thanks you so much for your love and support. Keep supporting me like you are doing.






. Let's start now:
Link for previous episode: 
–: Chapter – 3 :–
The episode starts with Siya and Riddhima talking about the incident which Riddhima faced recently in her in-laws house, which made her broken down.
Riddhima with a broken voice says, " Same like everyday, he beats me like a monster. A heartless person I have ever met with! ".
Siya says putting her one hand on Riddhima's shoulder to give her mental support, " You should leave and give him divorce. What is the need to do all this and tolerate this violence?? ".
Riddhima closes her eyes and remembers her father requesting and folding handing in front of her. A tear rolls down from her face thinking about that night. A night which changed her. A hell and heaven difference between old and new Riddhima.
Riddhima says coldly, " My all expectations have died upon everyone, now I have my expectation only on God!! ". 
Flashback Starts:-
Riddhima was standing in a kitchen and making dinner for her, and her family. Though she didn't eat properly from last few days. But if today she don't eat something then surely she will be in health problems. 
The kitchen is not very big in size but a small one, a middle – class family can afford. It is not a modular kitchen. It has shelves on the walls. All the boxes in the shelves can be seen as they are closed my glass doors.
There is also a small window, the window is opened and winds are blowing in and out. Beside the window there is the wash basin. On the opposite of wash basin there is the three burner stove.
She was making the dough, keeping the plate on the racks. She had already made palak panner, her husband's favorite dish, and kept it aside. She thought to make paratha with ghee to make his husband happy on her.
She was doing his work when all of a old woman in his seventies comes there with a stick in his hand.
Woman says in an annoyed manner, " I was calling you can't you hear?? Have you become deaf?? ". 
Riddhima lifts her face and says innocently as much she can, " Sorry Dadi, I didn't hear you. I was busy with the works ".
Dadi thinks herself : Busy!! Whenever I asks her something, Maha Rani ( Queen ) is busy. God knows what she do everytime. Now see how I am gonna teach her a lesson.
Dadi to Riddhima, " Ok, Ok. Now make tea for me. And….
Before she can complete her sentence Riddhima starts, " Can I give you after 5 mins. My dough is almost ready. "
By saying this Riddhima starts to work again bowing her head down. Here Dadi was burning in anger.
Dadi to herself : What? She said me no?? Now I show what this Sushani Mathur can do!!
By thinking this she gives a force smile to Riddhima and leaves.
Riddhima completes her all works. After making the dinner, she cleans her room. Just then her husband enters. Hearing the door sound, she takes her sari pallu and covers her head.
She comes outside and saw her husband is not able to stand properly as he drank a lot. She immediately runs and supports him.
Riddhima panics and says, " You have drank again? I have said you not to drink so much. It is injurious for your health ".
Listening to her lecture again he pushed him. And with a irritating face says, " Stop your lecture ok? Who are you to say what I will do? You are my wife ok? I am your husband. Don't try to boss around me. A girls place is beneath a men's feet so seal your mouth. "
Saying this he turns his face in other way. To change his mood Riddhima again speaks, " Ok my hubby I have made mistake. Now forgive your idiot wife. Please come and have your dinner. I have made your favorite palak panner ". ( smiling ).
Boy : I don't want to eat, I have ate outside.
Riddhima : But I have made for you only. Please eat something.
Boy : I said na no!! ( shouting ).
Hearing his voice Dadi comes from inside. 
Dadi : If she is requesting for so many times then eat it.
Boy : But Dadi!!
Dadi : Kabir!!
Kabir : Okay Dadi.
Kabir loves his Dadi a lot. So he never disrespect her or disobey her. She is nothing less than a mother to him.
Kabir goes and sits in the dinning table for dinner. Riddhima calls Dadi and starts to serve the dinner. She pass the plate and bowls to them. Then she brings the palak panner and paratha from the kitchen. Then she starts to serve the food to everyone.
After giving to Kabir, she went to serve Dadi.
But Dadi protests, " You give me water. I am taking it ".
Riddhima, " No no Dadi I am giving you water and also the food ".
Dadi, " No beta just give me the water. I am taking it ". ( smiling ).
Riddhima nodes and goes inside the kitchen again to bring the jug of water. Here Kabir tears a part of paratha and takes a panner upon it and brings it near his mouth to eat it. But…
But Dadi screams, " Aahh!! What is this?? "
Kabir sees instead of eating and what he saw makes him red like a tomato in anger. He sees Dadi picks a big cockroach from the palak panner. It was dead. Bad smell is coming from it. Dadi threw it in disgust!!
Kabir : Riddhimaaaa!!! ( shouting on top of his voice ).
Hearing him shouting the jug fells down from her and making the glass pieces to shatter on the ground into thousands of pieces. She was looking down on the floor with shocked eyes.
When she lifts her face she saw Kabir arrived their being angry. He hold Riddhima's right hand and drags her with him forcefully.
But unfortunately Riddhima walks on the glass pieces as Kabir pulls her with great force. The glass pierces her skin but she didn't utter a sound.
With hurt feet she goes with Kabir in their room. On the way there were marks of her feet in blood.
After reaching their room Kabir pushes Riddhima on the bed and closed the door. While Riddhima fell down on the bed. She don't know what is the reason but can predict what is going to happen.
She lifts her face and saw Kabir's face is full of angry for her. He is giving death glares to her.
Riddhima says with broken voice, " Wh…What ha.. happ… ened? "
Kabir shouts, " What happened?? Are you joking with me? You very well know what you have done. I also understood your motives ".
Riddhima (crying), " I didn't do anything. Please leave me. ( folding hands) I will do what you will say. "
Kabir takes out his handkerchief and ties her face so that she can't shout anymore.
Kabir : You wanted to kill me right? You have added a dead cockroach in my food so that I will die and you will have fun with your other boyfriend right? No you are wrong I will not die like this.
Riddhima was crying and trying to say no by moving her head in negative manner but all in vain. 
Violence part starts:-
( Ignore if you are not comfortable with it )
Kabir brings out a stick and starts to beat her with it. He is using ber full strength to beat him.
Kabir : You will kill me? I will fu*k you!!
He kept on beating her. While Riddhima was just crying and shouting in pain. Her whole body is paining like hell. She tries her best to defend herself from him but all in vain.
Atlast the stick breaks. But it was not the end. He takes out his leather belt and again starts. Till the stick it was ok but now it is going beyond limits for her. There were red marks on her body. Blood is also oozing out.
Kabir kept on shouting, " You thought you will kill me?? "
And kept on beating her. Then he kept the belt aside and comes near Riddhima. He sats beside her and tears her sari. Then he removes her blouse and other garments. Now she is lying naked, like a lifeless body.
Then Kabir starts to slap her, and grabs her tightly. And he starts to suck her lips. He was biting her lips making blood coming out. He grabs her bre*sts and press it with his nails making red marks o them. Then he pushes her and hover upon her. He bites his bre*sts and giving wounds on them.
Violence part ends. 
As Kabir was drank, he falls on the bed being unconscious. While Riddhima grabs her clothes to cover her and kept on crying pouring her heart out.
Flashback ends.
…………………………………………………………………………………………………………..
(Hello guys!! End of this chapter. I hope you all will like it. Do comment and vote if you like it. Next chapter will come after Thursday because I have a test and I have to prepare for it. Sorry for any mistakes and error. Take care all of you and Love you all



. Bye bye


)..
The post The Monster in my Bed #Riansh ff Chapter — 3 appeared first on Telly Updates.