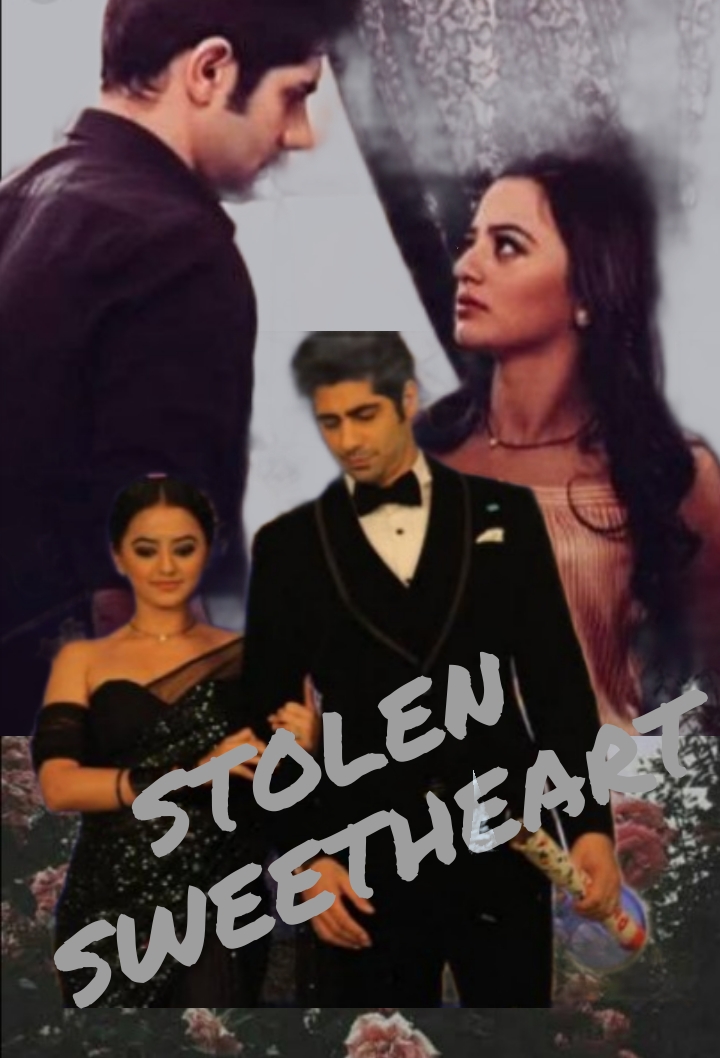 Hii everyone!! Thanks for your lovely 25 comments. I got the best gift of golden jubilee by getting less comments ever. (Don't take to your heart please I am really sad)  But yeah… Thanks to those who gave their time to read my FF
The brown dress girl enters Vansh's cabin finding it empty. She goes through some files flipping the pages, she found the picture of the man she killed. She took the file and went away. Vansh entered the cabin and found a small piece of a twinkling stone. He understood someone came inside. He called Angre and checked the CCTV. The CCTV went black when they played it of the time when cabin was empty.
Here, Riddhima enters VR Mansion and bumps to a servant who was sweating. She said sorry and went away running. Riddhima simply ignored and came inside when Dadi stopped her.
Dadi: Where were you?
Riddhima: Dadi I was out for a recording.
Dadi: You will still continue to sing?
Riddhima nodded in yes.
Dadi: Go to your room.
Riddhima again nodded and left. She entered the room only to find Vansh working on his laptop along with Angre. Riddhima kept her purse in the cupboard and sat on the bed looking at him. Angre silently left not before closing the room. Riddhima closed the laptop and sat on his lap. Vansh was sniffing her scent while she kept looking at him.
Vansh: How was the day?
Riddhima: Okayish till I entred the room.
Vansh: Really?
Riddhima: (nodding slowly in no) Really….
Both giggle and spend time together talking until Chanchal started making noise. All of the family members gathered in the hall only to see Chanchal smiling and hugging Uma and Dadi.
Siya: What happened Chachi?
Ishani: My marriage is tomorrow you are shouting now.
Uma: Vihaan is coming back leaving his last year of studies for you.
Ishani: According to me Chachi can't be happy by this news.
Siya and Riddhima giggle slowly.
Dadi: Ishani. You are getting married now. Please try to control your words (glaring at Riddhima) and laughing.
Riddhima fell silent and Chanchal started speaking.
Chanchal: I have such a good news that I will donate clothes to poor ones.
Ishani: Oh my my! Such a news that changed Chachi! Come on Chachi don't beat around the bush.
Chanchal: You are going to be bua!
Ishani and Siya screamed and hugged Riddhima.
Ishani; So soon han?
Siya: Bhai yous step ahed na?
Vansh who was just staring Riddhima while she was doing the same.
Vansh and Riddhima: Not Possible!!
Everyone looks back at Chanchal.
Chanchal: So who is talking about Riddhima! I am talking about Ahana! Ahana is pregnant!
Ishani and Siya sit on the sofa making a sad face.
Uma: Oh wow. This is such a good news. I am very happy for both of them.
Dadi looks at Vansh.
Dadi: Call Ahana home. She will not live alone. If Kabir will come call him too. Ishani you should rest. Tomorrow is your marriage.
Ishani: I WILL rest. Wese we all know only some people love Ahana 'Bhabhi'.
Dadi: Enough. Vansh. Come with me. Riddhima you help Uma on preparation of dinner.
Riddhima nods and moves towards the kitchen while Vansh and Dadi go to the poolside.
Vansh: What happened Dadi? You want me to do something?
Dadi: Yes. I want you both to plan for kids.
Vansh: What!? Dadi … Please. I don't want such tantrums right now.
Dadi: What tantrums? You know if Kabir's child comes first he will be the next to get the property.
Vansh slaps his head and nods in no.
Dadi: You will not say no.
Vansh: Ok. But…
Dadi: No buts. It's final.
Dadi leaves while Vansh was confused.
Vansh: What does she want me to do?
(His memory

)
He leaves from there. Everyone sits for dinner and Vihaan also came.
Vihaan: Get married fast so I can peacefully complete my studies.
Siya: What Bhai. Sorry. Doctor Bhai. (Giggles) You and your studies.
Vihaan: You are dumbos. Ma, I am very hungry.
Uma: So sit and have food.
Vihaan rubs his hand and sits next to Riddhima. Riddhima smiles at him.
Vansh: Vihaan, when did you come?
Riddhima: Right now. You have your dinner.
In RiAnsh's room
Riddhima was keeping clothes in cupboard while Vansh was working.
Riddhima: What was Dadi saying?
Vansh: Even I am confused. She said you will not deny me. I said yes. And she left without telling.
Riddhima: You didn't take your medicine right?
Vansh: I hate them.
Riddhima closes his laptop.
Riddhima: If you not take medicine how will you remember? She must have told you and you have forgotten.
Vansh: What?
Riddhima exhales a deep breath and gives a tight smile to him.
Riddhima: What was Dadi saying Vansh?
Vansh: She said…(he stopped)
Riddhima: What?
Vansh: Nothing…
Riddhima: Still I can get it from you if you don't eat your medicine.
Vansh gets up and eats his medicine leaving Riddhima in confusion.
Riddhima: What happening Vansh?
Vansh and Riddhima lay on the bed while Riddhima rested her head on Vansh's chest with dim lights in the room.
Vansh: Dadi wants us to have kids.
Riddhima looks at Vansh.
Riddhima: And what is your thought about it?
Vansh: I never thought about it. We need some time with each other. You?
Riddhima: Same. But why so sudden?
Vansh: Dadi thinks if Kabir and Ahana's child will be elder he will get the property. Kabir is having his own business now.. Why will he need VR Empire. Even he does we will sort this later.
Riddhima giggles while Vansh glares at her.
Riddhima: You have thought so much till now.
Vansh starts tickling Riddhima while she was trying to stop him but all in vain. She kept laughing and seeing her Vansh was smiling very much.
Precap- IshAngre's marriage (finally

)
After a long time of crying (for some other reason) I am here!! Hope you all liked it. I am thinking to end this FF soon cause it's been so long with this. Do tell your reviews

Tanvi

The post STOLEN SWEETHEART- RIANSH FF EPI 51 appeared first on Telly Updates.