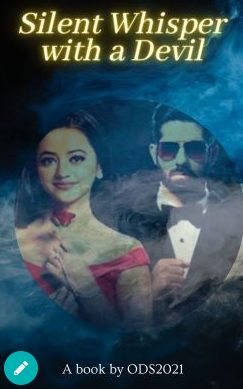 He was watching the morning view when two tiny hands back hugged him… he smiled without looking behind to know who is that as he already know whose behaviour is it….
"Lily , is that become your habit now? " he asked cupping her face
"ha…. now I am addicted to hug you from back… it feels like I am holding my whole world tightly… " she said with her precious bright smile…. 
" ha ha stop flirting now… " he said pulling her nose
"Vansh  do you participate that crowning event of angles" 
"ha I hope to participate…. but if I crown as the Archangel ill I able do my duty well?"
"of course you can… try to do your best for God…"
"hmm but will God accept me?" 
"why not….. you are his favourite and everyone in heaven loves you …. they say you are like their sunshine…. "  
"  what about you…" he asked with a little smirk…. 
" I love you more than anyone …." saying this she pecked on his cheeks and quick ran from there…. looking at how she run away making his heart fluttered with her innocent  smile all he told is "  I love you more than you do "
Present Time 
I opened my eyes and felt like I was sleeping a century….. My head began to ache like I was beaten by ten strong men…. exactly what happened to me…. then I remember the whole incident one by one… is it a dream? or am I in heaven as I felt I died ….I tried to stand a little but felt an unbearable pain coming from tummy… I quickly lift my t shirt and saw a bandage around my tummy and there were blood stains… That means everything was real not a dream… that means you are alive….. thank god!!!!!!!
"oh finally you are wake … are you fine ? " Vansh asked sitting beside me… I was taken back remembering he was really the king of hell… "are you ok?" he again asked while holding my hand….
"I….I…I am …fi…fine…" I said taking my hand from his grip gently …. what to do now…. Ridz think …think… yo have to escape from him otherwise he will bring you to hel… oh nooo… never in this young age I want to go to hell…
"Why are shivering? do you have fever" saying this he came close check my temperature which makes me gasp remembering his devil look…
I quickly jumped from the bed forgetting the unbearable pain ….
"PLEASE I am an innocent girl… I never crack jokes on you intentionally… please forgive me…please…please don't kill me… I beg you… I never thought you are really the king of hell " I said folding my hands… I was literally crying…
"hey!!! hey!!! it's ok… never mind it… " he said coming towards me
"please don't come near me… " I said looking at him sternly
"ok… I am not coming …be calm first.. ok?" he said taking his steps backward… really? is king of hell this much caring …. no…  I heard once hat never trust devil…
"see Vansh, sorry I mean lord…. did you come to take me to he hell? I swear I didn't do sins … I am really a pure girl… see I didn't even had my first kiss yet … and I never dated anyone …. I just had a crush on V oppa… " I said pouting …
"no sweetheart  you too done some wrong deeds" sweet heart….. what the hell…. is he clingy…. his behaviour changed too quickly….
"what!! me??? no….  ha I just do some little mischievous works but they are not sins … I swear… once I put some nails on a chair of boy when I was 12 years old for make mocks at me… and once I copied my maths paper as I hate that subject…. then once I took a fake fever and cut PT period… and once I ate four mint chocolate ice creams and pay for two…. that's all I can remember …. please don't take me to the hell"
"Sweetheart you are talking to much , aren't you…. " he said coming close to me… god please…. I can't die at this age… if I die now then I will have to go school again…. no… what the heck… he is coming closer and closer while I am stepping backward…
hey this is not any kind of fan fiction or Bollywood movie to enjoy this moment… but yet like ff or movies my back hit the wall saying I have nowhere to go…. he pinned me against the wall and came closer to me… for moment my heart stopped… this can't be a romantic moment as which romance that can happen with king of hell…
I closed my eyes as I can feel his breath near me… Is he gonna kiss me…?
" have good rest sweetheart , you are too weak now … and don't lose that necklace eve …. good night and sweet dreams" he said that and disappear from here….
I put my hand on chest and took a long breath…. is that how demons say good night… how on the earth I thought he is going to kiss me… am I mad to think a kiss from the king of hell… oh my holly mind….
—————————————————————————————————-
"Angre , where is Aryan?"
"Lord he is nowhere to find… I think after the fight he is hiding somewhere"
"coward bastard… hopefully I able to get back that necklace from him and put on Riddima… "
"Lord do you think Aryan is right"
"ha Angre he is right"
"WHAT!!!"
Flash Back……
After bandaging the wound of Riddima he turned to go to the wash room to wash his hands… on the way he accidentally kicked the dustbin in her room which used for stationery waste… he bent down to put them all in the dustbin again…. suddenly his eyes met with that old box and letter …..
( the letter which Riddima received earlier )
Vansh looked at the letter and his eyes widened seeing the content of  the letter… the first line of the letter was ,  The rebirth of Lily ……….
Flash back end…..
" Lord does that mean is she know her past life?"
" no Angre, I think she doesn't know anything as she can't read this language…. "
"but Lord how Aryan get to know about her before you…"
" even I don't know how… "
" Lord what do you hope to do now"
"Angre I think now I know a way to stop this damn curse…." he said looking at the letter…
Vansh POV, 
I don't know whether I should happy or be sad… of course I must be happy because after those thousand years finally I met her, I met my love again… but if the curse happen then how can I see my love die again in front of me… that's the reason why I afraid of finding her…. but destiny meet us again now I will not leave her no matter what…
according to this letter only way that can stop this curse is make her a pure human… change an angle to a human is not that much easy… but eve if I change her into a fully human can a devil live with a human….?
————————————————————————————————————
 After three resting days I went to the hospital…. but seeing the work load I felt that it's better if I die that day…. I saw Sejal talking with Kabir when I came to the entrance…. oh no !!!!
" Ridz are you ok? " Kabir asked hugging me tightly… ahhh this man…. he is too much caring sometime…..
"ya don't worry I am fine now" I said hugging him back…
"I was worried when you didn't come to meet me and not answering my calls…. that's when Sejal told me you had fever.." ya I said to Sejal that I had fever….  because of  too much work Sejal couldn't come … so that lie worked..  what else I can say…..
"hmmm by the way Kabir let's grab dinner together " I said coming out from the hug….
"ok babe"
"Kabir-" Before I say I saw everything get stop …. ahhh it's time stop again…. ahhh don't tell me that devil is coming here….
"I am already here sweetheart "  ahhhh!!!! why I am so unlucky ….
"Vansh why you are here" I said annoyingly…. I am seriously fed up this super natural things now…
"why did you let him hug you…. don't let other men to touch you" huh! why does he even care…. if I want I hug every man in India… huh!!!!
"it's non of your business… he is my-" again I was stopped but this time it was cut by sweet pair of lips… WHAT!!! he is kissing me…. oh ya he is kissing me….
"What the hell Vansh….. " I shouted pushing him….
"making you have your first kiss… and sweetheart remember what I said…." before I say anything he got vanished and ended the time stop….
"Cute pie why are you looking pale" Sejal asked looking at me
"I….I….I…." I don't know what to say…I touch my lips ….is he really kissed me… haye marjawan…
does that means the king of hell kissed me….huh!!! my first kiss was for a devil….? ahhh!!! is my whole life a  ridiculous joke….?
———————————————————————————————————
So how was this chapter?


sorry I am not that much good in writing romantic incidents…




The post Silence Whisper with a Devil ( Chapter 13 ) appeared first on Telly Updates.