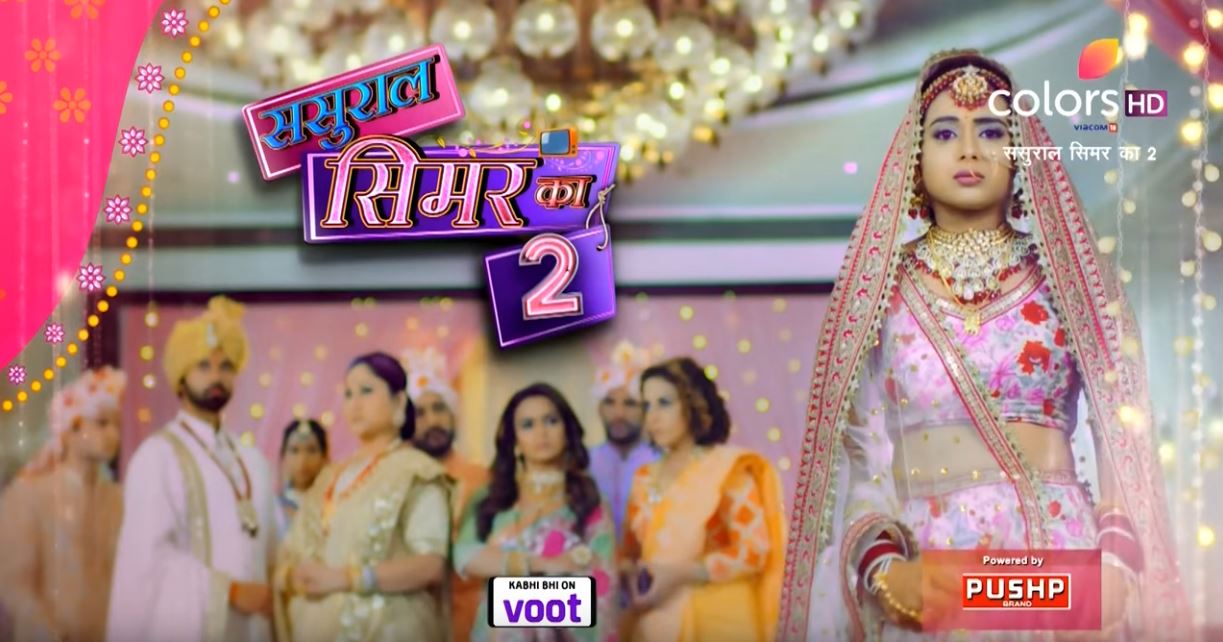 Sasural Simar Ka 2 9th July 2021 Written Episode, Written Update on TellyUpdates.com
The Episode starts with Aarav telling Vivaan that the intensity is needed for fulfilling a relation, tells that his marriage is second chance for the family, if anything goes wrong then Badi Maa can't forget, asks him to forget his past and that girl. He says first I raised hand on you and then had an argument with Simar and she got unwell. He asks him to think what he said. He goes. Vivaan recalls Reema's love confession and Doctor telling about her. He messages someone to check if Reema Narayan is in the hotel. Aarav comes to the room and hears Simar hearing the recording, in which Lawyer took Avinash and Indu's confession and threatened to send them to jail. Simar cries hearing the recording. Aarav comes inside. Simar tells Aarav that she agreed to stay here for a month on his sayings and doing whatever he is saying, then why this happened with her family. Aarav says Simar, I didn't know about this. He gives his hand to her. Simar holds his hand and stands up. Music plays….maana ke hum yaar nahi…..He feels bad seeing tears in her eyes. He says I am sorry Simar, I was unaware of this, I didn't know about this tape, Badi Maa and Lawyer. He says you are fulfilling wife's duties happily and doing so much for me, but I couldn't take care of you. He says I am sorry. Simar looks at him and turns her face. He is about to keep his hand on her shoulder, when Aditi comes there and says sorry, says she came to meet Bhabhi. Aarav says meet her. He asks Simar to tell him if she needs anything and says he will be outside.
Aarav asks Aditi if she is fine. Aditi recalls Gagan proposing her and says she is ok. Aarav goes. Aditi tells Simar that she wants to talk to her. Simar asks her to say. Aditi sees her swollen eyes and asks if you are fine? Simar says yes and asks her to tell. Aditi thinks she can't tell her. She tells that she has brought clothes for her. Simar asks what is the need and tells that she has asked her house to send the clothes. Aditi says these clothes are from this house, tells that Aarav made a special request to her to buy clothes for her. She shows the dress and tells that it is Aarav's favorite color and she bought it after searching in every mall and shops in Agra. She says Aarav asked her to buy clothes for her, for Vivaan's every marriage function. Simar gets glad and takes Aditi's phone to talk to her family.
Gahan reaches home. He gets call from Aditi's mobile. He gets tensed. Indu asks him to pick the call and says whatever has happened. Simar says I am on call and tells that her phone was broken, so she is calling from this phone. She asks her to give call to Indu. Gagan gives call to Indu. Simar asks Indu about Avinash and asks why didn't you tell me that badi Maa came home. Indu says you are already bearing enough and tells that she can't tell her, and says they all are suffering because of Reema. Simar tells about the hotel name where Reema is residing. Roma and Lalit come to the hotel and take Reema home. Gupta ji's informer sees her and informs him. He asks him to keep informing him.
Gajendra comes to Vivaan and asks him to have food after taking out his anger. He says lets order something. Sandhya comes there and asks Vivaan to have food. Gajendra says Vivaan is fed up of eating home made food. Sandhya asks don't you like parathas made by me. Vivaan says no, he likes it very much. Sandhya says today is my son's marriage functions begins and asks him to eat the food. Gajendra goes from there with Sandhya. Vivaan calls hotel and asks the receptionist to send someone and check on Reema Narayan. Receptionist tells that Reema has gone home last night, someone came from her family and took her. Vivaan is surprised.
Simar prays to Mata rani and thanks her that Reema went home. She says she knows that Reema is not bad at heart. She turns and sees Badi Maa and other standing. Badi Maa says you sisters have no value, your sister is sold and agreed to Gupta ji's sayings and returned home. She says your father is professor and daughters are shameless. She says they have stepped in the coal and blacken their feet. She says jai Maa durga and prays to the goddess. She asks Sandhya and Chitra to start Vivaan's haldi rasam taking Mata Rani's name. She feels disgusted seeing Simar and walks away from there. Simar thinks I trust my Di fully. Vivaan calls Reema and hopes she picks his call. Vivaan looks at the decoration.
Avinash asks Indu why did he let Reema enter the house? Indu says she is our daughter, how can we leave her. Avinash asks her to throw the money on Reema, which was thrown on him and send her off. His condition deteriorates. Indu and Gagan give him medicine and water. Reema hears them and cries. She thinks she had said and done so much, but Vivaan is unaffected. She thinks marriage functions might have started.
Aarav and Aditi bring Vivaan for his haldi rasam. Badi Maa says lets take Maa Durga's name and start the haldi rasam. She applies haldi to him first and notices sadness on his face. She pulls his ear. He signs nothing. Simar comes there. Aarav looks at her, as she comes wearing the dress brought by Aditi. Aditi smiles. Badi Maa gets upset seeing Simar there. Aarav couldn't keep his eyes off Simar. Sandhya and Chitra apply haldi to Vivaan. Aarav smiles. Simar also smiles.
Aditi messages Gagan that she shouldn't have raised her hand on him and asks for forgiveness. Gagan replies neither you have drank coffee nor paid your bill, so we have to meet again. Aditi smiles. Gagan asks someone to give the gift in Gitanjali Devi's hand. He looks on.
Aditi tells Sandhya that she wants Aarav and Simar to apply haldi to Vivaan together. Sandhya says even she wants, but Badi Maa will get upset. Badi Maa gets a call and goes out. Aditi asks Aarav and Simar to apply haldi to Vivaan together. Aarav applies haldi to Vivaan and then looks at Simar. Simar also looks at him. Aditi asks them to stop looking at each other and apply haldi ti Vivaan as he is waiting. Simar applies haldi to Vivaan and thanks him for being with Reema when nobody was with her. Vivaan smiles. Aarav and Simar looks at each other.
Precap: Vivaan gets Reema's message threatening to die, if he don't marry her. Later Sandhya asks Simar to tie mauli to Vivaan's head as he gets ready for marriage. Kajal comes there ready as the bride and takes badi Maa's blessings. Simar goes to call Vivaan and finds him missing. She gets tensed.

Update Credit to: H Hasan
The post Sasural Simar Ka 2 9th July 2021 Written Episode Update: Aarav apologizes to Simar, Vivaan's marriage functions begin appeared first on Telly Updates.