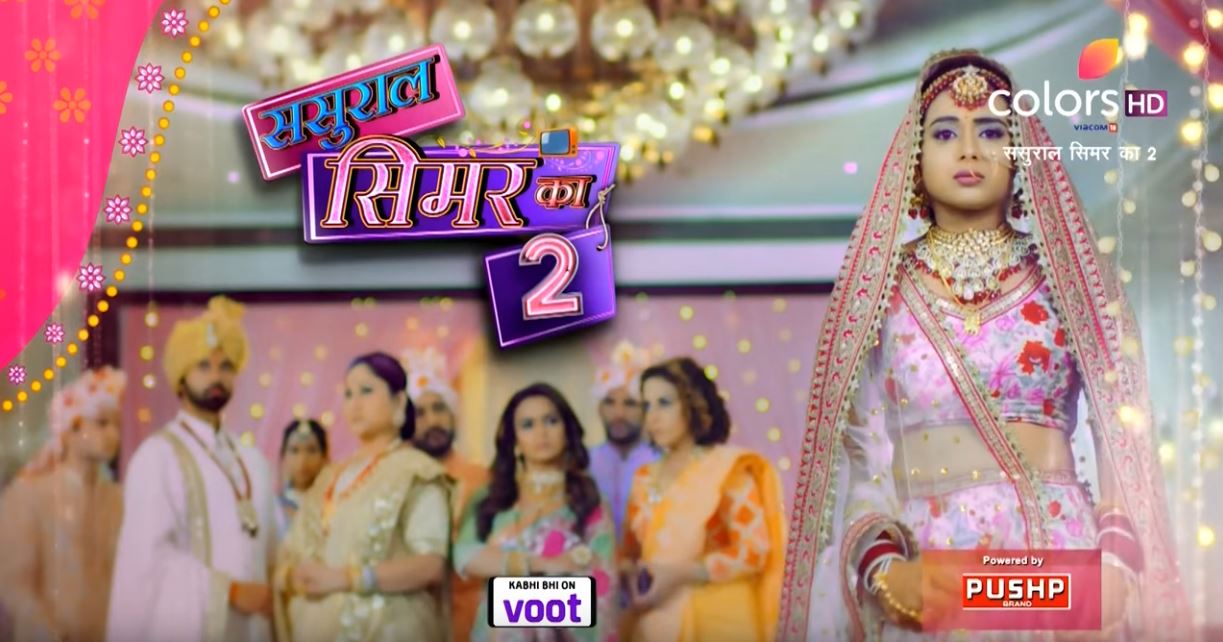 Sasural Simar Ka 2 20th July 2021 Written Episode, Written Update on TellyUpdates.com
The Episode starts with Vivaan telling that he has married Reema and will never back off. Badi Maa asks if he can back off from this luxurious house and Oswal family. She says you can't sustain without Oswal Surname. Vivaan says I am your grand son, might start with zero but will reach the end. Badi Maa says your life will get wasted. Vivaan says but Reema will be with me. Badi Maa asks what about us? We are nothing for you? Vivaan says I am trying to make you understand that I am connected with this house due to love, not due to luxury comfort, but now I have to break up with you all. He says your arrogance is breaking us. Aarav tries to stop Vivaan. Vivaan says I was right, she will never agree. Badi Maa shouts Vivaan. Vivaan asks what will she do, will she shoot him again or will bury him in the walls. He says I am not afraid and will bear everything, but will never leave Reema. Badi Maa says you are blinded in love today, but when your eyes open and when you see her truth then your heart will break surely, but you will be freed from this fake cage. She says I will wait for that day. She says solution is done, lock him in the room again. She walks out with Aarav. Guards lock the door. Vivaan says nobody can stop our love, I promise you.
Aditi comes to meet Gagan. Gagan asks if she told anyone that she is coming to meet him. Aditi says no, but I need to say sorry to you. He asks for what. Aditi says whatever Badi Maa is doing is unfair and tells him everything, that Badi Maa fired at Simar and Reema and locked Reema and Vivaan in room. She says she can't do anything to make everything right and says she feels suffocated. He asks her to calm down. Aditi says they have educated us and expect us to be puppets. Gagan says I understand. Aditi says I genuinely feel sorry for your family, asks him to punish her, don't know if it will make things right. Gagan holds her hand and says his pain will increase if he punishes her. He asks her to stop crying and kisses on her cheeks. She also kisses on his cheeks, then realizes and says sorry. Gagan holds her hand and says it would have been wrong, if you don't like me. Aditi says I don't like you Gagan, I love you. She hugs him. Gagan promises that he will make everything fine and will take her out soon. Aditi asks how you will do this? Gagan looks on.
Badi Maa tells Lawyer that if Aditi has done this, then she would have hung her. She says Professor haven't come even once to see his daughters. Lawyer asks her to sign on the papers. Badi Maa says Narayan family has to pay for this. She signs on the legal papers.
Simar writes that Badi Maa shall accept Reema di, then everything will be fine and that she never saw Aarav ji so worried. She gets up and goes to the window. She sees a car coming and stopped outside Oswal Mansion. She sees Aditi getting down from the car and waving at Gagan. She thinks Aditi is with Bhai, in his car. Aarav comes there. Simar asks if Dewar ji convinced Badi Maa. Aarav says she is very angry.
Sandhya questions Aditi where did she go? Aditi says she came in an hour and asks what is a big deal. Sandhya scolds her. Aditi makes an excuse. Sandhya asks her to inform her before going. Simar thinks why is she lying? Sandhya asks how is your friend's Papa now. Aditi says better. Sandhya asks her to freshen up and then come to kitchen. Aditi says ok. Sandhya sees Simar and smiles. Simar thinks what is going on between Gagan and Aditi, shall I ask her?
Aarav tells Simar that he wants a favor from her. Simar says yes. Aarav says you knows everyone's temperament in the house and asks him to talk to Vivaan and convince him. Simar asks him not to worry and says I will talk to Dewar ji. She says you please be strong. Aarav gets teary eyes. Simar comes to Vivaan's room and asks guard to let her go inside, as she wants to give milk to him. Guard opens the door. Simar comes inside. Vivaan is hiding behind the curtain. He comes out and the vase falls down. Vivaan says sorry Bhabhi, I was waiting for this cage door to open. He runs out, pushing the guards and goes to the hall. He pours kerosene oil on his head holding the can. Aarav, Simar, Chitra, Giriraj, Sandhya and others come there and ask him to leave the lighter. Badi Maa looks down from her room. Chitra asks him to throw the lighter. Aarav asks him to give his hand. Vivaan says nobody shall come near me. Aarav says ok. Vivaan asks Badi Maa, if she wanted this, so ok. Aarav asks him to listen. Vivaan says Badi Maa has told her decision, I have understood everything. He says you wanted to free me from the cage, so I will free myself. Gajendra asks him to listen. Aarav tries to stop him too. Sandhya says you can't do this. Vivaan congrats Badi Maa and says your stubbornness has won, but I will not let my love lose, even if I stay here or there, I will love Reema always.
Precap will be added when available.
Update Credit to: H Hasan
The post Sasural Simar Ka 2 20th July 2021 Written Episode Update: Vivaan threatens to burn himself for Reema appeared first on Telly Updates.