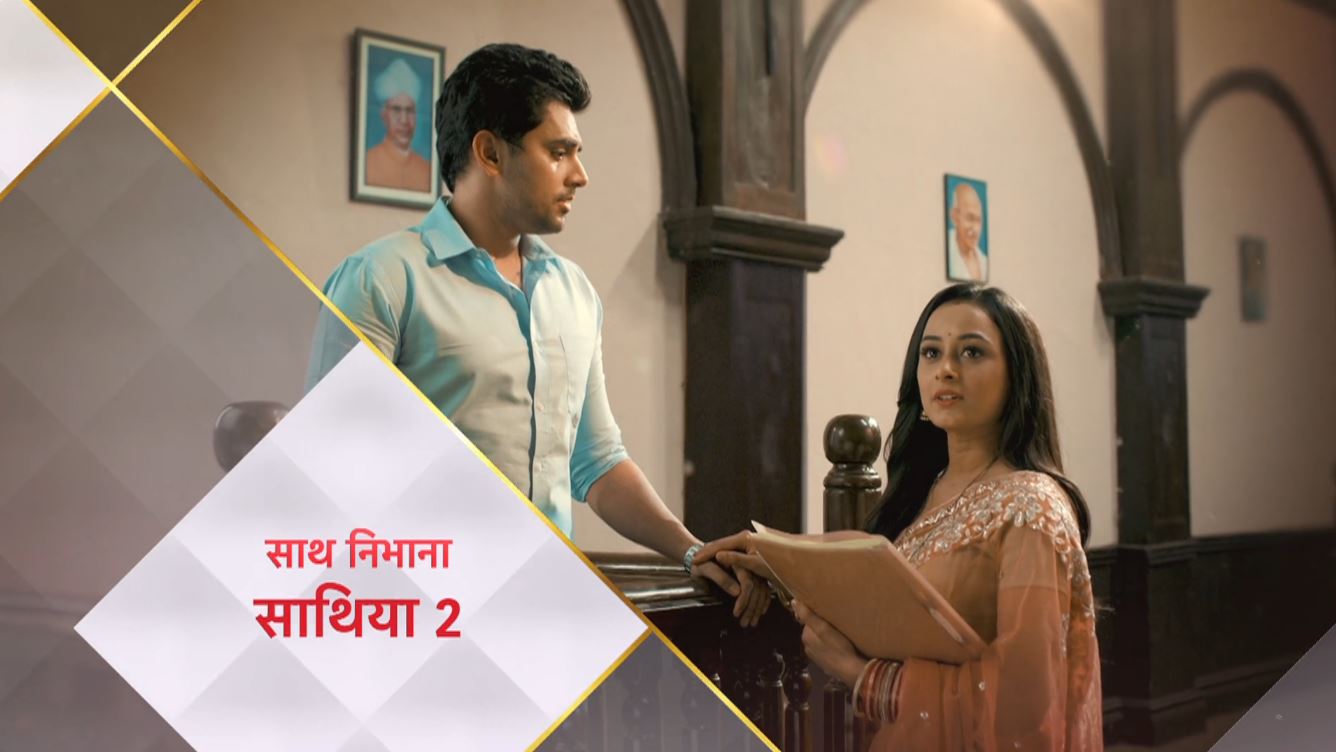 Saath Nibhana Saathiya 2 7th July 2021 Written Episode, Written Update on TellyUpdates.com
Krishna asks Gehna where is she going in a hurry. Gehna reveals that Suman called and informed that Sagar will sell Tia after marriage. Krishna gets angry and shouts he will kill Sagar. Gehna says they should expose Sagar in front of Tia first and asks him to keep an eye on Sagar while she meets Suman as her phone switched off in between. Krishna fumes on Sagar. Tia dances with Sagar and seeing his childish acting thinks he is so innocent, why did Anant and Gehna allege him, but what if the are right. Sagar asks what is she thinking. She asks him to go and let her get ready for sangeet. He agrees and leaves carrying his toy camera. Krishna notices that.
Goons search Suman. Suman hides behind cars. Gehna rescues her and takes her along. Family discusses that their dance practice is finished, but Gehna is missing. Sagar thinks Gehna must be up to something, so he should make sure she doesn't ruin his plan this time. He continues his childish acting and asks Anant to dance on Bhaiya Raja Bajayega Baja song. Kanak offers him tea and warns not to dance much or else he will fall down. Sagar says this time his plan will not fail. Anant warns Sagar to stop celebrating before his victory as there is still one day left for his wedding. Sagar says he doesn't fail. Hema says they all will dance with her bhaila. Chetan says he is acting as happy for Tia or else he does approve Tia's marriage with such a wrong person. Sagar thinks they will be in a shock tomorrow and waits for his parcel. A big parcel arrives. Courier boy says Sagar ordered it. Sagar says Bhavani ordered it to keep wedding gifts.
Gehna requests Suman to help her expose Sagar and also herself to get out of Sagar's grip. Suman says she just needs Sagar's name for her child and after her child is born, she will kick Sagar out of her life. Gehna gives her bridal dress and asks her to be ready. Sagar takes big trunk to his room. Bhavani asks what is he up to. He assures her he is not planning anything and sends her away. His client videocalls him and he tells his client that he is doing his work and imagines once he marries Tia and gets her into room, he will give her hypnotic and send her to client in a big trunk.
Baa emotionally gifts her decorated sari to Tia and asks her to get ready. Anant walks in next and says she is his younger sister and he will never think bad for her. Gehna walks in next and wipes Tia's tears. Tia remembers Suman's words. Gehna hugs her and thinks she doesn't know what Sagar will do to her, says a brother promises to protect his sister in exchange of Rakhi and hence she shouldn't be afraid and think that Anant will never let anytihng wrong happen to her. She asks her to get ready for sangeet and come out. She walks down to hall. Anant thinks he is sure she is hiding some problem. She thinks she will reveal it to him once sangeet ends. Hiral and Kanak bring Tia down for sangeet. Bhavani announces Tia's dance in her own style. Tia dances with Sagar on Idhar Chala Mai Udhar Chala.. song. Sagar lustfully hugs her from behind. Family feels embarrassed seeing that. Gehna separates them.
Precap: Bhavani gives bridal dress to Tia. Gehna hopes Tia wears Anant's gifted bridal dress. Tia looks at both dresses.
Update Credit to: MA
The post Saath Nibhana Saathiya 2 7th July 2021 Written Episode Update: Gehna Rescues Suman From Goons appeared first on Telly Updates.