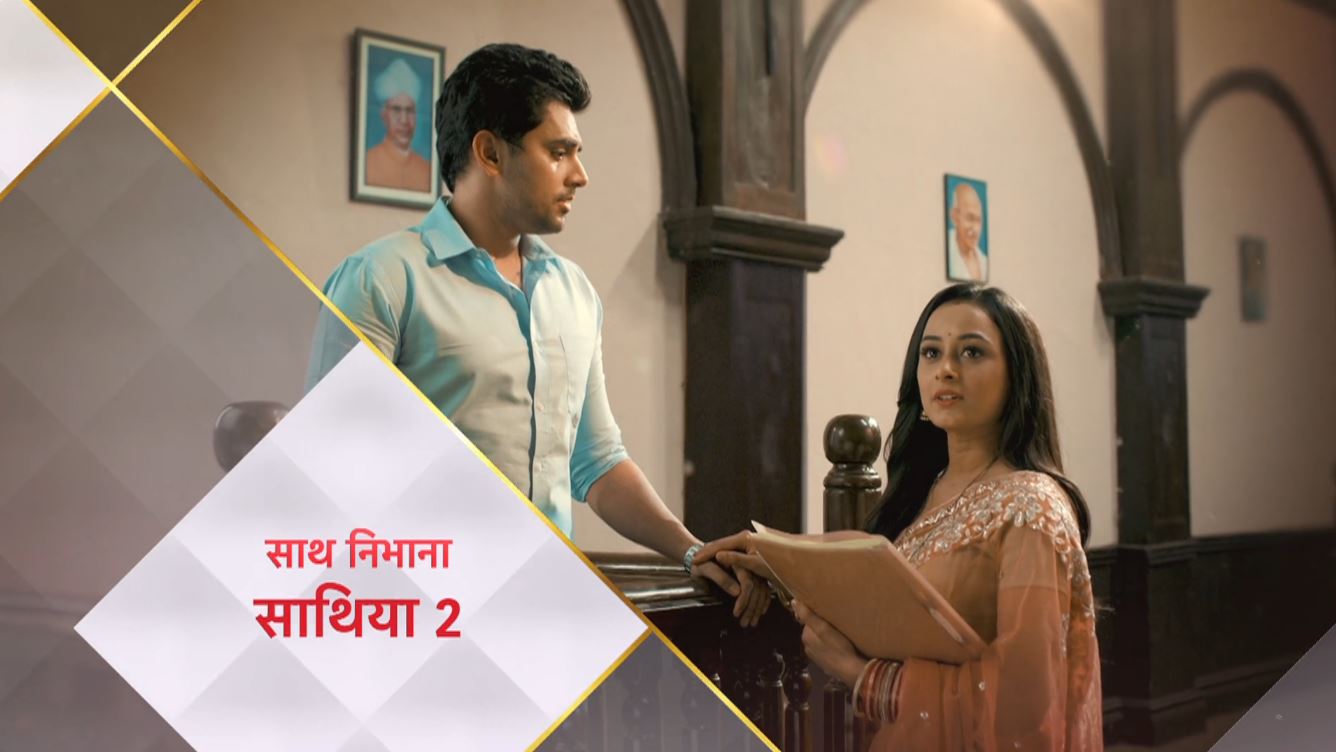 Saath Nibhana Saathiya 2 13th July 2021 Written Episode, Written Update on TellyUpdates.com
Gehna from the tempo sees Anant and calls him, but goon shuts her mouth. Krishna drives bike away. Anant asks Krishna to stop the bike as he heard Gehna's voice. He returns near tempo and hearing someone pleading for help opens tempo door and finds some other girl who got stuck inside it. He breaks down remembering Gehna and thinks where did she go, where to find her. Aye Khuda Tu Bata.. song plays in the background. Krishna returns, consoles and takes him along.
Gehna wakes up and sees herself in a room with a goon lady. She asks where is she. Lady laughs and says she came at the right place and will go to the right place. Gehna pleads to let her go back to Anant. Lady stops her. Gehna pleads. Lady leaves her hand. Gehna tries to open door, but fails. Lady says its not easy to get out of this place as one who comes here cannot get out. Gehna pleads to spare her. Lady asks her to stop crying and get ready with smile as she has to look beautiful day and night here. Gehna knocks door again and asks being a woman how can she do this to another woman.
Kanak goes to meet Sagar in police station and gives him a tight slap. He falls down. She says instead of wasting her time, he should tell what he did with Gehna. He says he didn't do any heinous act with Gehna, she made her a key to get out of jail and once he is out, Gehna will be back home. Kanak says he is not that straight and insists to tell what he did with Gehna. He warns her that he will expose her. Kanak says she will expose Hema then and nobody will miss Gehna at home given the present situation; she then laughs and asks to do whatever he wants to as its helping her.
Lady offers food to Gehna. Gehna pleads again to let her go. Gehna says she will not. Lady force feeds her. Once someone opens door, Gehna pushes the lady and tries to escape. Lady picks glass piece. Gehna collapses again. Sagar's goons scold her that she harmed Gehna again. Lady says Gehna is acting as unconscious. Goons ask her to get Gehna ready to take her pics to prepare her fake documents for boss. Gehna thinks who is their boss. Boss calls goons. Goons inform him they will prepare Gehna's fake visa and take him out of the country. Gehna hears their conversation.
At home, Kanak acts and requests Baa and Bapuji to have food. Anant returns. Baa and Bapuji ask if they found out Gehna's location. Anant says yes, Sagar got her kidnapped and is demanding to bail him out to know Gehna's loation. They both panic and ask to bail Sagar out and bring back Gehna home, they will tackle Sagar later. Anant agrees to bail out Sagar and leaves. He searches for proof in Sagar's room. Krishna asks what is he searching. Anant says Sagar is wicked and intelligent, but he must have left some proof and finds Sagar's mobile. He finds boss' number and sees Sagar sending Tia's videos to boss. Krishna says what if boss wants to send Gehna out of country. Anant asks Krishna to call from his number as boss my identify his voice from Sagar's mobile. Krishna calls boss, but boss blocks his number. Anant asks how will they find Gehna's location. After sometime, Anant dreams of Gehna returning home. Tia brings food and wakes him up. Gehna sprinkles lemon juice in lady's eyes and runs out, but stands in shock.
Precap: Gehna stands afraid seeing a dog. Lady says if she even moves, her dog will tear her into pieces.
Update Credit to: MA
The post Saath Nibhana Saathiya 2 13th July 2021 Written Episode Update: A Shocker For Gehna appeared first on Telly Updates.