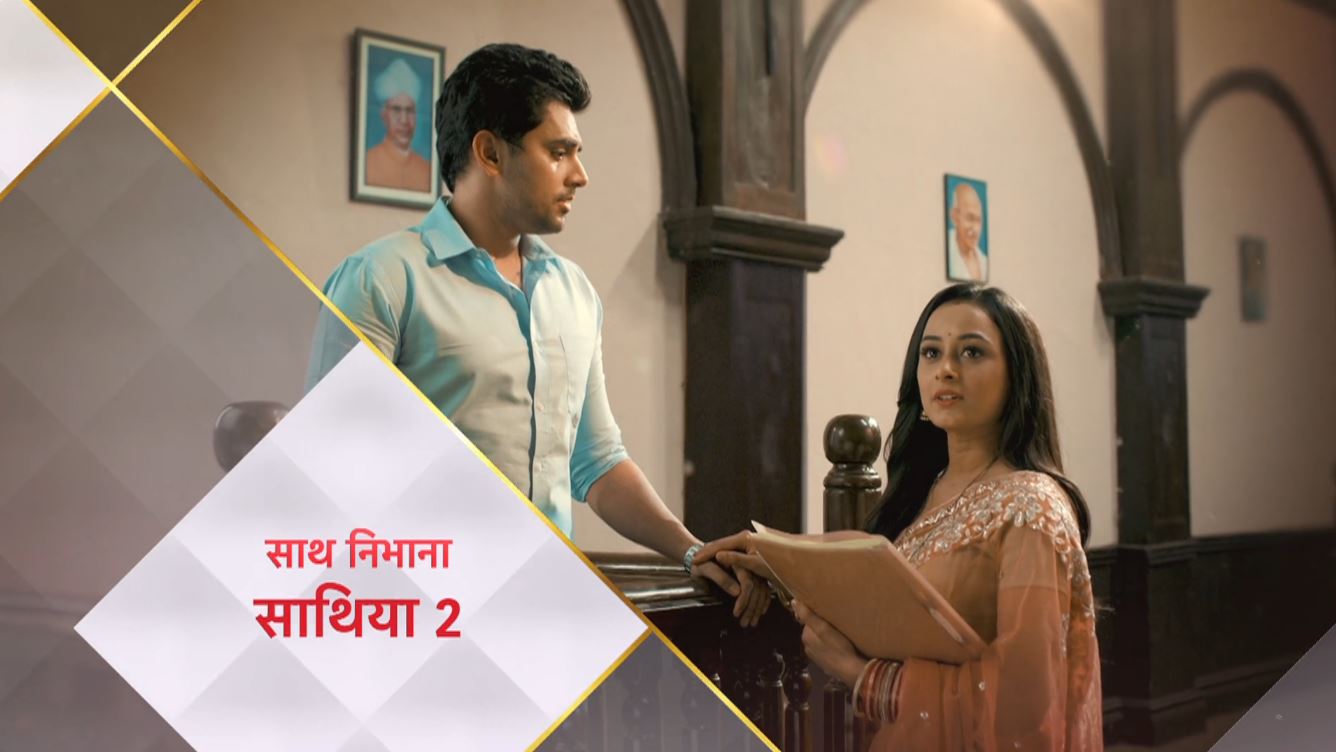 Saath Nibhana Saathiya 2 12th July 2021 Written Episode, Written Update on TellyUpdates.com
Gehna gets happy looking at Baa's gifted chain and remembering her words. A plastic cover flies and falls on her leg. She jumps afraid shouting thinking its a rat. He says its a plastic cover and says he didn't know even she gets afraid. She removes Baa's chain. He asks why did she remove it. She says its not a chain but a medal of relationships. He asks to keep it safely and wear it when needed and shows his concern for Tia. She says Tia went through a lot these days and since she has grown up, she has to understand herself and her life, now like any other girl she will think it was mistake, even she was thinking same, but over time even Tia will understand and is sure Krishna will support her. Tia cries in her room remembering Sagar's betrayal. Krishna brings juice for her and asks her to have it as she didn't have anything since morning. She says she is not hungry. He says he knows she is tensed regarding Sagar's issue. She says she is sad that she hurt her family. He suggests her to forget the past and make new friends and memories in her college life. She smiles.
Early morning, Gehna drops Suman near door and asks her to be careful from Sagar's goons as they may harm her and her child. Suman says they will not fearing police, but Gehna should take care of herself as they will target her next. Once she leaves, Gehna sees someone and thinks Anant his trying to frighten her. Anant dreams about Gehna being kidnapped by goons, wakes up worried for her, and goes in search of her. Dashrath kidnaps Gehna, puts her in a trunk, and thinks she sent his son to jail and now she herself will not know where she will go. His goons carry away trunk. He thinks he took revenge from Gehna and Anant. Anant searches Gehna in kitchen and hearing sound from outside goes out to check. Goons drive their tempo away. Anant doesn't find anyone, calls Gehna, finds her phone on floor, and asks Baa if she saw Gehna as he doesn't know where she went early morning. Baa says she doesn't know.
Goons stop their tempo seeing police. Police question what is inside tempo. Goon lies its house item. Police checks tempo and even box and let them goo. Goon drives tempo away where another goon stands holding unconscious Gehna, gets her back into tempo and drives it away. Desai family gets worried for Gehna. Anant says he searched Gehna everywhere and fears her life is in danger. Bapuji says Sagar is in jail now. Anant says who knows if he is in jail, he must have kidnapped Gehna. He with Krishna goes to file police complaint and check if Sagar is there. Hema thinks Gehna planned and trapped her brother. Kanak thinks Hema's brother fell in his own trap without informing his plan.
Anant reaches police to meet Sagar and asks where is Gehna. Sagar says he needs a favor in return, reveals that Gehna is trapped in a big racket, and asks to get him out of jail if he wants Gehna's location. Constable sends Anant away. Krishna asks what did Sagar say. Anant drives bike away and informs that his doubt is right that Sagar knows where Gehna is, but he wants him to get out of jail to reveal Gehna's location. He prays god for help. truck passes via them, its door opens and Gehna's face is revealed. Goons see tempo's tire punctured and get stepny out. It rolls down and hits Anant's bike and he apologizes Anant. Krishna says its okay and showing Gehna's photo says they should circulate in social media. Goon notices that and rushes back to tempo. Gehna tries to shout, but he shuts her mouth. Anant and Krishna drive away without noticing her.
Precap: Broth woman wakes up Gehna. Gehna sprays lemon juice in her eyes and opens door to find herself in a brothel.
Update Credit to: MA
The post Saath Nibhana Saathiya 2 12th July 2021 Written Episode Update: Dashrath Kidnaps Gehna appeared first on Telly Updates.