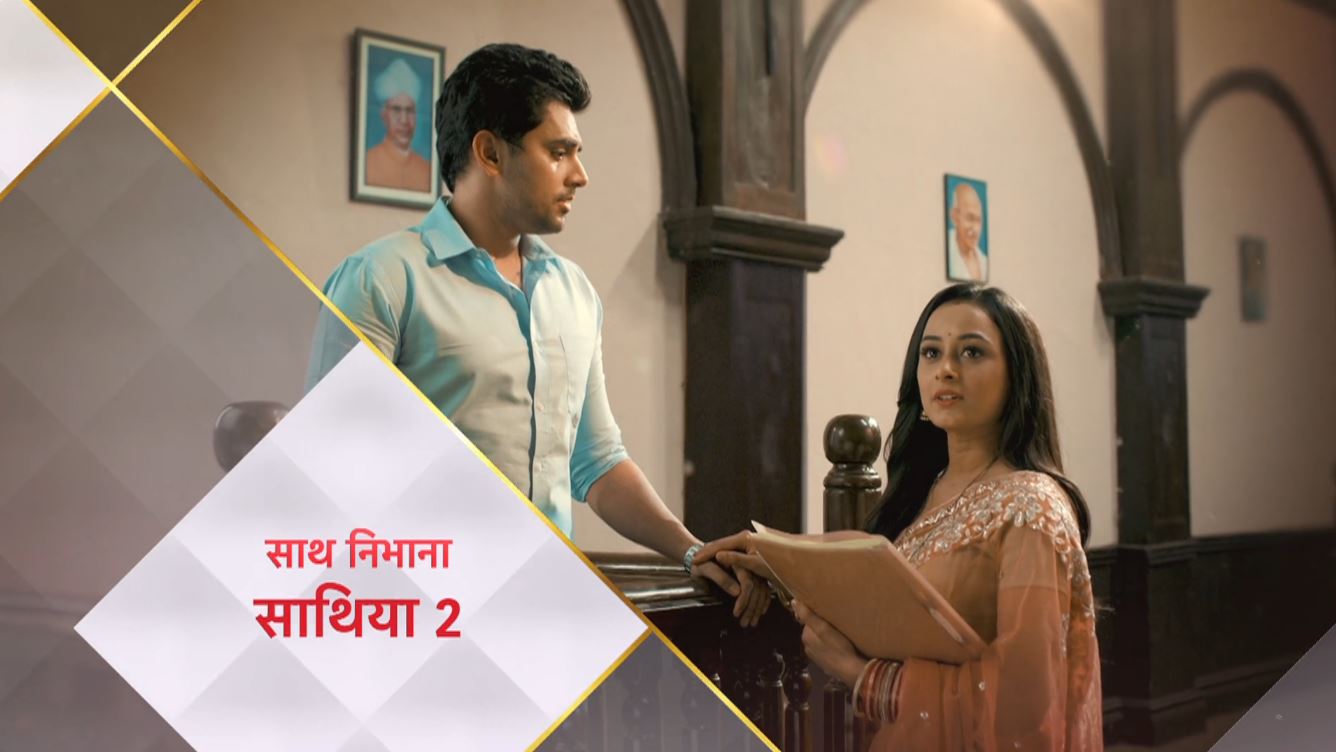 Saath Nibhana Saathiya 2 10th July 2021 Written Episode, Written Update on TellyUpdates.com
Gehna asks Bhavani to control her anger and says she will show her a proof. Krishna shows Suman and Sagar's marriage certificate. Sagar continues acting childish and says he wants to marry Tia. Dashrath says its a fake marriage certificate. Tia shows Sagar and Suman's intimate pics. Hema shouts anyone can edit these fake photographs. Bhavani says Suman was Sagar's past and he has changed now completely and wants Tia now, so they should get him married to Tia. Baa asks what doe she mean. Bhavani says nobody saw Suman and Sagar's marriage. Anant says Velji saw it and should he call him here. Hema pleads Gehna to let Sagar marry Tia as she herself told that Sagar's heart is clean now. Gia says he was before but now as he got back his memory. Sagar continues his acting. Krishna says he heard if they hit the person again at his injured place, his memory returns. He brigs a stick and tells Anant they all will hit Sagar's head one by one until he gets back his memory. Sagar runs on terrace continuing his acting and asking Anant not not kill him. Anant says he will just hit his head. Sagar slips and falls, hangs holding the railing, and pleads to save him. Whole family gathers.
Anant and Krishna hold him and demand to accept that his memory is back. Sagar accepts that his memory was back when he fell and hit his head. Anant asks why did he continue his acting.
Sagar says to take revenge from Gehna. They both pull him up. Gehna slaps Sagar. Bhavani shouts to stop her drama and finish Sagar and Tia's marriage as Sagar filled Tia's forehead with sindhoor. Gehna says Sagar is already married. Bapuji says their law doesn't permit a second marriage. Hema yells her brother loves Tia now. Gehna says one who loves doesn't sell them. She shows them recorded video where Sagar speaks to his client about selling Tia to them. Gehna gives a long speech regarding women's approval in marriage. Dashrath and Bhavani to handle the situation act as thrashing Sagar. Anant stops them. They say even if he stops them here, they will punish Sagar in Jamnagar. Gehna says there is no need for that as Sagar's hosts have come. Police arrives and arrests Sagar. Sagar in lieu of apologizing Dashrath murmurs in his ears to forget Tia and sell Gehna instead. Police take him away.
Anant and Gehna thank Suman for taking the risk to expose Sagar. Baa says everything ended well with Kanhaji's blessings and requests Dashrath and Bhavani to accept Suman as their bahu. Dashrath acts as agreeing to her. In the evening, Baa emotionally thanks Gehna for saving Tia and gifts her chain. Tia next thanks Gehna and Anant and apologizes for not trusting them. Kanak gets jealous seeing Gehna's praise and determines to ruin the family more brutally than she thought earlier.
Precap: Dashrath kidnaps Gehna and thinks she will bear punishment for sending his son to jail.
Update Credit to: MA
The post Saath Nibhana Saathiya 2 10th July 2021 Written Episode Update: Gehna Gets Sagar Arrested appeared first on Telly Updates.