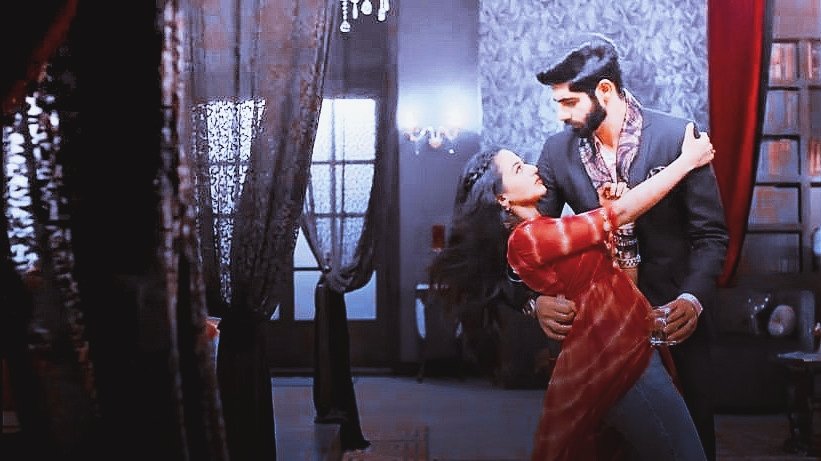 Hi guys , so I am back with a TS . This will be of two parts .hope you like it .please comment and let me know.
Here it goes….
Bright sunrays enter into a room and a couple is seen sleeping cuddling each other. The girl has a baby bump while the man the held her protectively in his arms . Due to sunrays the sleep of girl broke
Girl: Vansh close the window na I want to sleep ( trying to cover her eyes)
Vansh who woke due to the voice got and put the curtains to stop sunlight . He went to girl who was sleeping like a baby with a cute face.
Vansh pov
Look how she is sleeping like a cute innocent child. No one can think that in few days he is going to become a mother . My Ridhimma will soon get her happiness and her dream of having a small happy family will be completed. 4 months back when we left my family and transferred all the property to angre so that I can get a peaceful life with my Ridhimma I didn't know it will be this beautiful. We are here in London away from all the troubles leading a peaceful life.
In these four months I opened a start up business which is running really well while Ridhimma joined a hospital as physiotherapist and is now on maternity leave and she is in her 9th month and due date of delivery is close.
All the happy memories of our life starts flashing in front of my eyes but after sometime my thought is broken when someone jerked me. I look to see Ridhimma is rubbing her eyes as a baby.
Vansh: good morning Ridhimma(smilingly)
Ridhimma: good morning Vansh (hugging him)
Vansh: what would you like to eat today madam??
Ridhimma: Pancakes ( making a cute puppy face)
Vansh: as you wish madam
Vansh went to kitchen and started preparing pancakes . After sometime Ridhimma came and sat on dining table looking at Vansh lovingly
Ridhimma pov:
I feel fortunate enough to have a husband like Vansh . He is the most caring and loving husband of this world . When we left the Raisinghania family to start a new life he took care of me as if I am a baby. Even after leaving underworld he knew danger is still there. He is always there to protect me. He started his startup business and obviously being Vansh Raisinghania the company became successful in in a very short span of time . Now he works from home just to take care of me as I am near my due date . Soon we are going to mother and father . I know he still misses his family especially angre as he is very close to him . He also misses Sia and Ishani also why wouldn't he miss them after all he took care of them like his own children irrespective of what Ishani has done. I have seen him looking sadly at their photos but he doesn't show them to me . I wish he will see them soon
Ridhimma trance was broken by Vansh voice
Vansh: your highness here are your pancakes
Vansh keeps the plate in front of Ridhimma and Ridhimma starts to eat as if she is hungry since ages.
Ridhimma: Vansh this are so delicious I loved it (kissing Vansh in his cheeks)
Vansh : I think I deserve something more for this right (smiling sheepishly)
He eyed her lips and leaned towards them his phone rang. Vansh looked annoyed and picked up the phone and went away to talk . After coming back he said
Vansh: Ridhimma I have a meeting you go and take rest call me if you need something okay
Ridhimma: okay Vansh
Saying this Ridhimma went towards her room while Vansh started his meeting.
Days went like this they were happy in their own world discussing about baby their future. Doctor told them to shift Ridhimma to hospital to prevent any problem or haste during delivery time .
Vansh: Ridhimma come fast we have to go to hospital
Ridhimma: coming Vansh why are you so impatient ??
Vansh: because I want to welcome my Vanya soon (smiling) and then I will not be alone as Vanya will be in my team .
Ridhimma: we will see in whose team she will be later now come
They started towards hospital and as soon as they reached and got out of car Vansh saw something which shocked him
Vansh: (shouting ) Ridhimmaaa…
Shouting her name he pushed and a bullet pierced his shoulder and he fell down .Ridhimma was shocked to see this and was numb while a voice came
Voice: (shouting) bhaiii…
Hope you liked it. Second part will be published soon.
The post RIANSH TS : BEING WITH YOU (Part 1) appeared first on Telly Updates.