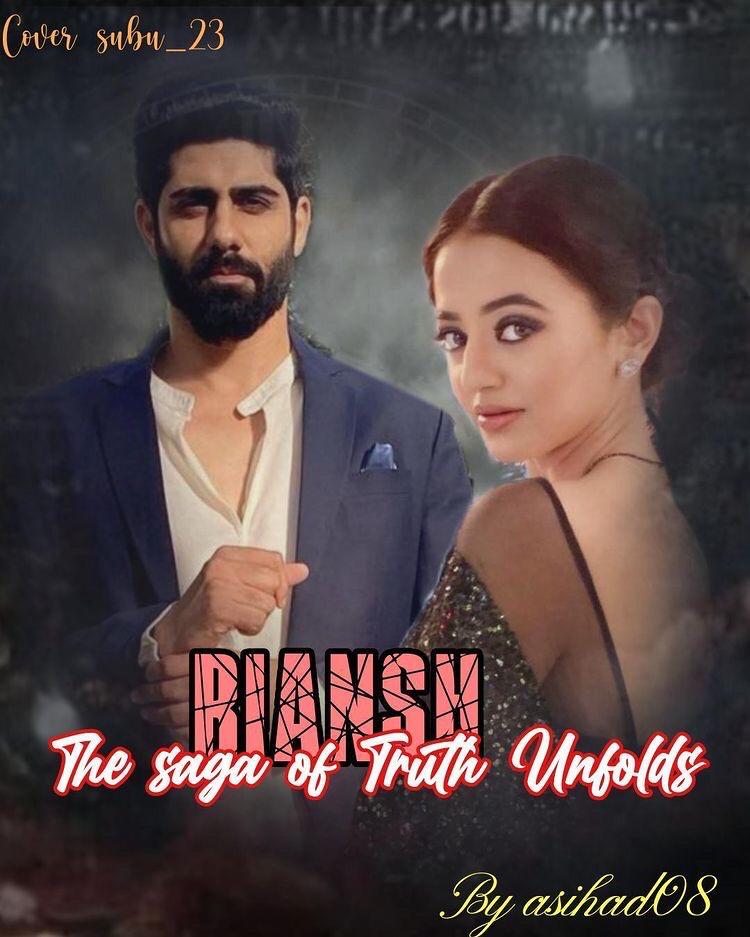 Hello peepies aagyi me..
Long time no see na..sorry yr..i was facing an turmoil ..and unabled to cope up but now i am quite well and thnk you everyone who supported me throughout the time
So the deal will reveal in this epi bt me pehle hi bol du zada umide na rkhe kafi normal deal h nito 6 ghnte ke raaz jesi bezzatti ho jayegi

Let's start the episode
Scene 1
VR mansion
Angre barged in the hall with blood shot eyes shouting..
Angre (shouting) – Sona!! Sona!! Vansh bhai!!,
Everyone gathers in the hall panicking
Ishani -What happened angre why are you shouting..
Dadi – Beta what happened
Angre (eyeing riansh) – Ask your beloved grandson and his wife..
Vansh – angre what happened why are you behaving like this..
Riddhima (coming close to angre) – What happened bhai.. did i do anything wrong
Angre (sarcastically) – Wrong!! Oh really .. you should have asked me did i do anything right..
Anupriya – Beta please tell us esa bhi kya ho gya hai..
Angre (eyeing riddhima) – dadi ask your dear riddhima did she forgave us for the mistake we did 5 years ago by not trusting her..
Riansh look at each other with horrified expression
Vansh blinks his eyes assuring riddhima..
Ishani – is this the thing to ask angre..
Obviously she forgave us .. can't you see riddhima behaves with us so lovely like she used to do before 5 years
Angre (disgustingy) – Ha ye isliye itna accha or pyara behave krti hai taki ye ek mahine baad hm sb ko chhod kr hmare dil ko tod kr is ghr se ja ske..
Hena Mrs..riddhima vansh raisinghania..
Riddhima stumbles on her place and vansh holds her
Riddhima (tears) – bhai! Wo me!!
Angre (angry) – Dare you to say a single word more..
I know everything what you both husband and wife did on your marriage day..
Angre raises his hand on riddhima to slap but vansh holds his hand and jerk in anger
Vansh (angry) – Your anger is justified angre but mene apni patni par hath to kya aawaz bhi uthane ka haq kisi ko nhi diya hai phir chahe wo tumhari behen hi kyu na ho..
Angre – kesi patni..konsi patni..
Ye !!(eyeing riddhima ) ye patni jo tumhe or hm sbko chhod kr kuch dino me hamesha ke liye chli jayegi..
Riddhima (tears) – Bhai please listen to me once
Angre (shouting) – Why!! Why should i listen to you so that you both can play with our emotions again..
Anupriya – Riddhima what's angre is saying is true..
Are you leaving us in one month
Riddhima – No!! Maa.dadi please listen to me it's not like that..
Angre – Stop lying riddhima!! Tell me didn't you both husband wife had a deal..
Tell me that i am lying..
Riansh look at each other with tears brimming in their eyes
Flashback starts
Riansh's wedding day
After marriage
Riddhima drags vansh to the room angrily and holds his collar
Riddhima (crying) – why vansh why!! Why you always make my life complicated
When i wanted you ..you abandoned me..and now you did this with me..
Am i  any toy..that you can use me according to your will
Vansh hugs her to console
Riddhima hits him with her fist sobbing
Riddhima (hitting him) – I hate you vansh!! Why you affect me this much..
I want to stay away from you but at the same time I can't live without you..
Vansh rubs her back and strokes her hairs
Vansh – First calm down!! Don't cry I can't see you in tears!!
He picks riddhima in his arms they both sit on floor near bed ..
Riddhima rests her head on his chest
Riddhima (crying) – can't you give me love vansh..am i that bad..
Vansh (holding her tight) – Please don't say this riddhima!! I love you more than my life..
Riddhima (crying) – Ye kesa pyar hai vansh jaha vishwas ke liye koi jagah hi nhi hai..
Vansh (cupping her face) – just give me a chance i promise i won't give you any chance to complaint
Riddhima (crying) – Why would i give you a chance so that you can hurt me again..throw me out of the house..like you did twice in past ..
You didn't even bother to listen me..
Vansh (hugging her) – Last chance riddhima this time I won't hurt you ..never ever.. please..
Moreover i want to punish your culprits ..i will chop them off they hurted my sweetheart..
Riddhima(sadly) – i can give You a chance vansh!!
Vansh (happily)- really!thnk u so much sweetheart..
Riddhima (firmly) – But i have a condition ..
Vansh – What!!
Riddhima – i am ready to give you a chance but for 1 month only
Vansh – what do you mean by one month..
Riddhima – yes!! You heard it right..
I will stay with you for one month
And i promise i will try my best to mend things but you have to earn my forgiveness by your efforts .
Then if i will feel that i am ready to stay with you…then i won't leave you ever vansh..
Vansh (happily) – i promise sweetheart i will earn your forgiveness..i will do my best thnk you for giving me this last chance..
Riddhima – You got what you want but what about me..
Badle me mujhe bhi to kuch milna chahiye na..
Vansh – just tell me what you want..duniya ki har khushi tumhare kadmo me laake bicha dunga..
Riddhima – i want a promise vansh..
Vansh – I promise i will give you what you want..
Riddhima – you should have think once  before agreeing… now listen to me
Promise me that you won't do anything regarding vikram and his wife..
You won't find them..you won't take your revenge..
And the day you will try to do this i will leave you..
Vansh (flabbergasted) – What!!
Riddhima have you gone mad!!
How can you expect from me to sit idle..
I have to take the revenge..
I lost you..ishani lost her baby..we have to retaliate na .
Riddhima -and i lost my everything vansh..i lost the..
Fine but if you want to take revenge then you take your revenge and spare me..
You will get divorce papers soon..
Thnk you vansh for giving this much time to me..you are free now
Vansh (shouting) – Just shut up !
You are not going anywhere ok..you are my wife..damn it..
Riddhima – then choose me over your revenge..
Listen vansh i am very clear this time..
Either you choose me or your revenge..
I want you and your focus this time on me only..not on anything else..
If you can do this for me then i am your wife..only..
Vansh – if you want this then i am ready..
I promise i will give my whole attention to you and our relationship only..
But you also have to try to mend things
Riddhima – i will !!
Her pov
I know i am hurting you but it's needed..
That vikram will be quite in 1 month and i will get time to keep you away from him..
You will be with me vansh ..i can't loose anything this time..
Pov ends
Vansh's POv
My revenge was important but my sweetheart is more important than me..
I promise i will keep you happy this time..
No one will be able to hurt you now..
Pov ends
Vansh (hugging her) – i love you riddhima
No response**
Vansh (whispering) – riddhima!!
No response**
Vansh breaks the hug and sees her
Riddhima is in semi consciousness and blood is dripping between her thighs
Vansh (petting her cheeks) – Are you on your periods riddhima..
Riddhima (half consious) – Nooooo!!!!
Vansh save me please..
She faints in his arms..
Vansh (shouts) – Riddhiimaaaa!!!
He takes her in his arms and move to hall
Flashback ends
Done for today.. tell me about the length my phone got Change na toh i am not getting the settings properly.. and how is the track going
Precap : Breakdown…
Do comments
Lob u all
The post Riansh (the saga of truth unfolds) #episode 63 appeared first on Telly Updates.