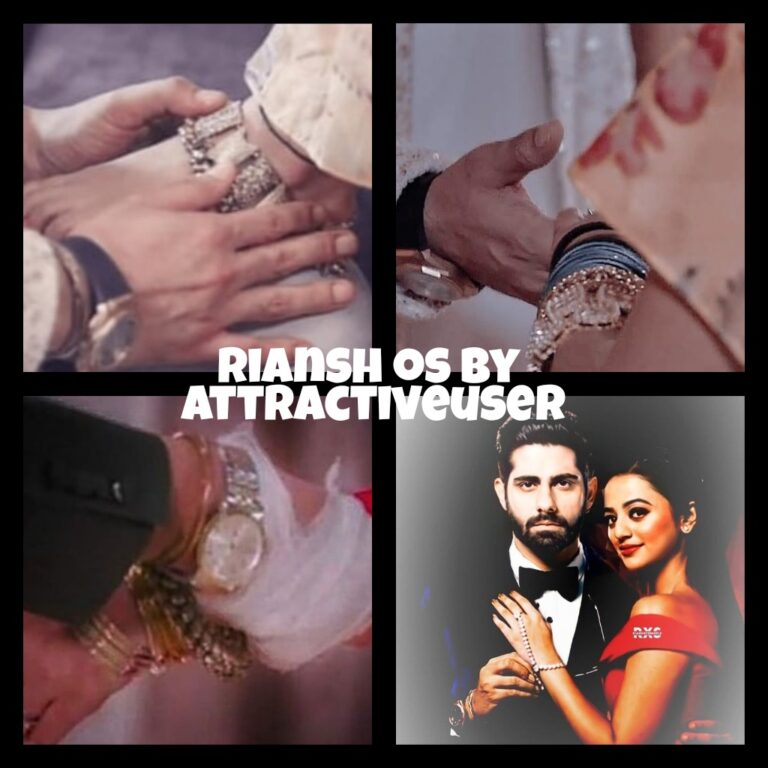 This os was requested by dear Lilz. I hope you are reading this!
A/N: starts from the manali scene when Riddhima and vansh were in the hotel and Riddhima told her most important thing to Vansh.
Let's start:
After the talks they both headed to sleep. They both laid down on the bed. After a while vansh woke up and carefully went out of bed seeing Riddhima sleeping. He took up his mobile and dialled angre's number.
Vansh: hello angre! I have asked Riddhima the most important thing of her life. It's her identity Riddhima Vansh Rai Singhania. We have to snatch it from her(smirk)
Riddhima was awake which he didn't notice. She felt her heart being heavy.
Vansh: ya so i will leave her here alone in manali after erasing all the cctv footages. She would definitely come back to VR Mansion. And then(smirk) I will arrange fake media and introduce Ahana as my wife. I will delete all the proofs which proves that she is my legal wife. Do all the arrangements. She has to now face my revenge. She betrayed me.
Tears started rolling down Riddhima's eyes.
Riddhima(thinking):How can vansh do this to me! He really thinks that his Riddhima betrayed him. Just wait and watch Mr.Raisinghania! I will fail all your plans!
Vansh went to washroom to freshen up. Riddhima got up and went to garden. She sat down and noticed the sky. She closed her eyes and tears made their way down her cheeks.
She remembers their first meet.
Raajhan dhoondan main chaliya,
Raajhan mileya naa ye..
Jigra vichh agan lagaa ke Rabba
Lakeera vichh likhdi judaai ..
A glimpse of their karwachauth moments appear in her mind.
Kho gaya, gum ho gaya
Waqt se churaya tha jo,
Apna banaya tha
Ho tera, woh mera
Saath nibhaya tha jo,
Apna banaya tha
She remembers the number of times vansh has saved her.
Chadariya, jeeni re jeeni
Chadariya, jeeni re jeeni
Aankhein, bheeni ye, bheeni ye, bheeni
Yaadein, jheeni re, jheeni re, jheeni
The painful scene of vansh falling from cliff comes in front of her eyes.
Chadariya jeeni re jeeni
Chadariya jeeni re jeeni
Hai aankhein bheeni ye bheeni ye bheeni
Yaadein jheeni re jheeni re jheeni
Riddhima: why vansh why!! Why can't you ever believe me? You are snatching my indentity from me!! Why!!(crying)
After crying for some time she wipes her tears and goes to the room and acts to sleep. Vansh came from washroom and saw her sleeping. He took all the memories and her ring which he gifted the previous day. He went out and after doing his work left to VR mansion. Riddhima woke up after that. She went out and saw that vansh has erased the footage. She acted to cry but smirked inside. She left from the hotel and called someone. A man came.
Man: Riddhima!
Riddhima turned to him.
Riddhima: Kabir you came.
Kabir: yes what happened.
Riddhima: I hate you but I need your help right now. I will pay you for that.
Kabir agrees. Ridhbir left to somewhere. Riddhima changed her dirty clothes. She wore a black saare. Kabir wore a black tuxedo and came to her. She smirked and they both drove to VR mansion. After reaching she saw Vansh standing in front of the fake media. Vansh saw her.
Vansh (thinking): how did her clothes get changed..leave it I have to take my revenge.
He smirks.
Vansh: I would like to introduce you all to my life,my everything my wife.
He was about to call Ahana when Kabir came.
Kabir: what's so hurry vansh!
Vansh became shocked to see Kabir. Kabir forwarded hand to Riddhima and she held it. They both started walking to the stage hand in hand shocking the Raisinghanias. Kabir took the mic.
Kabir: hello everyone. I am Kabir rai Singhania. Half brother of vansh. My mom married his father and he adopted me. I am half owner of this mansion(smile) I would like to introduce you all to my life,my jaan,my world,my wife(forwarding his hand to Riddhima) Mrs. Riddhima Kabir rai Singhania!
Riddhima smiled and gave her hand to him and stood beside him. All the Raisinghanias were shocked.
Vansh: what are you saying! She is not your wife. She is my wife. I am her legal husband!
Riddhima: what are you saying! Your wife is Ahana right!
Ahana descends the stairs in the same lehanga which vansh gave to Riddhima on Navratri. Riddhima's heart ached to see her in that lehanga but she controlled herself.
Ahana: here I am mrs.vansh rai Singhania!(smiling widely)
She comes to the stage. Kabir keeps his hand on Riddhima's hand. Vansh became angry and broke the mic.
Vansh: out everyone (shouting)
The fake media leave.
Vansh: Riddhima stop your acting!
Riddhima: what are you saying Mr.Raisinghania!
Vansh: you are my wife (shouting)
Saying this he starts to move closer to her but Kabir comes in between.
Kabir: stay away from my wife half bro! Don't you dare to come close to her.
Vansh(anger): Kabir!
Vansh holds his collar.
Vansh: get out from here before I kill you. Riddhima is my wife and will always be!
Riddhima: do you have any proofs to say that I am your wife!
Vansh: of course sweetheart! Our marriage pics.
Riddhima smirks. He goes to check but can't even find a single memory and comes down.
Vansh: where did the memories go!
Ishani: bhai you told to erase them so I burnt everything.
Vansh approched her and gave a tight slap on her face.
Ishani: bhai(tears)
Vansh: who told you to burn them. I told to hide them in a safe place(shouting)
Riddhima smirked.
Riddhima: see Mr.Raisinghania I told I am not your wife! I am Kabir's wife!
Vansh: what is Mr. Raisinghania! Cant you call me by my name!
Riddhima: do I know you?
Kabir: Riddhima he is my half bro so he will be your brother in law(smirk)
Riddhima: oh yes..he is my brother in law.
Vansh's anger reached the peak. He took a glass bottle from nearby table and broke it. He kept the pointed end at Riddhima's neck.
Riddhima: k..abb..irr!
Kabir: Vansh leave her!
Vansh: stay away from my and her matter Kabir!
Kabir: who are you to say this..
Vansh: her life is in my hands. Get out from here or(smirk)
Kabir leaves.
Vansh: what are you waiting for..you too leave Ahana!
Ahana: vansh..
Vansh: leave(shouting)
She too leaves.
Vansh: sweetheart..what were you saying! Mrs.Kabir Raisinghania!
Riddhima: va..ns..h!
Vansh: brother in law!
Riddhima kicks the bottle he kept at her neck shocking vansh.
Riddhima: stay in your limits!
Vansh: VR limits cross nahi karta set karta hai!
Before Riddhima could say something they all heard Siya's voice.
Siya: bhabhi..
Siya came down the stairs. Everyone got happy seeing her.
Siya: bhabhi..
Riddhima shedded happy tears after seeing siya well. Siya came and hug her.
Ishani: why are you hugging this cheap girl!!
Siya: why are you calling her cheap Ishani (anger)
Ishani: she is such a gold digger. She tried killing you..and killed ragini too.
Riddhima became teary eyed.
Siya: bhabhi is innocent. She didn't do anything.
Siya blurted out the whole truth. Everyone was shocked. Vansh was numb.
Vansh: Riddhima..
He went closer to her but she pushed him.
Riddhima: enough vansh enough! I heard all your planning in manali only when you assumed me to be slept. How can you ever think of me betraying you. I love you from my whole heart vansh but you chose your revenge over me. Half truth is always dangerous vansh! My love for you is finished now. My love died. Now I can't love you ever.
Vansh (holding her hand): please don't say like this Riddhima. I will die without you. Please Riddhima I love you a lot. I am sorry please forgive me!(crying)
She jerked his hand off and started leaving the mansion.
Vansh: Riddhima..
She left. Vansh went behind her. She reached airport. Vansh too went behind her but it was too late. She had went in but he didn't have the ticket to go inside. Riddhima boarded her flight and left.
Vansh: Riddhima…I love you!!
He sat down crying.
.                       THE END!!
~Half truth is always dangerous!
Hope you all liked it. I hope I reached your expectations dear Lilz

.
The post Riansh Os- Serving him the same by attractiveuser appeared first on Telly Updates.