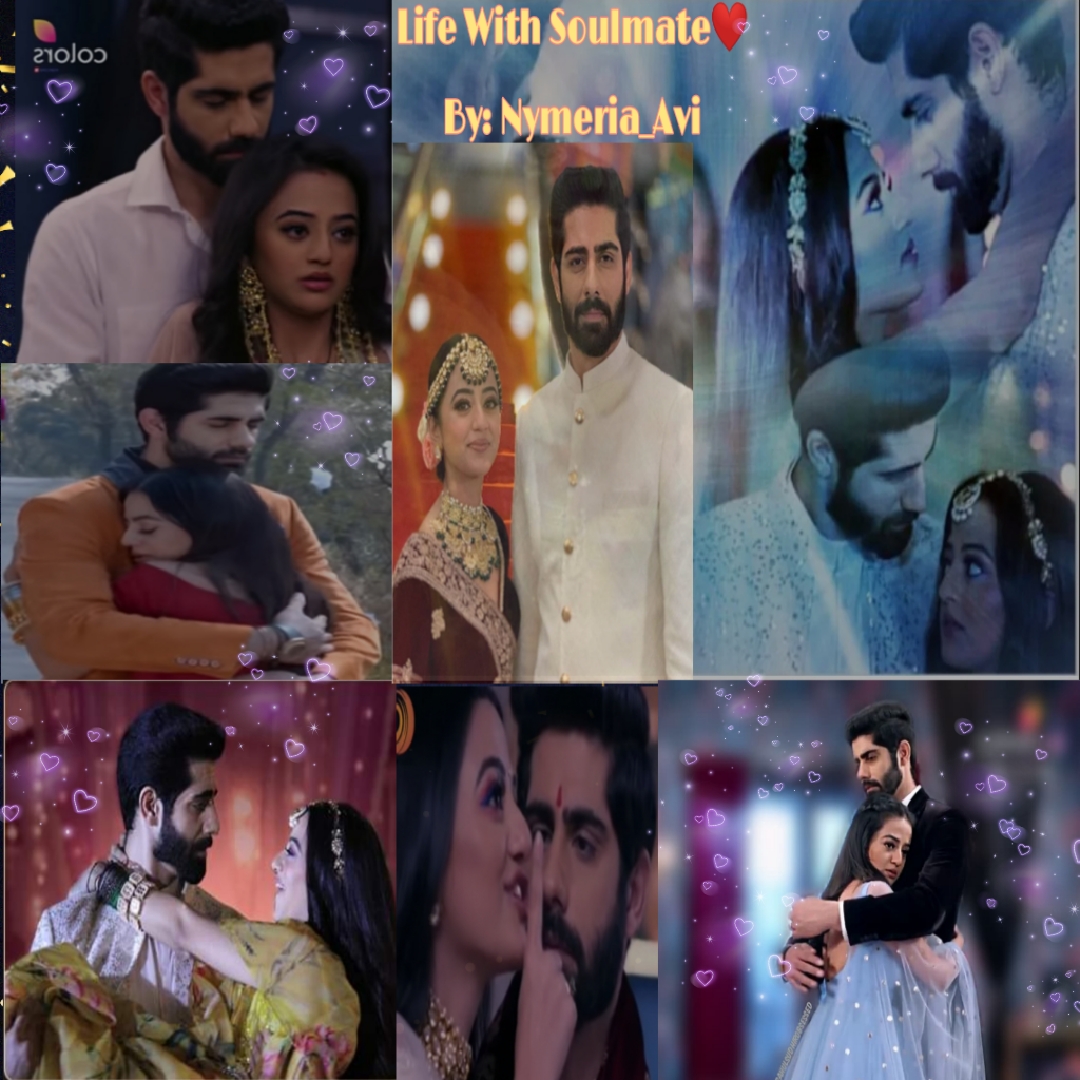 Hi…
Other things later as of now enjoy update…
Once inside Riddhima's room Vansh slammed his lips on her and Riddhima reciprocated with same passion and they started exploring every corner of each other's mouth and same time Vansh's hand started moving towards her waist and and intentionally he sensually moved his finger around her navel and Riddhima snuggled more into his arms and he started moving towards upward and same time he kept drawing pattern on her back sensually which felt like sweet torcher to Riddhima and she to was enjoying it and soon his hands are at the hook of her bra and he is about to unclasp it but same moment his phone started ringing and breaking kiss he groaned and took out his phone and Riddhima's lips curled up seeing his reaction.
Seeing caller name Vansh's anger went to another level and answering it he said
Vansh: Mr. Veer Singhania may I know exact reason why are you disturbing me at this time better it be good reason else I'll kill you.
Veer: Grumpy Raisinghania seems like your romance is interrupted anyway I just wanted to remind you that don't forget to give her contraceptive pills else… I don't think I need to explain you further.
Vansh: I know.
Veer: And have safe romance Mr. grumpy.


And before Vansh can react Veer disconnected call and Vansh just throw his phone on bed. And seeing his reaction Riddhima asked
Riddhima: What happened?

Vanhs: Nothing it's just Veer and his ranting.
Riddhima: I don't think so it's just ranting.
Vansh: It's that only anyway I forgot something.



Riddhima: What?

Vansh: Wait sweetheart.

Listening sweetheart from him, Riddhima's cheek started turning red and she felt warmth in her heart and same time Vansh took out flask and bowl from one bag and he served soup to Riddhima and said
Vansh: Have it, I bring it for you specially from my favorite place.

And Riddhima obediently finished it and once free she said
Riddhima: Vansh swear on me and say that you're not hiding anything from me.
Vansh for a moment felt that she caught him or might got to know about either his true identity or his plan to propose her or may be about contraceptive pills but he is not sure about which matter she is doubting him so he answered in tricky way
Vansh: Sweetheart what makes you think that I am hiding something from you?

Riddhima: Your sudden arrival here, and Aryan was acting fishy and weird, and now Veer's call so tell me now what are you hiding from me?

(Riddhima bani jasoos


)
Vansh: (first murmur to himself "this all because of Aryan's overacting"

) Sweetheart it's just that…

Riddhima: No excuse or story I just want truth please I don't want any more hindrance in our relationship.

Vansh: I am planning something for you.

Riddhima: What it is?
Vansh: Let's just not talk about it. You'll get to know it soon.

Riddhima: Vansh, if you're still stuck with your plan to make us official in front of all people then please drop your idea I don't want it.

Vansh: But why Riddhima?

Riddhima: Vansh, right now if we make it official then even if I get success because of my hardwork it'll be counted because of you only so first I want to taste success by my own and then we'll make it official.

Vansh just nodded at her and didn't said a word and somewhere he felt that her words were making sense but still before taking any decision he wanted to discuss with Aryan as well as Veer so he choose to keep quiet at this point and Riddhima took his silence as his understanding of her point and she hugged him and said
Riddhima: Let's sleep…

But before she can complete her sentence Vansh winked at her and replied
Vansh: Naughty girl.


Riddhima: I don't mean that.


Vansh: Whatever, I just understood what I want to.

And he picked up her in his arms from sofa and bring her bed and climb up her and he started kissing her neck, lips and earlobe one by one making her go number and his hands started moving inside her t-shirt and he unclasped her bra and removed every piece of her clothes from her body and he undressed by himself and started teasing her with hai length and soon he entered inside her and started thirsting deep making her moan his name loudly and at fine moment he collapsed on her and soon they drifted to deep slumber.
Next day morning before Riddhima wake-up Vansh discussed her opinion with Aryan and Veer and listening it they too supported decision of not going public. (Marna mat muje suspense abhi baki hai…

)
At breakfast trio met to Ragini who were going all blushy blushy seeing Vansh in front of her and Riddhima was fuming with anger seeing her getting close to Vansh and that day instead of spending time with Vansh she practiced with Aryan and even at night she intentionally went to room late and she kept doing it from next three days and finally day of performance arrived and since morning Riddhima kept avoiding Vansh and Vansh is confused thinking why she is behaving this way with her and make note of having conversation with her after performance while Ragini, she is on cloud nine she take time to get ready and before coming out of her room she checked her self twice just to make sure nothing goes wrong on big day of her life.
And finally performance started and every contestants performed one by one and almost their concept is around ritual of marriage only and finally RiYan's turn is there and they started performing flawlessly on song "Main rahoo ya na rahoo" And starting from friendship till marriage vows they show everything and they touched heart of everyone present there and they get standing ovation from judges too and they got good comments as well as perfect score from each judge and finally host ask question to Aryan
Host: So what is marriage means to you?

Aryan: Falling in love everyday with love of my life.


Host: Who is she?

Aryan: Yet I not met her, I am still waiting for her.
Host: Ohhh and Riddhima what about you?

Riddhima: I've same opinion but I want my partner to be honest to me too.
Host: Who is he? Where is he?

And before Riddhima can reply a voice from audience catch everyone's attention
Voice: I am here.



(Ruko jara sabar karo next update me aayega kon hai wo


but meanwhile you guys go ahead and drop comment who do you think that person is)
Phew…
So time for guessing work for you guys any idea who is that person is? And this time too whoever will guess it right first next part will be dedicated to that person so let's start commenting.

(Meant to be yours and Happily (N) Ever after will updated this weekend.) Sorry for delay but someone come up so but this weekend I'll update both paka promise.

Till then take care, stay happy and safe with family and friends.
The post #RiAnsh #Life With Soulmate #Part – 11 appeared first on Telly Updates.