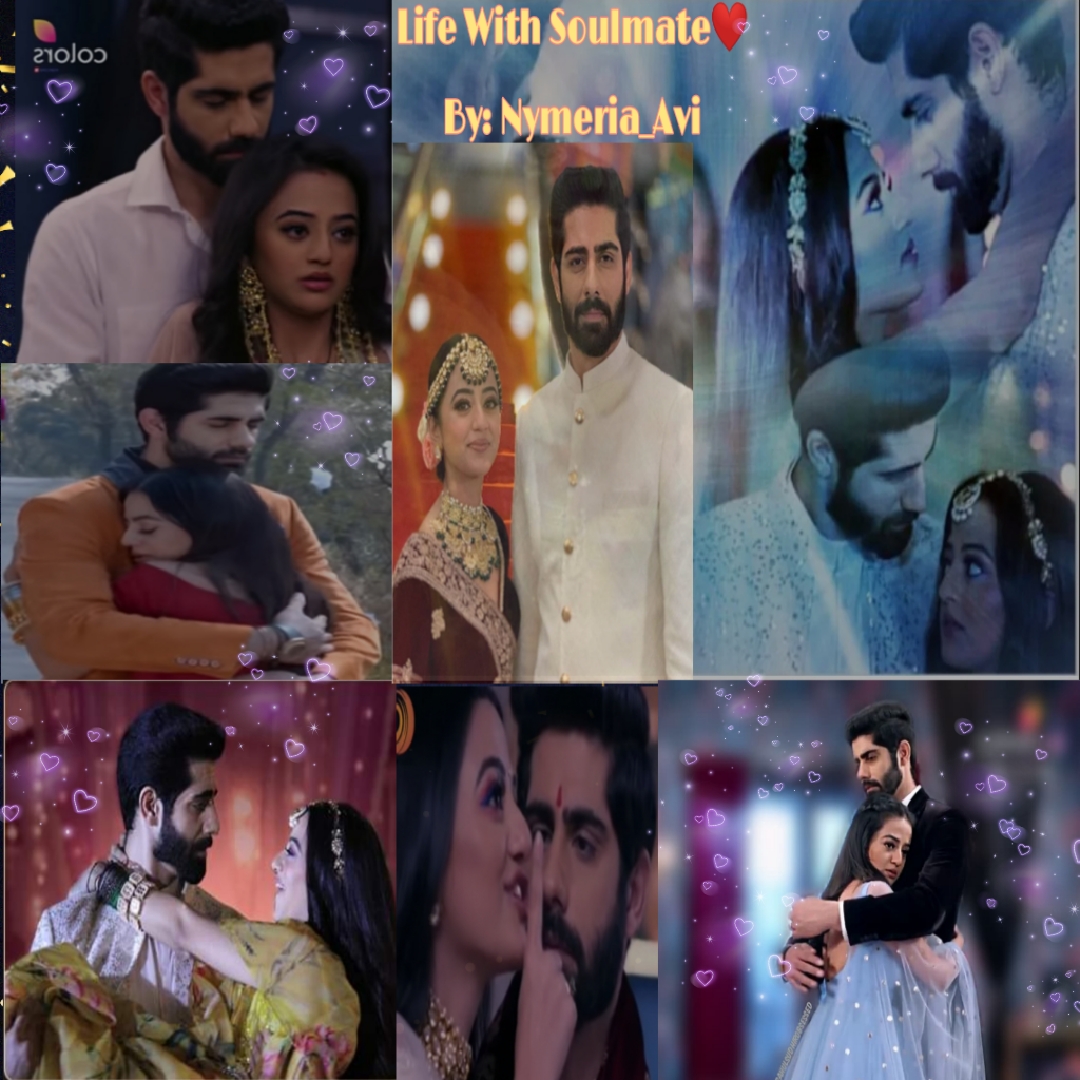 Hi…
I am back with update.

Ever since conversation with Aryan is over smile is not leaving Vansh's face and  meanwhile Aryan one last time caresses Riddhima's picture on his phone and with forced smile murmurs
Aryan: I saw you happy with my bhai and he is happy with you too so time for me to move out baby.


A tear escape from his eye but he wiped it out and before his mind can churn and make him think twice about his own decision he locked his phone and was about to move out of his room in search of Riddhima but before that he heard light knock on his door and thinking it can be Riddhima only he replied loudly
Aryan: Wait baby, I am on my way for you don't be impatient I know you…
And meanwhile he open door and seeing person at door he gulped his words and said
Aryan: Hi, Ragini what brings you here?

(So Shreyaduhan you guessed it right.)
Ragini: I think you're expecting someone else.

And without thinking much he answered straightforwardly
Aryan: Yeah, I thought baby I mean Riddhima is here so I just…


Ragini: Ohh, girlfriend and all…

Aryan: No it's not like that we're just good friends and she is my choreographer so..


Ragini: Don't worry I won't let your brother know that you're having girlfriend…

Aryan: But she is not my girlfriend. We're just best friends.

And Ragini thought he doesn't want her to know so instead of arguing much she changed topic and said
Ragini: So is Vansh coming to see your performance?


Aryan: Yeah he is coming. You'll meet him soon and if you don't mind can we go out I want to go and find Riddhima.


Ragini: Ohh I am sorry to keep you here. Anyway enjoy Aryan. And I am waiting for Vansh do let me know once he arrive…

And before she can blabber much Aryan responded
Aryan: I'll. Cya later.


Ragini reluctantly left from there but still she had big smile on her face as she have heard conversation of Aryan.
And she rush back to her room and once in room she looked at her self in mirror and with smile she pretended to feel shy and murmurs
Ragini: Finally my wait is going to be over and Vansh will propose me.

(kon kon kya kya bolna chahta hai Ragini ko batao chalo

I was like dream on

)
And unlocking her phone she opened Vansh's photo in her gallery and looking at photo she said
"I never knew you're this much romantic and so much in love with me but I like your idea of proposing me on national television. "

(Aur kuch batana hai kya?

)
And she kissed picture and said to herself
"Ragini get up and get something nice to wear of his favorite color it's going to be best day of your life"

And she immediately started checking her luggage but she didn't find anything from her clothes worthy enough to wear on such occasion and she thought of asking for Aryan's opinion and she rushed out from her room.
But before she can ask him her mind adviced her to not ask because it might make him think that she knew about their secret plan and she decide to choose by herself. And she ended up choosing red gown.
Meanwhile Aryan thought that Riddhima might be in rehearsal hall but she is no where to be found so he decided to check her room and soon he is standing outside her room he knocked it twice but no one responded so he is about to knock one more time but before his finger can touch wooden door it hit human skin and he heard ouch and seeing Riddhima there holding door he laughed little and moving her side he entered in her room and said
Aryan: You're welcome, you can count this room as yours only…


Riddhima: Thanks for your kindness his highness.
(Sarcasm is there in her voice).
Aryan: Anyway I've some idea for out act. So let's discuss it.

And Riddhima nodded and soon they're engrossed in discussion and finally they agreed on recreating story from song Main rahu ya na rahu with bit twist. And Aryan volunteer to ask either participant or male choreographer for performing as another man of story.
Meanwhile Vansh have finishes his lunch and he even ordered Angre to not arrange any meeting for him for today and tomorrow, and he even informed Dadi and Siya that he is going to propose Riddhima and asked them to join him but they refuse thinking they won't get time while looking after them and vaNi volunteer to look after them while he is not here.
And soon he is on the way to address sent by Aryan and after drive of two and half hour he was there, and he dailed Aryan's number which is answered by him immediately
Vansh: Where are you? What you take almost forever to answer my phone?

Aryan: Breathe, you wife is sole reason behind it. We're practicing in rehearsal hall.
Vansh: it's for your good only, anyway explain direction I'll be there.


And Aryan explained obediently and soon Vansh is standing right in front of them and seeing him there Riddhima's lips curved immediately and without hesitation she hugged him and Vansh reciprocated with more intensity and they're in no mood to apart any soon, catching their attention Aryan pretend to cough and pretending to be angry Vansh looked at him still holding Riddhima in his Arms he asked
Vansh: Coughing han??? Do you need doctor or medical assistance???

Aryan: Thanks for your concern but I don't need anything but you both need a room for sure.


And he winked at them.
And Riddhima turned red listening to him and she hide her face by snuggling into Vansh's broad chest and kissing her forehead Vansh replied to Aryan
Vansh: Rehearsal time over for today, we'll see you tomorrow.


And he picked Riddhima in his arms and walked out of room and following Riddhima's direction he started moving towards her room. And Aryan too left for his room. And same time Ragini was searching for Aryan to know whereabouts of Vansh from him cause she wants to surprise Vansh by being right in front of him when he arrives there, but there she found Riddhima being carried away by male figure and thinking RiYan is about to spend "quality time" together she dropped idea of asking him and choose to call him directly.
Phew…
Done with update… Any idea what will happen next? And I would love to know how was update so drop comment and do let me know.

And one more thing guys please do let me know one thing are you guys are feeling bored with story cause dropped number of comment is not motivating me much so if you don't like this story then I'll end it. (I might sound rude but it's not helping seriously

)
Till next update stay safe and happy and take care of yourself as well as family.


The post #RiAnsh #Life With Soulmate #Part – 10 appeared first on Telly Updates.