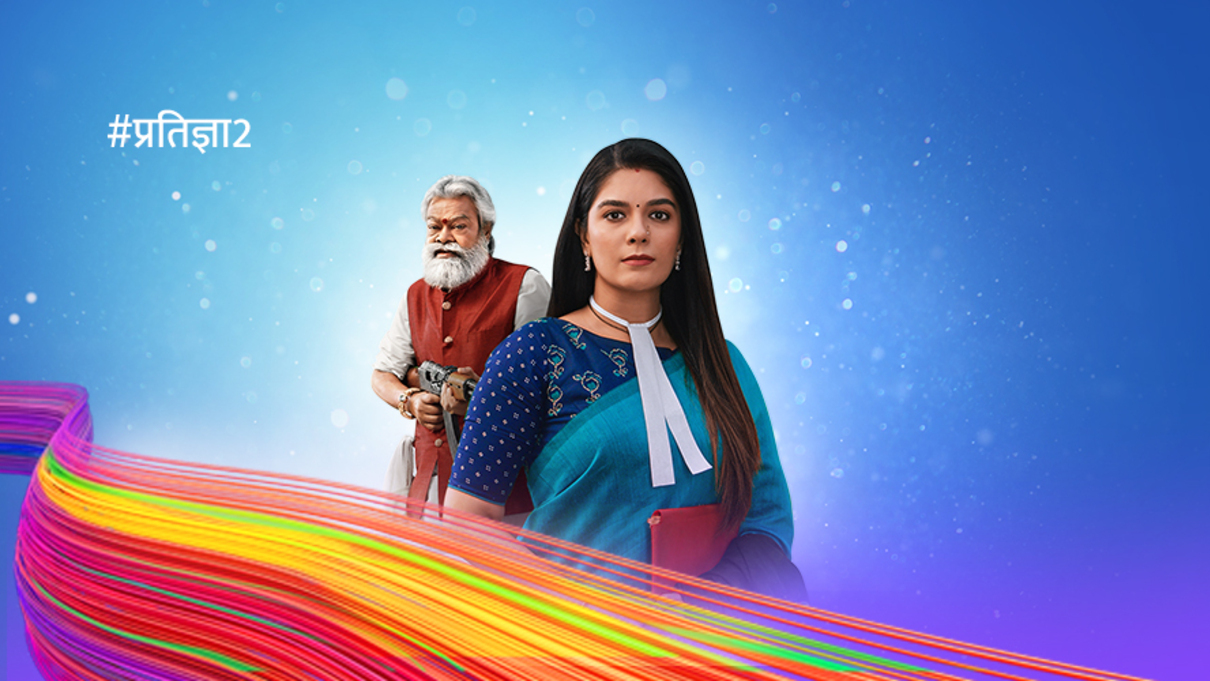 Pratigya 2 16th July 2021 Written Episode, Written Update on TellyUpdates.com
Scene 1
Kriti is sitting in the mandir with the family. She is tensed. Sajjan says I am coming in a bit.
Sajjan calls his goon who is hiding in the house. Pratigya comes to take the call and the goon pounces on her from behind. Pratigya screams and says who is this? Sajjan is hearing all that on his phone. Pratigya says who are you? Sajjan ends the call and says Pratigya's chapter will be closed today, we will have our peace back now. Kriti looks at him and is worried.
In the house, Pratigya pushes the goon away and hides in the kitchen. He looks around for her with his knife. Pratigya tries to run away from him. She calls the police.
In the mandir, Kriti goes to Kesar but she doesn't listen to her. Kriti thinks I have to take someone's phone. She sees a woman on the call and runs to her. She cries and asks the woman to let her call her mom. Kriti calls Pratigya and says run from the house, your life is in danger. The goon catches Pratigya and says you don't have any time left. Kriti hears all that and says no, nothing will happen to my mom.
Pratigya asks the goon what do you want? She tries to run away but he puts a knife on her neck and says where can you run? Pratigya screams for someone to help her.
Krishna and others end the pooja. They start leaving the mandir. Krishna sits with Sajjan, Sumitra and Kriti in the car. Krishna asks Kriti why are you crying? She says I have a stomach ache, let's go home.
All family members come home to see police and an ambulance there. Krishna asks what happened? The inspector says a woman died in your house. Kriti starts crying. Krishna screams Pratigya and runs into the house. He sees a dead body lying there. Sajjan and Sumitra smirk. Krishna screams Pratigya and cries. Meera whispers to Komal that she might have killed herself. Komal says she was my sister-in-law before you, I am sad about her death, she was much saner than you. Krishna goes hysteric and says how could this happen.. Pratigya.. Kesar and Kriti cry. Krishna takes off the sheet from the dead body but it's someone else and not Pratigya. All are stunned. Komal is happy to know Pratigya is alive. Sumitra whispers to Sajjan that our planning failed. The police bring Pratigya there and says she is very scared, I have taken her statement. Pratigya runs to Krishna and hugs him tightly. Krishna cries seeing her well. Sajjan asks the inspector what happened here? She asks Pratigya to speak up. Pratigya tells them how a goon attacked her but the maid was there. She screamed so the goon killed her. Before he could kill Pratigya, the police arrived there. Kesar hugs Pratigya and says thank God you are safe. Komal thinks her fate is strong, she can cheat death when she wants. Kriti cries so Krishna asks her to calm down. He asks the inspector to investigate how a goon could come inside. Kriti goes and hugs Pratigya. The inspector tells Krishna that they will find that goon. Krishna says someone attacked Pratigya before also, find out who is behind all this. The inspector goes from there. Kriti cries and says I know who planned all this. Krishna says what? Who did it. Don't be scared, just tell me. Who did it? Kriti says Sajjan hired that goon. All are shocked.
PRECAP – Meera scares Garv and Kriti. She says you want to talk too much right? I will punish you now. She is about to hurt them but Pratigya comes there and slaps Meera. She says how dare you to try to punish my kids in front of me? Later Kriti and Garv hug Pratigya and cry. Garv says I am sorry Mamma for not trusting you. Krishna hears that and thinks the kids are calling her mamma, something is going on. He calls someone and says I want to get a DNA test done.
Update Credit to: Atiba
The post Pratigya 2 16th July 2021 Written Episode Update: Pratigya gets saved from the attack appeared first on Telly Updates.