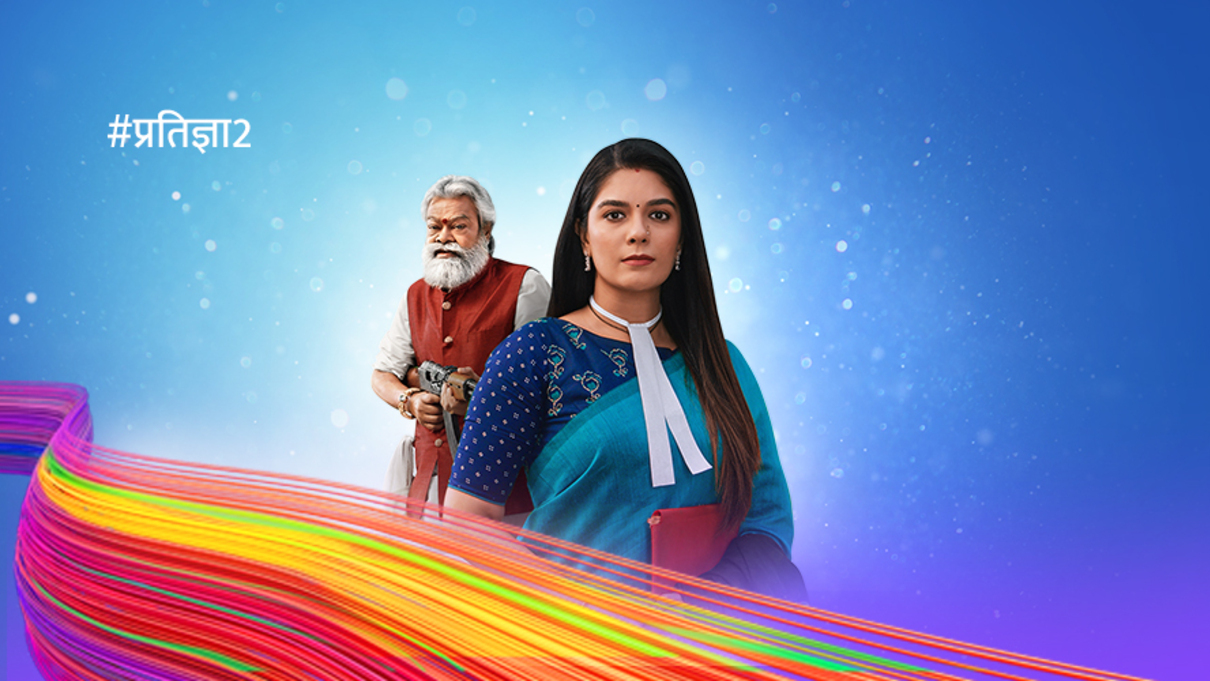 Pratigya 2 12th July 2021 Written Episode, Written Update on TellyUpdates.com
Scene 1
Krishna gives a saree to Pratigya and asks her to change. He says I will take you to the shopping, he goes from there. Pratigya recalls how Krishna gifted the same saree to Pratigya. Meera cries to Sumitra but Sumitra tells her that she shouldn't have burned her clothes, all leave from there. Pratigya tells Meera that Krishna brought the saree which he gifted to me, this is our pure connection, we are coming closer now, you can try but you won't win. She goes from there. Meera cries.
Pratigya tells Kesar that I will cook something for Krishna. She tries to go into the kitchen but Sumitra stops her and says you will make food for my son? Why? He won't eat food that a cheap woman like you made. She shouts at Kesar to stay away from her, Kesar leaves. Pratigya tells Sumitra that only one day. Sumitra says I won't give you a single day. Adarsh and Komal come there. Adarsh asks Pratigya to go with him for shopping. Komal says why? I will go with them. Sumitra says let them go. Adarsh tells Komal that we are not going out for a picnic. He takes Komal from there.
Adarsh tells Komal that Amma and Bauji asked me to stay with Pratigya and act like her friend so I took the chance and also asked you to not go with us. I am just doing so Krishna can doubt her character. Komal says you should have told me about this plan, I don't have any issue, go with her. Adarsh smirks.
Krishna comes home and looks around for Pratigya. Sumitra says she has gone to shopping with Adarsh. How can she like shopping with another man? She must ask him for fitting, she should have taken Komal with her. You offered to take her but she went away with Adarsh. Sajjan tells Krishna that you fought with your wife for that characterless woman. Krishna calls Pratigya and says why did you go to shopping? I told you that I will take you but you don't listen? Why did you go with Adarsh? Pratigya says how are you talking to me like this? I am coming back in a bit and then talk to you.
Adarsh tells Pratigya that I gave you a hint that Amma-Bauji will try to get me close to you and you should have stayed away from me but you are a fool. Pratigya says I have a plan to fail their plan.
Krishna is waiting for Pratigya. Adarsh and Pratigya come home. Sumitra says you both took your time. Pratigya offers sweets to Krishna but he is miffed. Pratigya sits with him and says so what if I went away with Adarsh? Why do you care? Krishna says I told you that I will take you shopping. Pratigya says I know but if you took me out then there would be another drama in the house. Krishna looks at Meera and nods. He says I am going out for work, will you come and have ice cream with me later on? Pratigya says why not, if you ask me like this then I can eat poison too. I will meet you I the market.
Scene 2
Krishna comes to the market and waits for Pratigya. He smiles as he waits for her. He recalls his moments with Pratigya and gets lost. Ek larki ko dekha plays. Krishna buys a rose and smiles. He turns around to see Pratigya coming there but she is with Adarsh. Krishna gets angry and hides. He thinks why is she with Adarsh? What does she want? He breaks the rose in anger and goes away. Pratigya looks at him and smiles. Adarsh asks why are you doing all this? You are making him angry. Pratigya says I have to remind him of the pain when he thought I left him for you, he will remember that pain. Adarsh says what if he doesn't remember it? He can go away from you. Pratigya says I know it's a risk but I have to take it. I want him to remember everything, he doesn't like not remembering anything.
Krishna comes home and is angry. Sumitra says Pratigya and Adarsh have gone out again. Are they starting their affair again? Meera brings food and asks him to eat. He says I don't want to eat. Meera says you can keep looking at the door angrily but eat something. Krishna shouts he doesn't want to. Adarsh and Pratigya come back home. Krishna stops Adarsh and asks who was doing your work at the hotel today that you are roaming around? Adarsh says there was no work there, you told me that. Krishna tries to scold him but Pratigya says I had to buy some books and then we stopped to eat ice cream. Meera says why are you angry Krishna? They can go out. Sumitra says if Komal doesn't have a problem then why are you angry? Krishna angrily leaves.
Sumitra comes to Pratigya's room and says I brought water for you. Pratigya says did you mix something in it? Sumitra throws water on her bed and says I am sorry. You will be cold on this bed and then you would tell Krishna so he can scold me. Pratigya goes to bring a blanket.
Sumitra comes to Adarsh and asks him to bring a blanket from the storeroom.
Pratigya is in the storeroom. Adarsh comes there too. Sumitra locks them inside and thinks Krishna won't like Pratigya after this. Adarsh tries to open the door but it's locked. He says Amma sent me here. Pratigya says so this must be her plan to lock us here. Adarsh says let me call Komal. Pratigya says no, maybe what Sumitra did will help my plan.
PRECAP – In the morning, Sumitra says Pratigya and Adarsh can't be seen anywhere. Krishna opens the storeroom to see Adarsh and Pratigya inside. Krishna recalls some memories and says I remember that Pratigya was cheating on me with Adarsh before also. He starts beating Adarsh. Komal shouts at Sumitra to stop him otherwise she will tell the truth.

Update Credit to: Atiba
The post Pratigya 2 12th July 2021 Written Episode Update: Krishna doubts Pratigya and Adarsh appeared first on Telly Updates.