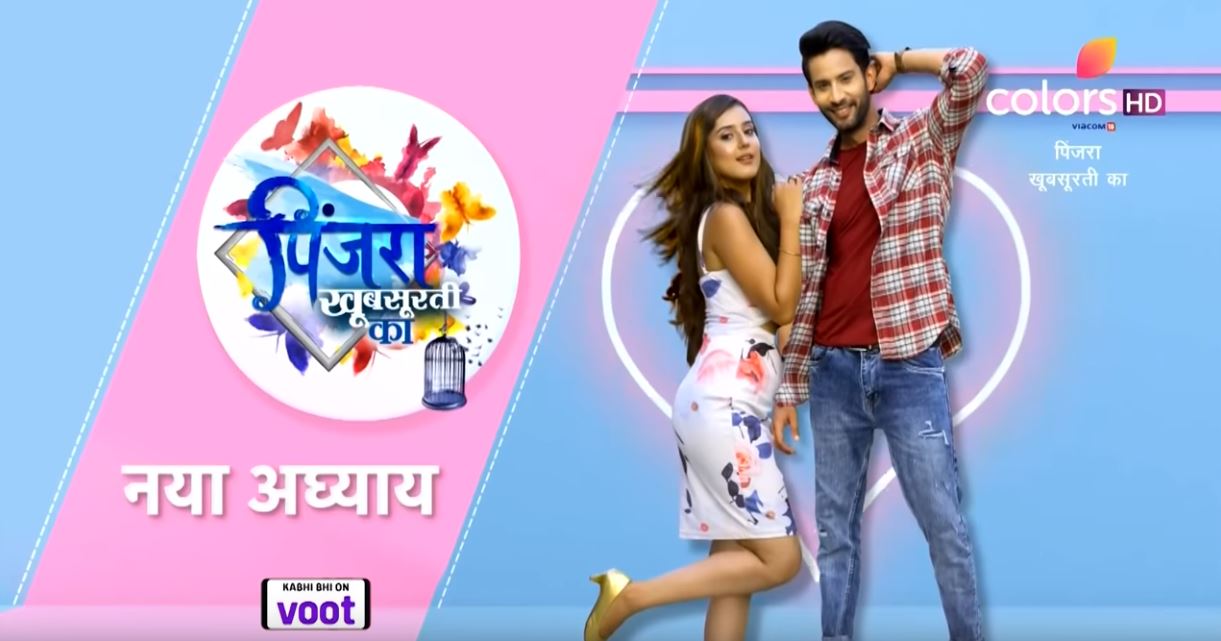 Pinjara Khubsurti Ka 9th July 2021 Written Episode, Written Update on TellyUpdates.com
Omkar reaches the college and is surprised when he doesn't see Mayura. He tries to focus on studies, but his mind is still searching for Mayura. He asks himself why he is getting bothered. It's good that she didn't come.
Mayura reaches Omkar's home. She has dressed up in a traditional dress. She greets Omkar's mother. Aunty says she didn't recognize her. Mayura says she is Omkar's friend, she studies in the same college. Aunty says Omkar went to the college. Mayura says this is why she came. Aunty is confused. Mayura asks if she can come inside. Aunty allows. She enters and touches Aunty's feet. She says Omkar said that his mother wasn't feeling well, so she came to take care of her. Aunty says she's fine, but Mayura makes her sit and asks if she took medicine. Aunty says Omkar never mentioned anything about her. Mayura says she can ask him when he comes. Aunty says she would just call, but Mayura stops saying he must be in class.
At college, Omkar's friends tease him that he's missing Mayura. One friend says maybe Mayura got hurt because of his rejection. Omkar wonders whether he was too harsh on Mayura. Or is it that Mayura is up to something else.
Mayura continues her sweet talks with Omkar's mother. She asks about Omkar's father. Aunty says that he passed away before Omkar's birth. Mayura then asks her what she wants to eat, she will cook. Aunty says it's not required and asks her if she doesn't have class. She says that she will take notes from Omkar.
Mayura's dad asks where is Mayura. Bela says she doesn't last at home. She further says that he should control her as she's a young girl. Dayimaa again asks Mayura's dad about birthday celebration, but Bela says he's very busy. Celebration will only happen when he wins election. He agrees, but then something strikes to him and he tells Sachin to make preparation for a grand birthday celebration. They will invite Ishan and his mother. Sachin says this way they can talk about business too. Dayimaa thinks they're making a business deal out of Mayura's birthday. She wonders when someone will come in Mayura's life who will selflessly love her.
Milkman comes. Mayura says she will go, but she doesn't know which size utensil she should use. First she picks a glass. Aunty asks isn't it too small? She then picks a cooker. Aunty tells her to use 'patila'. Mayura is confused. Aunty says she will go herself. Mayura thinks she doesn't know any work, how she will win Aunty. Aunty's phone rings. Mayura sees and quickly puts it in a silence mode. Omkar wonders whether his mother got sick again.
Aunty asks Mayura if she wants to eat anything. Mayura says she will make something for her. Aunty asks she knows kitchen work, right? Mayura tells her not to worry. Mayura comes to the kitchen and is confused. She calls Dayimaa for help and asks her to teach cooking right now. Dayimaa says that she never turned on a gas, how she can teach her cooking that quickly. Dayimaa tells her to send her the address, she will cook and send something. Bela hears their conversation. She says she needs to find out which friend is this. Mayura says that she found solution, she will now just pretend to cook. She puts 2 tomatoes in water in a cooker. Aunty comes and says she didn't turn on the gas. How will she cook? She asks Mayura that she doesn't know cooking, right? Mayura accepts it, but says that she called her home and food is coming. Aunty teaches her how to turn on the gas. Mayura gets emotional when her mother's topic comes. Aunty hugs her and asks if she will have tea. Mayura says only if she teaches her how to make it.
Omkar reaches home and is shocked to see Mayura. He says now he understood why she didn't come to college. He looks at her dress and asks what's this drama now? Aunty asks what drama? Omkar says she's number 1 dramebaaz. He asks Mayura to leave his house immediately. She doesn't move. He grabs her hand and pulls her out of his home. He asks what's her problem? How dare she to meet his mother, that too in his absence. What's her intention? She asks why he is shouting at her. He only said that she's selfish. She is changing for him. She became a type of girl that he likes. He says by changing dressing, a person doesn't change. She says she will change completely for him. She genuinely wanted to take care of his mother as she was sick. He asks how she knew that his mother was sick? She's quiet.
Episode ends.
Precap will be added later when available.
Update Credit to: Simmy
The post Pinjara Khubsurti Ka 9th July 2021 Written Episode Update: Mayura tries to impress Omkar's mother appeared first on Telly Updates.