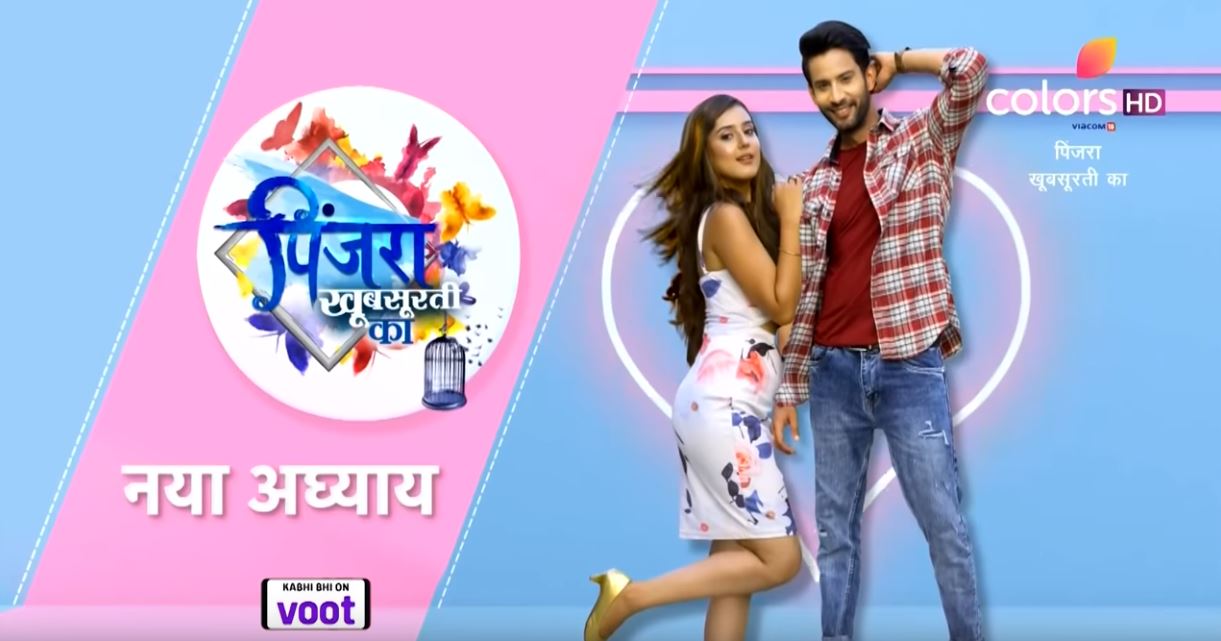 Pinjara Khubsurti Ka 12th July 2021 Written Episode, Written Update on TellyUpdates.com
Omkar asks Mayura how did she know that his mother was sick? She says, your friend… He tells her to stop her games with his mother, she can do whatever she wants to do with him. Mayura's driver brings food for Omkar's mother. She says no, but he says he will lose his job, so she takes it. Bela also comes there following the driver. She says how can Mayura have a friend from that area. She sees Omkar from back side and thinks to ask him about the area, but she gets a message that Sachin reached home. She leaves, deciding to come back later.
Mayura tells Omkar that she just wants him to like her, accept her. He tells her to do anything that she wants, he will never like her. He asks to leave from his house, as well as his life. She says she won't go anywhere, she will stand outside his home until he gets ready to give her one chance. He goes inside his house.
A thunderstorm starts. Omkar asks Naina whether she saw anyone when she came. She says she was not paying attention. Naina praises food made by Omkar's mother. She says she didn't make it, it came from Mayura's home. Naina is shocked. She tells Omkar that he should have told her instead asking Mayura. He says he didn't tell her anything and asks his mother why she took the food without asking him. She says the driver gave it forcefully. He says he won't be able to eat and leaves from there. Naina tells his mother not to go on Mayura's face. She has troubled Omkar so much and asks her to not let her in from next time.
In his room, Omkar thinks why Mayura is behind him… he just hates her. His mother brings tea for him. He apologizes to his mother on behalf of Mayura. He says she's very egoistic and stubborn girl. His mother says she found her very good and innocent. He tells her that she was just acting. She asks why Mayura is behind him. He says that she wants him to allow her in his life. Windows open with wind. Omkar goes to close windows and sees Mayura standing. His mother asks him to get Mayura inside, she could get sick. But he says she's just acting and will leave in 5 minutes. Mayura is determined not to leave. She gets a call from Dayimaa. Dayimaa says her father will get angry if she doesn't come. She says she won't be able to come and asks her to handle her dad.
Omkar returns to his room after putting his mother to sleep. He sees Mayura is still outside. He tries to study, but his mind is in Mayura only. He says he hasn't seen such a stubborn girl. He decides to find her home phone number and inform them. At her home, Bela informs Sachin and his dad that Mayura is not at home. Sachin calls out Dayimaa. Dayimaa says she is in her room. Bela says she didn't see her. Dayimaa says she was on the phone. Mayura was very tired, so she slept. Bela wanted to go her room, but Sachin says let her sleep. Just then they receive a call from Omkar. He tells her dad that Mayura is outside his home and he asks him to come and get her. Line is not clear and Mayura's dad doesn't hear anything. Omkar thinks now what to do.
He comes to Mayura and tells her all that she's doing is pointless. She should go home. He made it clear that he is not interested in her. She says she won't go until he gives her one chance. She wants to be with him. She's holding his hand. Naina comes there and separates their hands.
Bela comes to Mayura's room and gets happy when she doesn't see her there. But then Dayimaa plays Mayura's voice recording and Bela is convinced that Mayura is in bathroom. She leaves.
Naina tells Mayura that it's a crime to follow and blackmail someone. She suggests Omkar to call police, but he tells Naina to leave it. She will get her sense back once she stays outside whole night in a storm. Naina tells Omkar not to get trapped; girls like Mayura are very smart. He says he knows it very well that Mayura will leave once rain starts. They go inside.
Omkar is not able to sleep. He checks outside his window. It's raining heavily. He is not able to see Mayura and thinks she left. In morning, Omkar's mother calls him out. He goes outside and sees Mayura lying outside his door, unconscious. He says she must have come a little while ago. His mother says her body is wet, she is shivering. She asks him to take her inside. He thinks that she got unconscious and fell down and that's why he didn't see her last night.
Bela tells Sachin that yesterday Mayura went to poor people colony to her friend home. He says they're trying to set up their factory there. Why did she go there? She says that they have to find out which friend lives there. He says he will find out.
Omkar takes Mayura inside. He looks at her and says, what did you do, Mayura?
Episode ends.
Update Credit to: Simmy
The post Pinjara Khubsurti Ka 12th July 2021 Written Episode Update: Mayura spends a night outside Omkar's house appeared first on Telly Updates.