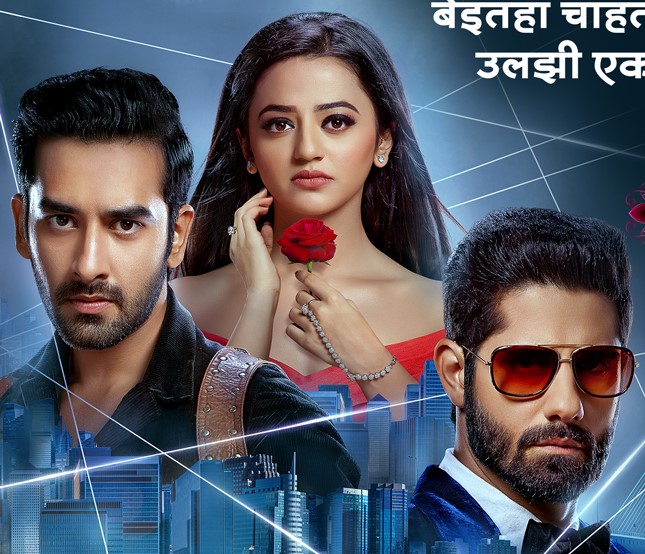 My world is in your love Chapter-29
If you haven't read that previous chapter, The link is here- https://www.tellyupdates.com/my-world-is-in-your-love-chapter-28/
There was complete silence in the room. Riddhima couldn't believe that Rohan was the person who destroyed her dreams. Riddhima was collapsed, she had sacrificed her London dream and agreed to marry Vansh just for Rohan. Her eyes were filled with tears. She couldn't tolerate the fact that her own brother and husband had betrayed her. Riddhima went near Rohan. Vansh saw a notification in his phone, and it was a message from Angre. Vansh signaled Rohan by showing a thumb down symbol.
Riddhima: Rohan, do you know that I am your sister?
Rohan: Yes, Riddhima. I know the fact that you are my sister. On the first day, you entered the VR mansion. I had the feeling of meeting you before. I realized it was you. But I had a small doubt. From sejal, Vansh got all the information about you. Vansh took the DNA test and it was matching. You were eagerly waiting to go to London for your job. I and Vansh came up with an idea of stopping it. I was the one who forced Vansh to marry you legally.
Riddhima: Rohan, then why did you keep silent being known the fact that I am your sister?
Rohan: Riddhima, in this world the person I hate the most will definitely be you. So, it was my idea to destroy your dreams. Finally, I am happy that I have achieved something in my life by destroying your life.
Riddhima gave a slap on Rohan's face and clenched his collar's shirt with her hands.
Riddhima(screaming): Rohan, Did I do anything wrong in your life? Did I hurt you? Then why did you hate me so much?
Rohan: Riddhima, because of you I lost my parents. Everyone died in the car accident, how did you come alive alone? That accident took place because of you. Don't you remember anything.
Riddhima: Rohan, I was just a four-year-old kid when the accident took place. How could I remember it? I couldn't remember anyone's name. Infact, I don't even know my name. By using that kindergarten ID card, the orphanage people called me with my name.
Rohan (clapping his hand): Enough of your drama. Just remember, Riddhima, I will make your life hell. Now, we have taken the property from you by using this marriage drama. Soon, I will make you stand alone in this world.
Tears rolled from Riddhima's eyes, her cheeks were so wet. She couldn't be able to believe that her own brother had destroyed her life.
Riddhima: Wait a minute, you want my property, so you guys played with my feelings and gained my trust. If you want me to sign this property paper, you could have told me, right. I would have signed it and left the VR mansion and settled in London. Because of you, all my dreams were broken into pieces. Why did you do it? I am asking you again…. Why did you do it? …Why did you do this to me?
Riddhima was tired. She felt unconscious and was about to fall on the floor, but Vansh caught her in his arms. Rohan quickly went outside of the study room and noticed Karthik running through the corridor. Vansh placed her on the sofa.
Vansh: Rohan, who was the person  listening when we were talking with Riddhima?
Rohan: It was Karthik. He was the one listening when we were talking to Riddhima. How did you know it?
Vansh: Angre, sent me a message. He noticed that someone was leaving my study room.
Rohan: Thank you, Vansh, for signaling me. If not, I would have told the truth to Riddhima. Karthik would have found our motivation.
Vansh:  Rohan, Riddhima should find the truth on her own. Until our plan gets over, we should be careful.
Rohan: Vansh, am I hurting my sister?
Vansh: Rohan, we are giving her lots of pains. I totally agree with it, but we don't have any other opinion or choice.
Vansh lifted Riddhima in her arms and went to his room which was beautifully decorated. Vansh placed Riddhima on the bed. Mrs. D'Souza knocked the door and gave a bag which belongs to Riddhima. Vansh opened the bag which was full of greeting cards, gifts and a white and red rose. Vansh realized that Riddhima was going to propose to him tonight. A smile came on his face by seeing the bag, but when he looked at Riddhima. His smile completely vanished. He went to the bathroom and refreshed himself and came in his night suit.
Riddhima's eyes slowly opened, she realized that she was in Vansh's bedroom. When she was about to sit, she noticed Vansh was staring at her by sitting on the sofa. Riddhima rushed towards the entrance of the bedroom and opened the door. But, Vansh pulled her wrist and closed the door. Riddhima's face was turning red.
Vansh: Sweetheart, where are you going? Now, we are a husband and wife. You should stay in my room.
Riddhima: I am going to my hostel back. I don't want to stay with you. Actually, talking with you is a waste of time for me. Just leave my wrist.
Vansh pinned her towards the wall and caged her between his arms.
Vansh: Sweetheart, tell me what your problem is.
Riddhima: Vansh, you don't like lying and betrayals. Then why did you lie and betray me? Did you marry me just for benefits?
Vansh: Riddhima, I have told you before. I married you just for sia and my business career. I didn't lie or betray you. Our marriage is just for six months. You need to stay with me for the next six months.
Riddhima: I am going to my hostel again. If you are going to blackmail me again, that you are going to spoil Rohan's life. Then, I am not a fool to believe you.
Vansh: Did you think about Sejal? Sejal has arrived for our wedding occasion, she is still staying in the VR mansion. Riddhima, you can go to your hostel again, but remember, Sejal will stay in the VR mansion. I destroyed your dreams. After you leave the mansion, I will destroy Sejal's dreams by making her marry Aryan forcefully. I think Sejal's dream is to become the biggest fashion designer. Because of you, she will be completely caged in my mansion.
Riddhima became dumbstruck. Sejal has been her good friend from her childhood days. She thought that she didn't want to spoil Sejal's life too.
Riddhima: Vansh, don't destroy Sejal's life. You can give me whatever punishment you want, but don't hurt my friend. She is innocent.
Vansh: Sweetheart, I am just ordering you to stay in the mansion, that's it.
Riddhima: Vansh, I hate you. I will stay, but I have a request. I know the fact that you won't cross your limits. But promise me that you won't take any advantage of our relationship.
Vansh: According to this world, we are a husband and wife. But, in my opinion, we are just roommates. I accept your request. I don't want anyone of the family members to know about our life. Riddhima, now go and refresh yourself. Your luggages and bags had arrived.
Riddhima went to the bathroom, and she changed her dress into a night suit. When she came out of the bathroom, she noticed Vansh scrolling his phone. She went and sat near the bed and was sleeping.
Vansh: Riddhima, you sleep on the sofa. I am not comfortable with it. I will sleep in the bed.
Riddhima: Vansh, If I am your roommate, then I also have equal rights on this bed. Okay, let's do a thing, today I will sleep in bed. Tomorrow, you can sleep in it.
Vansh: Riddhima, I won't agree to it. I will sleep on the right side of the bed. You sleep on the left side of the bed.
Vansh came and sat on the bed. Riddhima was afraid, her heartbeat was increasing.
Riddhima: What? No, definitely not.
Vansh: Relax, sweetheart. I trust you. Will you trust me?
Riddhima: No. Because of trusting you, I signed the documents without reading it. I have seen the result of it today. I won't trust you ever in my life.
Riddhima placed the pillows between Vansh and her. Both slept peacefully. The sun rays entered the room and disturbed Riddhima's sleep. She opened her eyes and noticed Vansh sleeping peacefully.
Riddhima thought,
"How could this man sleep peacefully after destroying my dreams and career? To be honest, he is a devil in my life."
Riddhima quickly took a bath and went to the kitchen. After marriage, this was her first day in the mansion. With the help of Dadi, she cooked everyone's favorite dish. Again, she came to her room and noticed Vansh was taking a bath in the shower. She arranged her belongings and bags in the closet. After seeing the bag with gifts, her eyes were filled with tears. She had an idea of proposing Vansh yesterday night. But, after knowing Vansh's motivation, she came up with an idea of hiding her feelings. She wanted to hide the bag from Vansh. So, she quickly locked the bag and placed it in the wardrobe.
Vansh came out of the washroom and looked at Riddhima. Riddhima was placing a small ganapathi bappa idol statue in the table.
Vansh: Riddhima, I don't believe in two things. It is God and marriage. Take this idol statue and place it in the Pooja room. I am not interested in this stuff.
Riddhima gave an exasperated look towards vansh.
Riddhima: Vansh, I believe in God. Bappa will also stay in this room. He is my friend. I don't care whether you like it or not.
Vansh was about to answer her, but suddenly a phone call interrupted their conversation. Riddhima started to pray in front of the Ganapathi Bappa idol statue. Vansh was listening to Riddhima's conversation with bappa.
Riddhima (praying to god): Ganapathi Bappa, please save me from this devil. I am a cute, innocent little angel, give me courage and strength to face my devil husband and my beast brother.
Vansh: Riddhima, you….
Before Vansh could finish his statement, Riddhima placed the laddu on Vansh's mouth. Vansh was astonished to see Riddhima like this. Vansh's face was turning into anger, realizing it, Riddhima went out of the room quickly. Everyone came to have breakfast at the dining table. Everyone had a good feast, elder people gave blessing to Riddhima and Vansh. Vansh, Rohan and Aryan went to office.
After a week, Riddhima was bewildered by Vansh's behaviour. Riddhima thought,
"Till now, Vansh has not hurt me physically. In the name of the relationship, he didn't take any advantage of me. I used to say the word, I hate you to him daily. But, Vansh used to smile and wink at me. If I am late for dinner after work, he will wait for me, and we would have dinner together. Now, he used to flirt with me and give me some surprise gift. But I am avoiding him. The more I get closer, the more I feel my love towards him. I want to make myself busy at work."
Dadi and Vansh were sitting in the living area. Riddhima came with a bag in her hand.
Dadi: Riddhima, where are you going?
Riddhima: Dadi, I am going to organize a marriage function in Rajasthan. This is the most important project for me. The marriage function will take place in 10 days. I need your permission to go.
Dadi: Yes, riddhima. You can go.
Vansh: Riddhima, security guards also come with you.
Riddhima nodded her head and said yes and left the mansion. Vansh was missing Riddhima's absence in the room. Five days passed, Vansh was busy in a conference meeting. Sia called Vansh from the hospital. Vansh rushed to the hospital with Angre. The doctor was doing the first aid in Rohan's hand. Aryan and Sia were crying. Vansh clenched Aryan's collar shirt.
Vansh: Aryan, I asked you and Rohan to go to the meeting in the Arjun industry, right. How did it happen?
Aryan: Vansh bhai, when we are busy in looking for the product in the Arjun industry. A squad of goons came and tried to kill him with the knife. Rohan stopped the knife in his right hand by holding it. Bhai, that knife is filled with poison.
Vansh: Angre, did you find the person who tried to kill Rohan?
Angre: Boss, I am trying to find him.
Aryan: Vansh bhai, I know who tried to kill him. While fighting with them, I got the gang leader's phone. I have hacked it and found it. It is Mohit Sharma, my uncle who tried to kill Rohan.
Vansh's eyes were changing into red color. The doctor came out of the room.
Doctor: Vansh, Rohan is fine now. You can take him home. I have given some medicines to him. You can go and meet Rohan.
Vansh and Angre went inside the room. Rohan made a grin at seeing him, he understood Vansh was in an angry mood.
Rohan: Vansh, nothing has happened to me. In fact, Aryan tried his best to save me from the danger.
Vansh: It is all because of Mohit Sharma. I don't know how to handle that crazy man. He is always behind my family. I will definitely kill him with my gun.
Angre: Boss, From Aryan we have got another news. There are going to kill Riddhima.
Rohan: Vansh, please save Riddhima. Currently, she is in Rajasthan for her project work. Aryan and Sia will take care of me. Our entire plan will be a flop if Riddhima is not alive.
Vansh: Rohan, don't worry. Riddhima is my wife, I will take care of her. Take care of your health. Angre, tell the security guards that no one from my family should leave the mansion.
Angre: Yes, Boss, but why is Mohit Sharma trying to kill Riddhima and Rohan?
Vansh: Angre, Just for Riddhima's and Rohan's wealth. I think that Mohit Sharma doesn't know that all the property and wealth of Riddhima and Rohan now belongs to me.
Angre: Boss, I don't think Mohit sharma is doing it alone. I think someone is behind him.
Vansh: Yes, Angre. We need to find about it.
Vansh made a phone call to Riddhima. Riddhima looked at her phone and saw Vansh's name. She gave the phone to the bodyguards.
Bodyguard: Boss, Riddhima bhabi is busy in her work. Bhabi told us that she would talk with you later.
Vansh: Just give the phone to Riddhima, else I will just kill your whole family.
The body guard with fear gave the phone to Riddhima.
Riddhima: Vansh, I am busy with my work. I will call you later.
Vansh: Riddhima, return to the mansion immediately.
Riddhima: Vansh, are you insane? I am currently organizing this marriage function. I will come only after five days.
Vansh: Riddhima, some people are trying to kill you.
Riddhima: My work is more important to me than my life. I have made a promise to my client, I won't quit my work. You can do whatever you want, but I won't come to the mansion until my work is finished.
Rohan chuckled at seeing Riddhima's and Vansh's fight in the phone call.
Vansh: Rohan, your sister is so adamant. When your sister was born, your father should have kept her name as ZIDDHIMA instead of Riddhima. It will be a perfect match for her. Angre, get ready with the jet. We are going to Rajasthan.
Mohit Sharma: Our goons tried to kill Rohan. But, Rohan is alive now.
Man (screaming): Mohit Sharma, you are just a useless man. You don't know about Vansh Raisinghania. He is a mastermind person. Now, we would have to find that you are going to kill Riddhima.
Mohit Sharma: Shall we stop the plan?
Man: No, continue with our plan. Riddhima should be dead within the next two days.
Stay tune for the next chapter…
Who is this man trying to kill Rohan and Riddhima?
I will try to reveal Vansh's and Rohan's real motive soon in the upcoming chapters.
Thank you for your comments….Keep supporting by your comments…
The post My World Is In Your Love – Chapter 29 appeared first on Telly Updates.