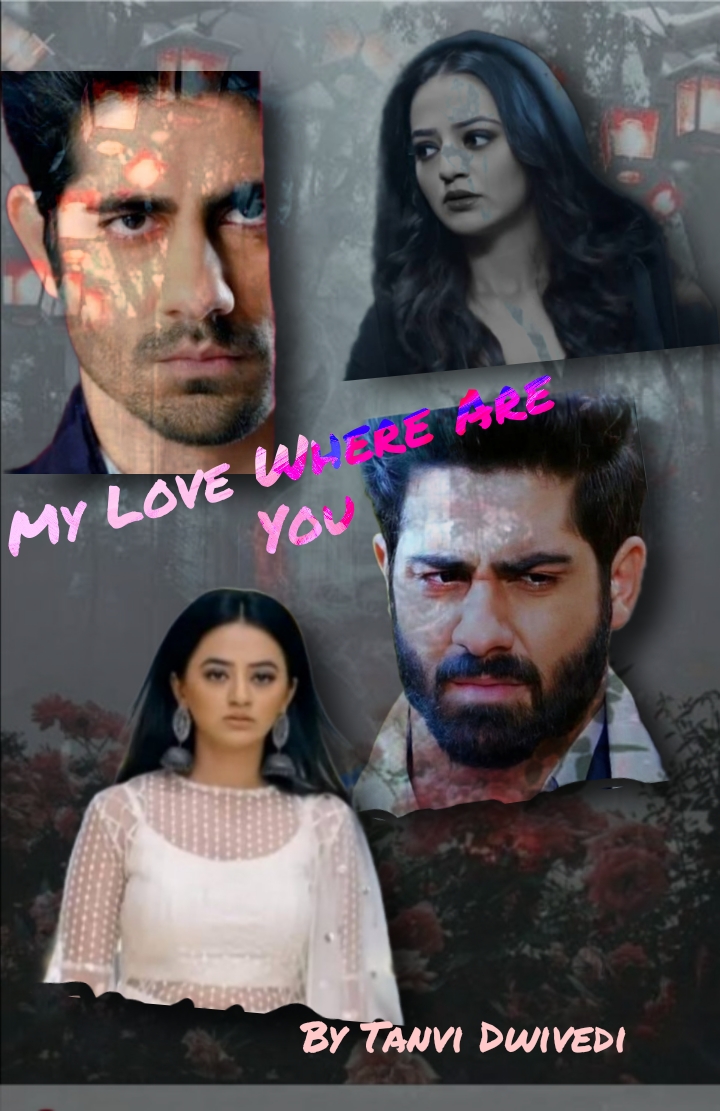 The scene starts with Dadi asking Riddhima if she wants to marry Kabir or not….
Dadi: Tell bacche, will you Marry him?
Riddhima kept staring Kabir who had kept knife on Ishani's stomach. She closed here eyes and nodded in yes. Dadi kept the plate on table and left.
Ishani: I was correct. You never loved Bhai. You blo*dy gold…..
Angre: Ishani! She saved your life!
Kabir: What are you saying!
Angre grabs Kabir by his collar. Kabir was smiling while Riddhima was trying to make them apart. As she succeeded, she turned to Angre.
Riddhima: What are you doing?
Angre: Bhabhi know he forced you to agree.
Kabir: I forced her ? What the hell are you saying?
Riddhima: Angre. Stop this now. Please leave.
Saying so Riddhima herself leaves to her room. She closes the door and sits in the floor crying.
Riddhima: Why did you leave me Vansh? (Crying) What will I do? I don't want to marry Kabir….please ajao.. tumhari Riddhima na jee pa rahi hai na mar pa rahi hai… (Sobbing)
Angre was listening to her from outside. He also had tears in his eyes. When he heard no movement he went away.
Angre: What is making Bhabhi force to marry him?
Angre…
Dadi came to him.
Dadi: Kal Riddhima aur Kabir ki shaadi hai. Make arrangements.
Angre nodded and continued his work. Riddhima came back from outside and sat in her room, looking at Vansh's picture. Shedding silent tears, she went to close the door. But before she could, Kabir entered with red shot eyes, angry face looking like he was drunk. Which made Riddhima a little scare. He entered the room and closed it from inside. Before Riddhima could say anything, he lifted her in his shoulder and threw her on the bed. He took a hankercheif and tied her mouth.
Riddhima cried and begged him to leave her, but instead he tore her clothes.. Riddhima kept crying.
*********************†*************
Riddhima was ready in her white bridal attire. When Angre entered the room with red chunni in his hands and tears in his eyes. Riddhima stood up and got scared seeing him, but she didn't resist him in going for the wedding.
Riddhima: Angre tumhe meri kasam, tum kabhi kisi ko nahi bataoge yeh baat, mai mar bhi jaau tab bhi.
While phera, Riddhima threw something in the fire to create smoke and opened the bottle of poison to drink it. It was nearly in her mouth when a familiar touch stopped her. She turns towards him only to see Vansh standing infront of her. She rushed to hug while he pushed her hard enough that she fell on the floor.
Vansh: aree Kabir, you didn't tell me you are getting married.
Riddhima was staring at him with tears while he smirked.
Kabir: Vansh! You are back! Finally.
Vansh:  No need of this marriage, Miss Betrayer, you can leave.
Riddhima didn't utter a word due to shock and left the Mansion. At the gates of Mansion, Anupriya stabbed her stomach; not that hard. Riddhima kept walking and trembling on the flooded roads her white lehenga was now red due to blood, she was not able to walk much and fainted infront of a moving car..
Her slight open eyes had many questions.
What he not Vansh?
Is he taking Revenge?
Vansh and Kabir are friends?
Love was never in her fate?
Is it better to die?
Should she take revenge?
These questions roaming in her mind and she heard a lady's voice..her eyes closed.
1 month later
Angre still keeping his promise was guilty from inside. He was busy in his thoughts with his workaholic boss when the bell rang. Angre opened the door and his happiness went beyond boundaries.
Bhabhi!!!
His words echoed the house and Vansh came to the door. It was her, was she really standing infront of her with a smiling face? Vansh eyes were getting peace while he showed his angriness from outside.
Riddhima: oooo kesi Bhabhi? Kon Bhabi?
Angre: aap…
Riddhima: Chup! I am not any Bhabhi. Wese, where is Vansh Rai Singhania? I am here to meet him.
Vansh came and saw her, his eyes got an unknown peace while his mind was full of rage.
Vansh: What the hell are you doing here??
Riddhima: This js the way to welcome your guests? Actually I ..
Vansh: Security! Throw her out and never let her in the house!
The security pulled Riddhima out of the house and Ishani' scream shook the whole house. Angre and Vansh rushed to the room and found no one, but Ishani with closed eyes.
Angre: Ishani what happened?
Ishani: Riddhima…aai thi…usne….gun….
Anupriya: This is not possible! I stabbed and killed her that day!
Everyone turned to stare Anupriya while she was standing scared… Vansh took large steps to her and took out his gun
To be continued…. So what do you think is happening? Don't worry, dheere dheere pata chal jaayega…

Tanvi

The post My Love Where Are You- RiAnsh Episode 1 – Why Did You Leave Me? appeared first on Telly Updates.