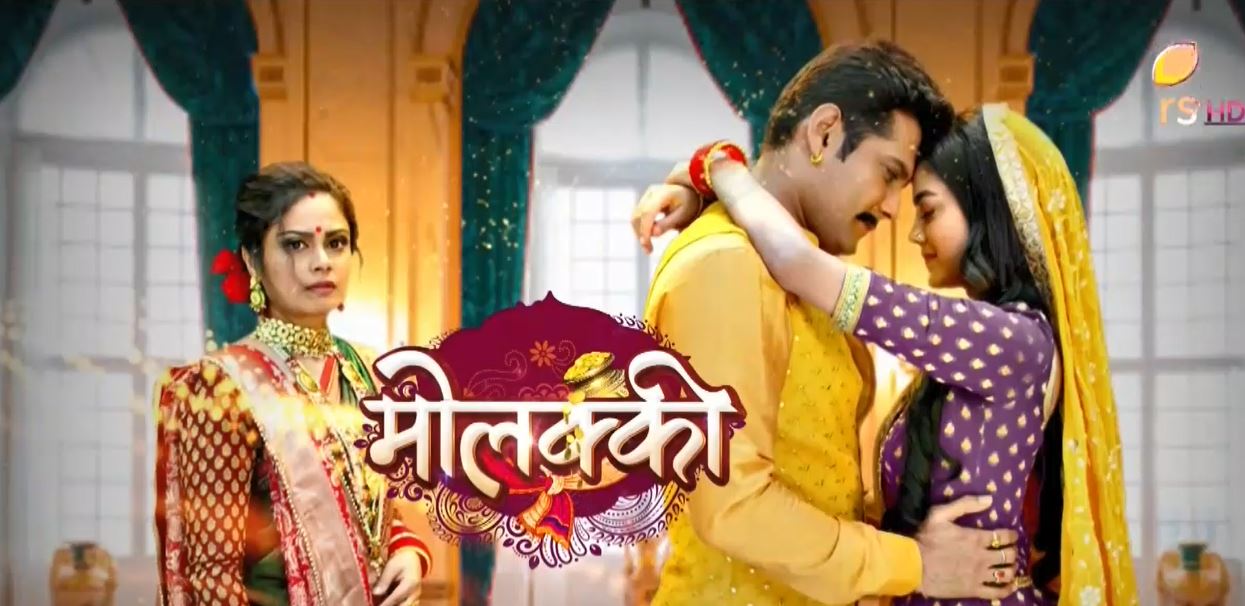 Molkki 9th July 2021 Written Episode, Written Update on TellyUpdates.com
Virender throws Anjali and Prakashi's bags outside. He tells Prakashi to play any game she wants to. I wont let you snatch anything from my kids till I am alive! You cannot stay here. Leave! I threw you out of this haveli last time. This time I oust you from the village. You will see the worst of me if I see you again. Nandini steps forward. You are the worst anyways. You are the Mukhi of this village, not this house. This is our house too. They will stay right here with us. Don't forget that we are the owner of this property. You must have received your copy of the will. Ma named everything after her 4 kids. Vir and I will be the legal guardian for Manas and Juhi till the time they turn 18. Virender tells her not to teach him. I know everything but you don't know them or what they have done. They made Sakshi sign the property papers stealthily. I somehow got it back again. Don't trust them or they will backstab you! Nandini says we may be kids but we are not fools. We know who to trust and who we shouldn't. We don't have to learn it from you. Vir asks about Sakshi. Virender says she left. She has relocated to another country and wont come back. Prakashi calls it a lie. Why are you lying? I can call at all our residences to enquire about Sakshi. tell us the truth. Vir calls him cruel and selfish. You lost Ma twice and we lost her again because of you. We will find her and bring her back. Just wait and watch. Nandini adds that now Virender and his Molkki will leave the house. Only those who we like will stay here now.
Virender and Purvi are walking towards the main door of the haveli. Prakashi and Anjali smirk. Prakashi asks Virender to stop. I may be you step mom but I cannot see you getting destroyed like Kaikayi. You might not have considered me your mother but I have always considered you my son. I cannot see you going away from me. I can make arrangements for you in the servant's quarter if you want. You dint think of where I will go once you sent me away but unlike you, I cannot see you go. Virender begins to retort but Purvi accepts her offer. He asks her if they weren't insulted enough. Purvi says we wont be able to save Vir and Nandini from Ma and Bhabhi if we leave. We wont be able to turn the hatred in love then. We must stay here. Please understand me. We will lose this chance otherwise. Please say yes. Prakashi asks Virender if he wants to stay in the servant's room. Virender reluctantly agrees. Prakashi says I knew that you wont say no to this Molkki. She tells Anjali to ask the servants to shift Virender and Molkki's stuff to servant's room.
Virender is shocked to see the condition of the room. We agreed to stay but you will have to stay at a place like this because of me. She says every place is heaven for me if you are with me. Don't think too much. Help me clean the room. He looks at her in surprise. She tells him that she is joking. I wont make you do this. She picks up the broom but he takes it from her. I wont let go of your hand now. We will do everything together. She nods. They start cleaning the room.
Vir and Nandini come to Virender and Sakshi's room. Nandini caresses Sakshi's photo sadly.
Virender and Purvi share some cute, romantic moments while cleaning the room.
Vir is also missing his mom. He hugs Nandini and looks at his mother's stuff.
Purvi is making a makeshift nameplate with their name.
Vir throws Virender's turban angrily.
Virender opens the doors to the balcony. Nandini also opens the door of her parent's room and they look at each other. Purvi looks on. Virender tells her that his own kids hate him so much. This father hasn't heard Baba from his daughter's mouth since years. A daughter is more precious to a father than his own life. Nandini only considers me the Mukhiya of Rewari, not her father. She thinks I am the worst. Purvi tells him not to lose hope. She is your daughter after all. She will understand your love for her one day and come back to you. You can win her with love. We are the biggest example of how love changes people for good. Do you remember how you and kids used to behave with me when I came here? I won you all with love. We will win Nandini and Vir with love too. He asks her what she is up to. It wont be an easy fight. Purvi tells him to be her charioteer. I will win this fight at any cost. Will you help me? He nods and wishes her good luck. She smiles. I will bring pen and paper. Tell me their likes and dislikes. I will start working on my plan right away. He agrees.
Vir is clicking photos in the market. Sudha comes to a golgappa stall with her friend. A beggar asks Vir for money. Vir gives golgappa's to the beggar but he politely declines. I don't have money to give to you. Vir tells him it isn't needed. The beggar blesses him. Sudha and her friend look on as Vir gives money to the beggar. Sudha wonders who it is. Her friend says he may be a tourist. He has a big heart. Sudha smiles.
Purvi is walking past Nandini's room when a kurta falls on her. She asks Nandini why she is throwing clothes like this. Nadnini tells her to mind her own business. Is there laundry nearby? The clothes aren't pressed. Prakashi walks in. Don't worry. She (Purvi) will do it. That's what Molkki's are for. Give her whatever work you want to. She is staying in servant's room anyways. Nandini thanks her. Prakashi and Nandini give clothes to Purvi. Nandini tells Purvi to iron them in 2 days. My every dress is 100 times costlier than your clothes. Make sure you don't spoil even one dress! You wont be able to pay back then. She throws red dress at Purvi. I have to wear this and go out. Nandini notices Manas and Juhi at the door. She asks them to come in. I have got new toys for you. Manas and Juhi feel bad for Purvi. Purvi walks out with the clothes. Prakashi looks on. You only threw my stuff out of this house. I will torture you every day and will insult you constantly! I kept you here to remind you where you stand! Just wait and watch.
Purvi is ironing the clothes. Anjali notices Purvi ironing Nandini's red dress. She asks her to go to kitchen as Ma is calling her. I will iron it for you. Purvi is hesitant but Anjali tells her not to waste time. Purvi tells her to be careful. Nandini will be upset otherwise. Anjali agrees. She smirks as she picks the iron.
Purvi comes to kitchen. Maid tells her that Prakashi is not here. I have been working alone here since long. She wonders if Anjali is up to something. She goes back to check with Anjali. Anjali says Ma asked someone else for help as you took too much time. I have ironed Nandini's red dress. Send it to her room asap as she wants to wear it. Purvi thanks her. I will send it. She asks the maid to take the red dress to Nandini's room. I will send the rest later. Anjali hides as the maid takes the red dress and leaves.
Purvi has ironed everything when Nandini calls out to her angrily. Purvi goes to her. Nandini shows her the dress. You spoiled my dress even when I told you to be careful! Anjali and Prakashi look at the dress. Nandini asks Prakashi what she should do now. She spoiled my favourite dress. Prakashi reprimands Purvi. Nandini questions Purvi. I told you to be careful. How could you spoil it then? Purvi realises that this is why Anjali sent her to kitchen. She wanted to spoil Nandini's dress. Nandini calls her shameless. You cannot even apologize when you did something wrong. You could fool my mother but not me. I am not innocent! I wont spare you so easily. You will be punished for this mistake. She is about to hit her when Virender holds her hand.
Precap: Update in Progress
Update Credit to: Pooja
The post Molkki 9th July 2021 Written Episode Update: Virender and Purvi shift to servant's room appeared first on Telly Updates.