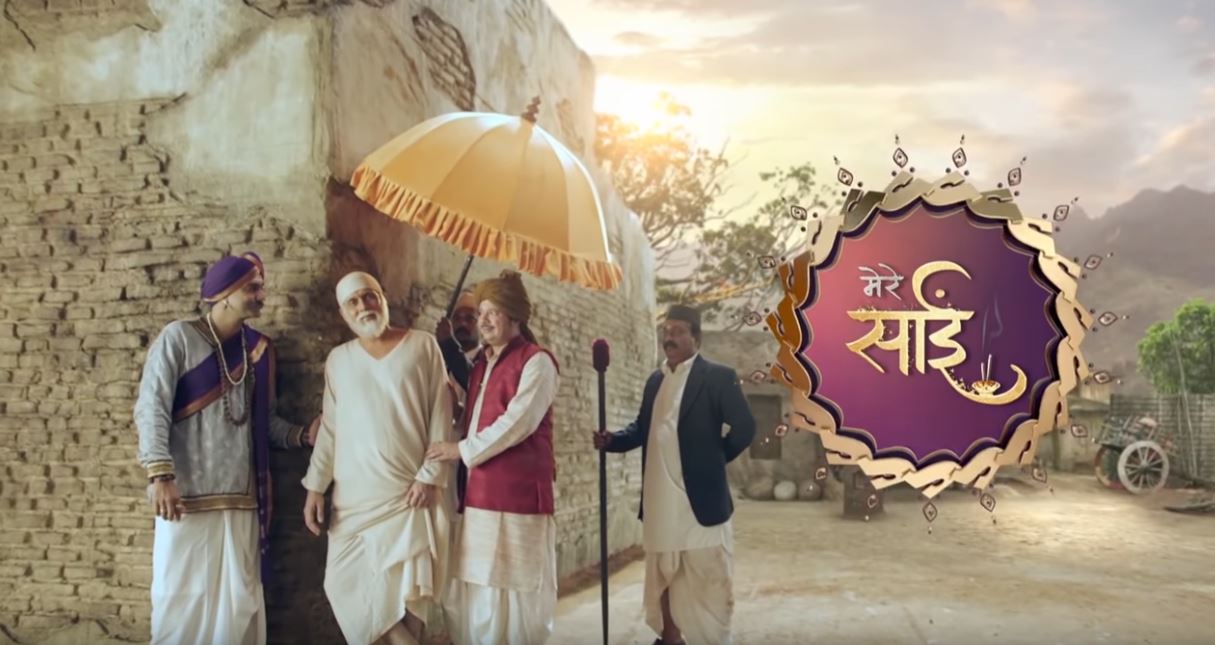 Mere Sai 9th July 2021 Written Episode, Written Update on TellyUpdates.com
Gangaram looks at his daughter who is looking out of the window sadly. He tries to talk to her but she is miffed. I am going to lock the door from inside. I wont open it again. I don't want to see the face of any woman. They come here on Vat-Purnima intentionally to mock me. I wont even meet Raghav as he thinks I am wrong too. You are also trying to make me feel bad. I have no relation with anyone so I wont do puja at any cost. Please leave! Gangaram goes. Kutubai closes the door from inside.
Prathamesh is standing quietly outside. Tatya asks him why he thinks his Baba does not like him. Every parent loves their kids. He is concerned for you which is why he keeps trying to push you. Prathamesh says he wouldn't have taunted me if that was the case. It is the same story every day. Baba wants a successful son. I don't think I can be that son.
Chakranarayan's men come to Tatya's house and call out to Tatya. Gautam looks on. They are closest to Sai. Chakranarayan's men tell Tatya that plague is spreading quickly in the nearby villages. We have to sprinkle medicine inside for everyone's safety. Tatya reasons that they haven't been informed about it. Chakranarayan's men say that the risk is too big. There hasn't been a formal announcement by British Government as the plague is spreading too quickly. Tatya gives in. They tell him to make sure no one come inside the house for a while as they are going to sprinkle the medicine.
Sai is outside Khandoba temple. It is said that there is no bigger treasure than devotion. He notices Raghav sitting outside the temple. He looks at the pot of water and at Raghav. He lifts the cover from the pot and looks inside.
Chakranarayan's men are searching Tatya's house.
In her room, Kutubai thinks no one can mind their own business these days. Why can't people leave me alone? She notices Sai in the mirror and is shocked. How are you here? Sai says I came to make a last attempt. I agree that you are living separately but the relationship hasn't ended. She replies that everything is over from her side. I have no memory of that past. He says there is something which will always remind you of your past. Your son is the living memory of that past and he will always be with you. She asks Sai what He is saying. Sai says you say that no one understands you. Have you thought about Raghav's state of mind? Only a kid can feel the pain / burden of his parents' separation! I know you don't want to go back. I wont even force you to but doing this puja wont harm you in any way. This puja will give a hope to Raghav. He will think that his family hasn't completely fallen apart. If you do the puja with other women then Raghav will join you in the puja too. He too will join the society once again and feel that he is a part of this village. He has lost the family he knew but atleast try to make him feel that he is a part of this society too. He is no different than other kids. She asks him till when will Raghav keep false hopes. Wont it be better to live in reality instead? Sai asks her why she is still wearing mangalsutra and has put vermilion in her hairline. These things keep relations today. Love was there right? You never missed onto it. She asks Sai to leave. Sai disappears. Kutubai wonders if Sai was indeed here. It isn't possible! I must be hallucinating. Why am I even thinking of such things?
Chakranarayan's men tell Tatya they are done. You can go inside. Tatya thanks him and heads inside. Chakranarayan's men are sad that they couldn't find anything here.
Gangaram is pacing outside when Kutubai comes outside holding a puja thaal. She tells him not to be happy. I am only going to do the puja. It does not mean that I will go back to that house though. I wont go back there ever again! She leaves.
Sai smiles.
Gautam asks Chakranarayan if this is important. Chakranarayan nods. We have lost a lot of time because of Kulkarni Sarkar already. We must do every possible thing. Fakir pretends to help everyone. We should use His weakness against Him. Gautam asks him what he is up to. Chakranarayan is dressed as a beggar. Just wait and watch.
Sai asks Raghav why he is sitting here. Raghav says I only want to stay alone. Sai says you stay alone always. You should be with someone else today. Sai looks at His left. Raghav follows His gaze and is surprised to see his mother coming there holding a puja thaal. He smiles. He runs to his mother and holds the puja thaal. They join the other ladies in the puja. Raghav keeps looking back at Sai sweetly. All the ladies smile when they see Kutubai and Raghav. Sai smiles at Raghav. Baizama notices Sai and smiles. Kutubai glances in Sai's direction as well. Sai says Ram ji gave you (Raghav) a small hope today. Have Shraddha and Saburi. You will find your happiness very soon. Raghav watches his mother do puja happily.
Chakranarayan calls out to Sai. I am very poor. Please give me something. Sai smiles. He tries to take out something from His pocket but Chakranarayan tells Him he does not need money. I am very hungry. Give me something to eat. Sai agrees and helps him sit in a corner. He gives food to Chakranarayan. Chakranarayan thanks Him. I have heard that no one goes back with empty hands. I witnessed it today too. You help you many people every day. How do you do it? Sai says it is with Ram ji's help. Chakranarayan asks Sai if He found any treasure. I have heard that you have been giving out money to villagers. You don't take anything except food in alms. Sai says there is nothing that can be hidden or carried with a person always. Ram ji's blessing appears in any form whenever you need it. Sai takes out a coin from His pocket and gives to Chakranarayan. Ram ji Bhala Karein! Sai leaves. Chakranarayan keeps the food aside. It is difficult to trap Him in words. He will never tell from where He gets money. We will find some clue by evening. I will see how He will escape us.
Precap: Chakranarayan tells Prathamesh he will help Sai if He is genuine. If He is doing something wrong then we should expose Him in front of everyone. Prathamesh approaches Sai for monetary help. Prathamesh looks at Sai in shock when Sai hands him Rs. 500. Chakranarayan asks Prathamesh if what they had planned came true. Prathamesh nods. Chakranarayan smiles.
Update Credit to: Pooja
The post Mere Sai 9th July 2021 Written Episode Update: Kutubai does Vat-Purnima puja appeared first on Telly Updates.