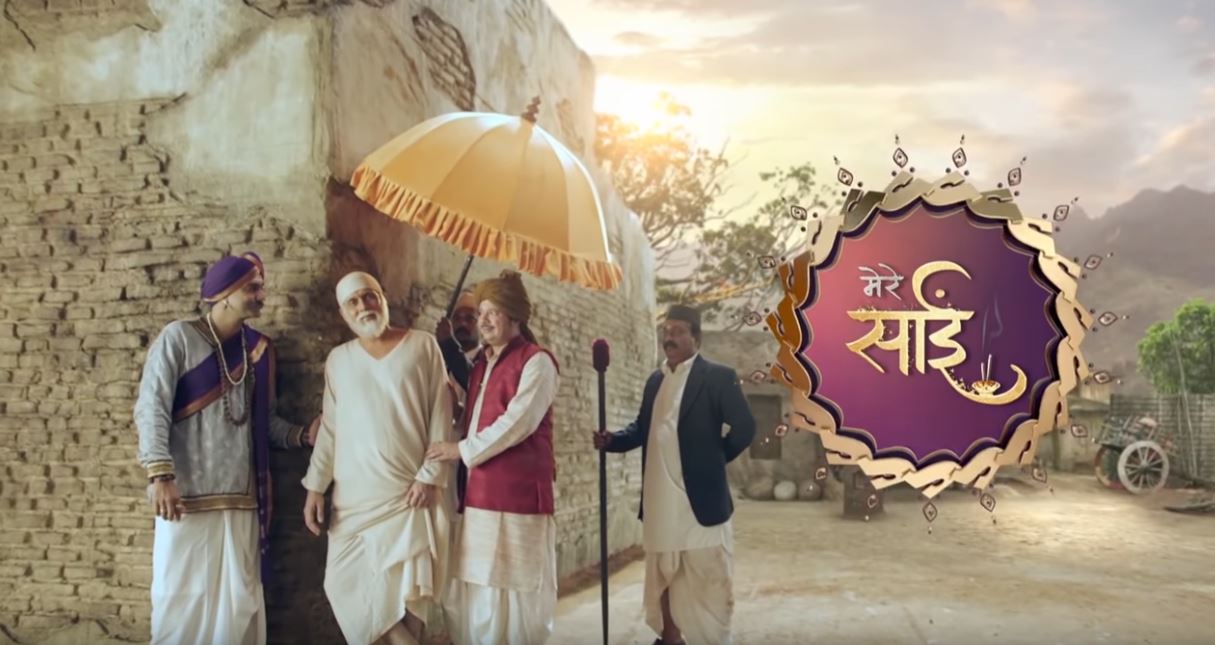 Mere Sai 21st July 2021 Written Episode, Written Update on TellyUpdates.com
Chakranarayan and Kutubai recall their arguments before she had left the house with Raghav. She demands for luxuries but Chakranarayan reasons that it wont be possible for him. I cannot compromise with corrupt people. Another instance is shown when where a guy tells Chakranarayan to make a deal with Deshpande. He will give you 10k. Chakranarayan refuses to accept bribe ever. A lady calls Kutubai a maid. Don't stand here. Go and give sherbet to everyone. Kutubai says I am not a maid but Chakranarayan ji's wife. All the guests look at them. The lady apologizes to Kutubai who walks out of there. At home, Kutubai complains at what she had experienced. I am from an elite family from Shirdi. Those women are not worth anything in front of my Baba's wealth. I was raised with love and had so many luxuries when I was in Shirdi. Chakranarayan tries to say something but she does not let him speak. You must accept Deshpande's offer. Chakranarayan stays put. I wont change my decision at any cost. Kutubai tells him to decide what's important for him – your conscience or me. Only lucky people get hold of bribes. I will leave with Raghav if you wont accept this deal. Chakranarayan tells her to go wherever she wants to. I wont change my decision. Flashback ends.
Raghav hugs his Baba. Villagers are surprised to find out that Raghav is Chakranarayan's son. Everyone is in tears. Sai smiles. He walks up to Kutubai. You are upset with me as I couldn't come to see you at home. It is because I don't have your medicine. It is right here. He points at Chakranarayan. Sai says this is the reason why you were restless. You left the house but continued to live by those relations. You suffocated yourself. You always saw your sad but your zidd stopped you from giving him his happiness. It kept you away from your husband. It kept a father away from his son and an Ajji was kept away from her grandson. You broke a family. I agree that you need money to survive but it is wrong to become blind in your wish to gain money. People who do that destroy themselves and those around him too. There are 2 kinds of people in this world. One, those who don't budge from their duties and two, those who never fulfil their duties. Your husband took the biggest risk today. He searched me in front of everyone today. He knew that the villagers will become his enemy this way yet he remained loyal to his work. He dint even care about his life. Such people are one in a million. How can you leave him for gold and diamond? Money makes people rich but it does not stay forever. Nothing is greater than characteristics and conscience. Chakranarayan's traits make him precious than any other gem. There cannot be anything else that's more precious than a person who embodies those traits.
Kutubai walks up to her husband and folds her hands. Please forgive me. I was blinded by greed. He wipes her tears and holds her hands. I also made a mistake. My arrogance was always a hindrance to my family. I never tried to bring you back as I was afraid that you may say no. My self-respect wont let me live if that happened. This is how men are structured. I bore everything and chose to live without my wife and son. My arrogance pushed me away from my son. I understood one thing after Sai forgave me. Keeping a grudge in heart only stains our heart. We have wasted enough time because of our egos but not anymore. We will start afresh with Sai's blessing. Villagers smile.
Gangaram asks Kutubai what she is up to. Kutubai asks him if he still couldn't recognize Sai. Your daughter is in the right direction because of Him. My life is going to change for good. She tells her husband that she was mean to Sai constantly but He kept trying so as to fix things for us. Chakranarayan thanks Sai with folded hands. I was plotting against you yet you were only trying to bring happiness in our family. Raghav tells Gangaram that he has overheard him telling people that he is worried because his daughter and grandson are not with their family. We are together because of Sai today. He fixed the biggest problem of your life without even asking for it. How can you still misunderstand Him? Gangaram starts breathing heavily. Kutubai says you have fulfilled my every whim till date. I am going back to my house today but I don't want to leave you alone. I will be relieved to know that you wont be alone if Sai is by your side. Look at Sai without any anger once. Don't believe me if you see anything malicious in His eyes.
All eyes turn to Sai. Bright light emanates from Sai. Hare Krishna Hare Ram plays. Gangaram can see it and starts walking towards Sai mesmerised. He thinks of how he had mistreated Sai all along. He removes his slippers as he steps inside Dwarkamai with folded hands. He kneels down and cries. I am a sinner. I have troubled you a lot. You helped my family even when I was blinded by money and status. Please forgive me, Sai. Sai helps him stand and smiles. Gangaram cries as he hugs Sai. Chakranarayan, Kutubai and Raghav fold their hands gratefully towards Sai. Sai says Sabka Maalik Ek.
Sai is offering water to the neem plant. Baizama is also there. I thought you were actually turning the leaves into coins when you had told me about it. I was a fool. I consider you God yet I couldn't realise that God is not dependent on anything to make things happen. This was one of your leela to tell Chakranarayan that that money was coming from a natural source. Neither Chakranarayan nor I could understand it back then though. Sai says it is Ram ji's blessing. He meets every single person who takes the right path. It is the end result of their good deeds as well as an inspiration. Baizama smiles.
Precap: A new chapter is about to begin!
Update Credit to: Pooja
The post Mere Sai 21st July 2021 Written Episode Update: Gangaram realises Sai's grandeur appeared first on Telly Updates.