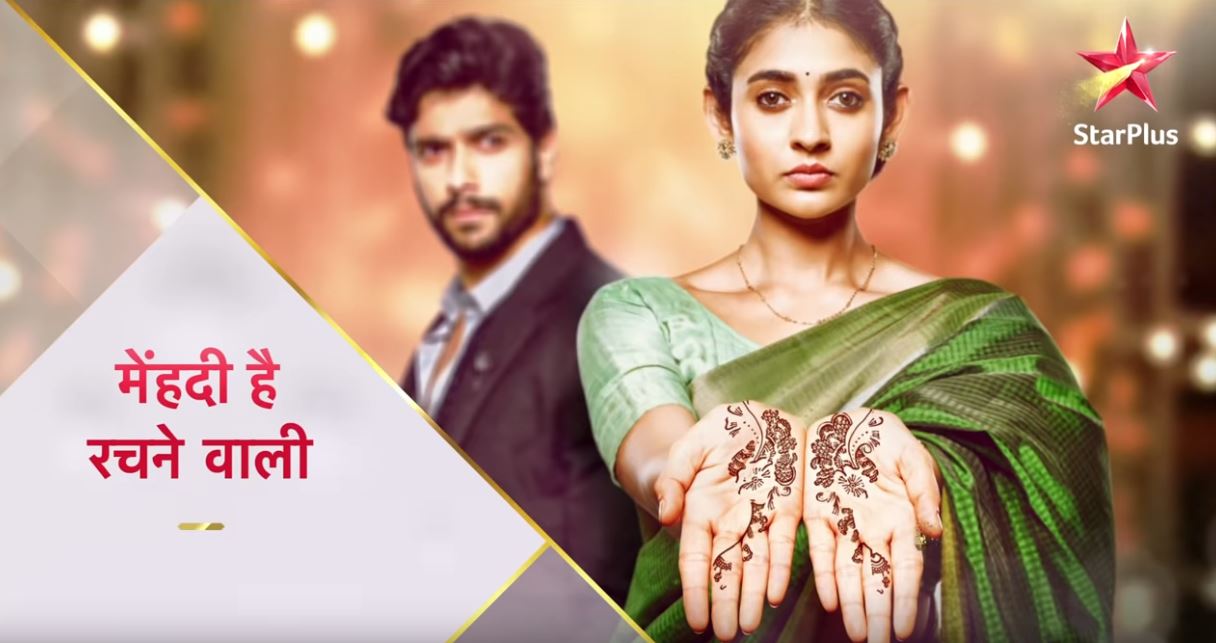 Mehndi Hai Rachne Wali 9th July 2021 Written Episode, Written Update on TellyUpdates.com
Kirti panics and says how is this possible, was that man Pallavi's ex-husband how, no body should know it was me, what will I do and why did Pallavi ask me and Amma, Kirti calls Sunny, and remember he is in Sikandarabad.
Pallavi sees Milind and Amruta visit her and invites them in, Pallavi asks all well, Milind says we want to talk to you and Raghav, Raghav walks to them, Milind asks Raghav what is wrong with him why is he so tensed, Raghav says business tension, Milind says look I told you he must have work tension, Pallavi says Amruta I am so happy to see you with Kaka, and thinking about family, Amruta says I understood meaning of family and what is right and wrong, Pallavi says I hope others learn that too.
Pallavi tells Milind that she and Raghav have found some clues regarding Mandar's death and will find real murderer, Amruta asks murder, Pallavi says yes it was hit and run case, Milind says Mandar will be in peace when culprit will be caught, Milind says Raghav thank you for helping Pallavi and Pallavi you are lucky to find Raghav who helps and supports you and will pray that the culprit is found, Pallavi says no worries I will find the culprit soon, Milind gets a call and he leaves.
Raghav whispers Pallavi to tell everyone that I am the murderer, Pallavi says you won't, Milind thanks Raghav for supporting Pallavi and leaves.
Raghav asks Pallavi to call police and send him jail, Pallavi says only real culprit will be punished not you, Raghav says why don't you trust me, Pallavi says I know its not you, Raghav says let the past be in past, Pallavi says you want me to forget about the past who made me widow and ruined Deshmukh house happiness, I won't, Raghav says why won't you listen, Pallavi says why hide the truth.
Jaya sees Raghav worried and asks is it Pallavi and says Raghav she is in pain, and asked me and Kirti too about 1st Dec 2018, Raghav says how dare she, Jaya says she has full right, but why ask us, what are you hiding Raghav, Raghav says why is Pallavi so stubborn, and what did you tell Pallavi, Jaya says I told her we went Swami's Asharam, Raghav asks we, Jaya says me and Kirti, Raghav thinks how come Kirti was there.
Amruta paniced goes to Milind and tells that she saw an accident on her way back home, Milind asks is that man fine, Amruta says yes people took him hospital, Amruta says this reminded me of Mandar dada and Pallavi has found Mandar's wedding ring it was at Raghav's house, and Mandar had asked him for lift before he met with accident, Sulochana hears this and thinks wow now I will use this information, and create a mess.
Kirti tells Sunny about accident and says it was Pallavi's ex-husband, Raghav walks in Kirti's room, Raghav asks Kirti what did she tell Pallavi, Kirti says that I was with Amma, Raghav says really, don't lie, I had seen you driving car by which Mandar met with an accident and don't lie I am trying to save you, so tell me how did you so this, it was wrong and if things go out of hand I will take blame on me but be careful about what you tell Pallavi, Raghav leaves.
Kirti calls Sunny and tells him that Raghav had seen her.
Pallavi thinking about Kirti's words and makes a call, Raghav walks in the room and go change, Raghav in washroom calms himself and walks to Pallavi and goes to bed, Pallavi likes his colonge, Pallavi finds AC too cold and increase temperature, Raghav reduces it again, Pallavi says I am cold, Raghav says wear sweater then, Pallavi have lots of messages from Krishna, Raghav gets irritated, Pallavi calls Krishna and purposely talks loudly with Krishna, to annoy Raghav, Raghav wakes up and says please go out and talk, Pallavi gets another call because Krishna disconnected long back, Raghav gets angry, Pallavi picks the call its home loan call, and gives Raghav's number, Raghav starts getting their calls, and both argue.
Kirti walks in paniced and says Raghav Amma.
Pre cap:Raghav and Kirti near Amma, Raghav asks Kirti to remove Car, Kirti says I can't drive, Raghav confused.
Farhad gets angry at Pallavi for blaming him to kill someone.
Pallavi tells Kirti that Farhad killed Mandar and need her help and asks her to talk to Raghav.
Kirti tells Raghav it was her car which hit Mandar and Pallavi thinks it's Farhad so let her blame Farhad. Kirti shocked to see Pallavi hearing the truth
Update Credit to: Tanaya
The post Mehndi Hai Rachne Wali 9th July 2021 Written Episode Update : Kirti in Panic appeared first on Telly Updates.