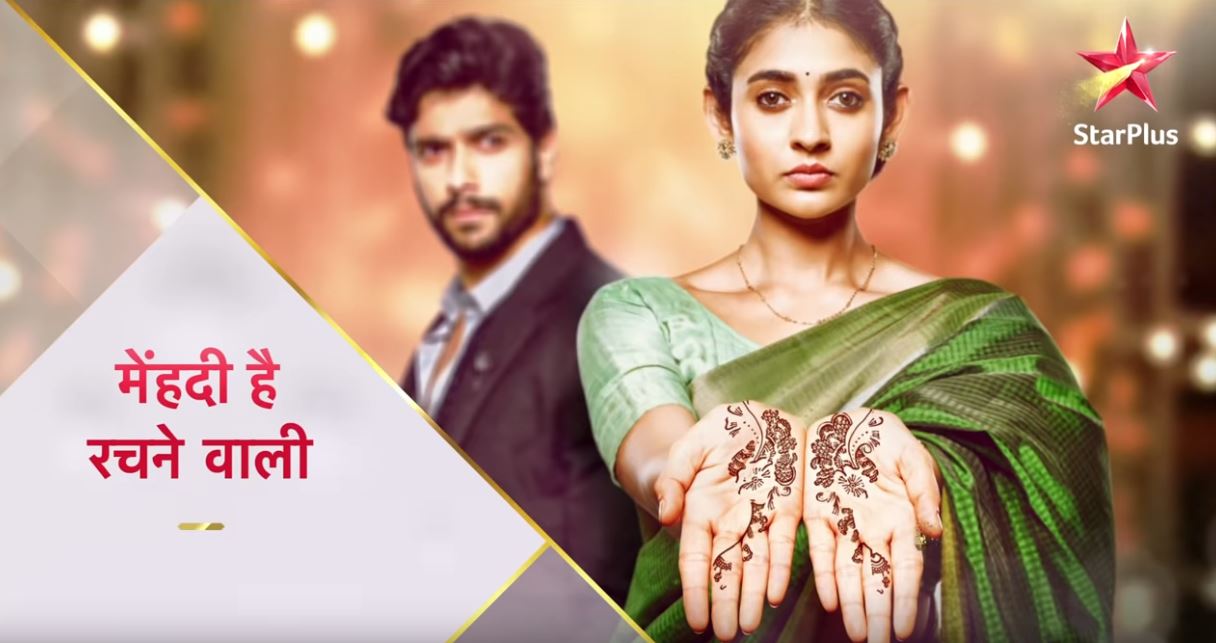 Mehndi Hai Rachne Wali 20th July 2021 Written Episode, Written Update on TellyUpdates.com
Vijay scolds Sulochana for giving him Pasta and not Dal, Roti, Milind praying. Vijay scolds Sulochana aays its uncooked too what is this, Sulochana says I am not a chef here thta you want a full course meal, Mansi walks to them and says exactly and if this is so call your wife back, Sulochana says eat what you have or order.
Sunny calls Kirti and says look to your left, Jaya says Kirti lets go inside, Kirti says I will buy medicines and come, Jaya says okay and leaves, Kirti goes and hug Sunny, Kirti tells Sunny about Raghav's memory loss, Sunny says this is end of Raghav and Pallavi's love story, Kirti asks what do you mean.
Pallavi happy, thinking about times when Raghav took care of her, she imagines peoples asking her to express her feelings to Raghav, she dashes into nurse carrying roses and all petals over her and she catches a rose and smiles. Nurse makes Pallavi realise she is imagining things and she has dropped all roses and created mess.
Krishna says to Pallavi this imagination is what your heart wants.
Pallavi looks at herself in glass door, Krishna hands her make up pallet, Pallavi touches up.
Jaya and Kirti with Raghav, Raghav asks Jaya to take him to Pallavi as she is very upset, Jaya says you can't go out, look at yourself, Kirti says and she cares she will return, Raghav says I hurt her a lot in name of prank, Jaya says I will call her, Pallavi walks in Jaya smiles, Jaya says Kirti let's go.
Kirti and Jaya leave, Pallavi walks to Raghav, Raghav says Pallavi I'm really very sorry I didn't want to hurt you, Pallavi says I want to say something, Pallavi says there are many people in my life but you are only ine who shared my life and took awayy loneliness and you have made my life better, the search of partner is over at you, I want my life with you, enemity between us turned to my habit to see you, Raghav I Love…
Pallavi sees Mandar through the window and gets shocked and runs to window, Raghav calls Pallavi and says whats wrong, Mandar leaves. Pallavi rushes out of room to find Mandar, Raghav confused.
Pallavi looks for Mandar on the road, she follows him but falls down because of a car, and loses Mandar, Pallavi gets up and starts running behind Mandar again, she checks on another man with same shirt and spectacle, Mandar sits in Ambulance and leaves.
Pallavi in shock, Milind sees her and asks where are you lost, Pallavi says don't take me wrong but I saw Mandar now, Milind says this is just stress, and so you are imagining things, Pallavi says I will soon.
Pallavi walks to Raghav back. Jaya seea Pallavi lost and asks, where are you lost, Jaya thanks doctor. Amruta and Farhad walk in, Jaya asks Farhad to make arrangements at home. Pallavi thinking about Mandar.
Milind on call with Sharda and tells about Mandar incident and asks her to come back for Pallavi, Amruta says Dad look I got burgers, pizza and pastry to party Raghav's discharge. Sulochana gets Vijay burnt food. Milind says play a song lets dance that even after bad words from some people we have Raghav fit and fine, Milind and Amruta dancing, Vijay throws water on their food and says now happy, Milind says I was when Raghav was fine and now see God made you earse your own line.
Pallavi makes arrangements for Raghav, Raghav walks in and asks everyone to leave, and says I have something important to ask, tell me what you were saying, and I was so restless waiting to hear that from you and then you ran away and came back disturbed what happened, Pallavi doesn't answer, Raghav says okay don't tell but atleast complete your words don't keep me hanging. Pallavi says Raghav I saw Mandar In hospital.
Pre cap:Raghav and Pallavi close to eachother, door bell rings, Pallavi checks and shocked to see Mandar and tells Raghav about it.
Raghav is hit on head while near ambulance by Mandar.

Update Credit to: Tanaya
The post Mehndi Hai Rachne Wali 20th July 2021 Written Episode Update : Pallavi sees a shocking sight appeared first on Telly Updates.