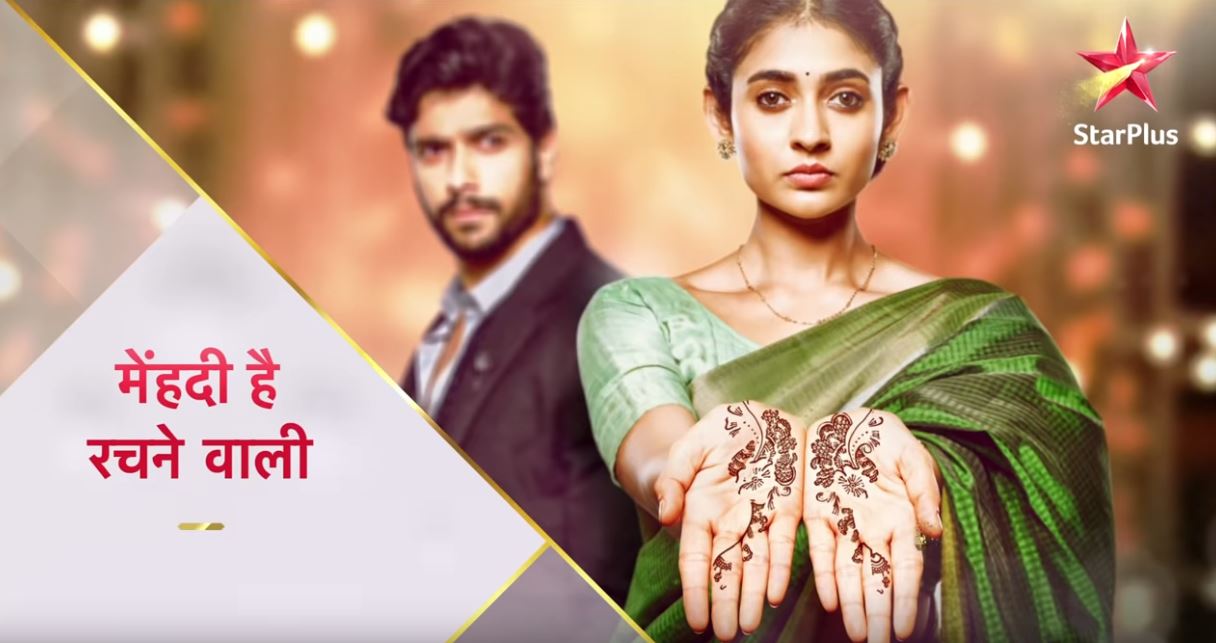 Mehndi Hai Rachne Wali 16th July 2021 Written Episode, Written Update on TellyUpdates.com
Raghav and Pallavi tells whole Sunny truth to Deshmukh's, Pallavi says Sharda Aai isn't here she is in Kolhapur with her brother she would be happy to hear it, Milind says thank you, because of you two real culprit is caught atleast now people will know who is their own and who isn't, Mansi says we knew that long back and all this is just drama, Milind says Mansi don't follow your mother to that extent that you loose all your etiquettes, Sulochana says if my daughter is supporting me why are you offended, Mansi says let it be Aai for some people keeping quite is etiquette.
Vijay says Mrs. Pallavi Raghav Rao, you have never changed still you beg, you said you won't come back why did you return then and what will you find my sons truth, Raghav says shame on you, you found your sons truth but still this anger, Vijay says you make some Sunny says something by paying him money, and want me to accept it, Mansi says so correct, Vijay says you husband wife are just same, so you and your drama keep it for your Aai and uncle, Raghav about to argue, Pallavi says its of no use Raghav, we will return when Aai comes, Raghav says Vijay you mad oldie you need therapy, and leaves with Pallavi.
Raghav and Pallavi in bedroom, Raghav says I have surpise for you and shows her their wedding picture frames in bedroom and says you were upset so I did this to cheer you up, Pallavi says this picture was not good memory we will click good pictures and removes photo frame and keeps on table and says we will hang new one later, Raghav says I hace one more surprise and hands a box, Pallavi says have you fallen in love with me and smiles, Pallavi opens the box and sees a black gown and confused, Raghav says I always see you in sarees so for change, if you don't like I will return it, Pallavi stops Raghav, ties her hair and goes to try the dress.
Kirti says Sunny I knew nothing about Raghav and Pallavi's plan, Sunny says your bhabhi has spoiled my whole life, I didn't know it was Mandar, one mistake and my whole life is a mess, I am a murderer now, my whole life is a ruined, Kirti says you are not alone, I will marry you, you will be out of this jail and we will destroy Pallavi together, she snatched my love and will never find one, will return all pain back to her, Sunny smiles.
Pallavi walks to Raghav in black gown, Raghav can't get eyes off her, Raghav leans towards Pallavi, and steps on her dress, she stumbles, he holds her in his arms, Pallavi says I guess my dress zip opened, Raghav says may I, Pallavi turns around, Raghav holds her by her waist and closes zip, while closing zip doesn't close, Raghav says let me fix it and goes to his drawer, Raghav struggles to open it and looses balance and gets hit by nail on wallz Pallavi walks to Raghav asks whats wrong, Raghav falls over her, Pallavi finds he is injured by nail on the wall.
Pallavi, Farhad and Jaya take Raghav to hospital, Jaya praise for Raghav's well being, Milind is informed about Raghav.
Pallavi goes changes and goes back to Jaya, Kirti walks to them and says this is all Pallavi and says she is just bad luck, first killed her ex husband now my brother, Pallavi says I understand your anger but this is hospital.
Doctor says we arw shifting Raghav to ICU, he has lot of blood loss and there is blood shortage so arrange 4 bottles blood, and there is no need of surgery but hr may face eye sight or memory issue, Farhad quickly leaves im search for blood, Pallavi says Amma you stay with him, I will go look for blood too, Jaya says keet him once, Pallavi says I can't see him in this state and leaves.
Pallavi and Farhad search for blood but find no one, Pallavi gets call from Krishna, Pallavi says not yet, doctors here suggested one blood bank lets see, Krishna says but its very far, Pallavi says but I have to.
Milind with Jaya, nurse asks for blood says Raghav needs on urgency, if we don't get blood now his life will be in danger, and we checked whole Rao mansion staff no blood matched, Jaya prays for Raghav's health, Milinf decides to check Deshmukh house blood and leaves Amruta with Jaya.
Pallavi gets call from Jaya, Pallavi says I am at KDSM, its last hope, Jaya says we need it on urgency, Pallavi is informed by staff blood is available, Pallavi informs Jaya about it, Staff at blood bank suggests Pallavi to go in their ambulance, Pallavi thanks them.
Pre cap: Pallavi in hospital, Mandar asks staff is there someone named Pallavi, Nurse says yes she went first floor. Mandar starts looking for her.
Pallavi with Raghav in tears, Raghav unconscious, Pallavi says I can't bare your silent version please talk to me call me "Sari ka Dukan"(saree shop)
Update Credit to: Tanaya
The post Mehndi Hai Rachne Wali 16th July 2021 Written Episode Update : Raghav's life in danger appeared first on Telly Updates.