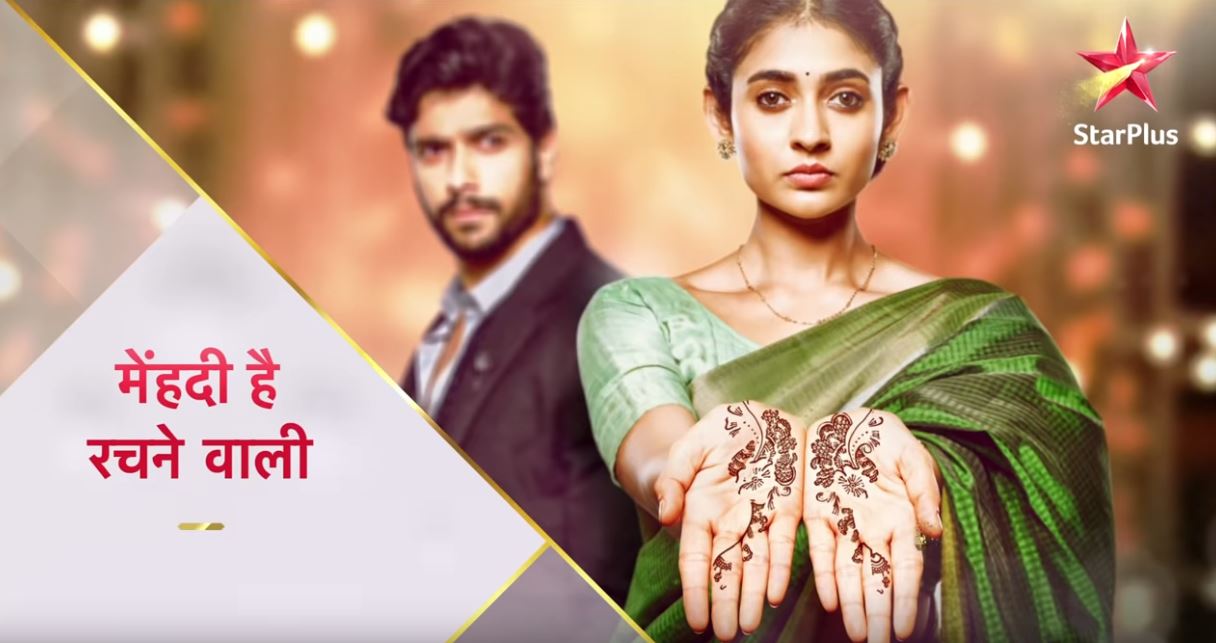 Mehndi Hai Rachne Wali 10th July 2021 Written Episode, Written Update on TellyUpdates.com
Raghav, Pallavi and Kirti rush to Jaya and find Jaya unconscious, Pallavi says we have to take her to hospital, Raghav says ask driver to get car, Pallavi says all driver's have left I will ask Farhad, Pallavi leaves.
Raghav asks Kirti to remove car, Kirti says I can't drive. Raghav confused. Pallavi walks in and says Farhad is getting doctor.
Doctor tells Jaya is alleegic to peanuts and ate them, its dangerous take care.
Pallavi asks Farhad to wait and decides to talk to him.
Raghav says to Kirti I was there when I saw you kill Mandar, I have seen everything, two years I was quite and also hide the car in garage so that no one finds about it and now you say you can't drive, Kirti says enough Raghav, I was not in Hyderabad and I can't drive now leave.
Raghav thinking why Kirti lying.
Raghav hears Farhad shouting and asks what's wrong, Farhad says Pallavi is accusing me of committing accident, Pallavi says I am just asking, and not need to over react, Farhad says I am quiting I can't take this anymore, Raghav says enough Pallavi, people are dead stop ruining present for past, Pallavi looks at Raghav and leaves.Kirti sees everything.
Raghav walks to Pallavi and apologize says sorry I didn't mean to, Pallavi says by hiding truth you are already hurting me, you don't understand what I am going through, you know the truth and hiding it, Raghav says I am just saying why Farhad, Pallavi says its either Amma, Kirti or Farhad, Raghav says enough Pallavi, Pallavi says I was always with you and this is how you behave, you always fight for truth then why now, Raghav hurts his hand in anger.
Kirti tells Sunny that Pallavi thinks its Farhad and she is so relieved, and tells Raghav knows its me but I am lying that I wasn't in Hyderabad.
Pallavi band-aids Raghav, Pallavi gets coconut says next time break this and not your hands.
Sulochana gets Vijay tea and says I am so tensed about Milind and he is influenced by Pallavi and Raghav and since I know about Mandar's ring, I can't stop crying, Vijay asks what ring, Sulochana says Pallavi found Mandar's ring at Raghav's house, Vijay says how did Milind hide such important thing, Sulochana says Pallavi must have asked too and he visited Pallavi yesterday, this Pallavi will hide everything and no wonder she and Raghav are some news about Mandar's death, Vijay says if you are talking truth then I will destroy Raghav and where is Milind.
Pallavi asks Rama not to use peanut in any food and sess Kirti and says good you came I was coming to see you, Kirti asks why, Pallavi says I know we aren't doing past few days but we are friends right, I can ask help and so I found Farhad killed Mandar I need proofs and you please talk to Raghav he will listen to you, Kirti thinks this is good I will convince its Farhad and they will never find its me. Kirti says to Pallavi I will talk to Raghav.
Kirti on her way to meet Raghav says this is right thing to get rid of Pallavi, Kirti sees Raghav at bar and facing table says Raghav, Pallavi thinks its Farhad who committed accident and see its a sign that Pallavi thinks its Farhad and I know you are on my side and let me tell you truth.
Vijay asks Milind what truth you know about Mandar's death, what you are doing with Raghav and Pallavi, you are cheating, Milind says enough you are crossing limits, Vijay slaps Milind. Sulochana and Amruta sees that. Sulochana thinks game on.
Kirti says yes I did that accident and I am so sorry, I was scared and Pallavi thinks its Farhad so let Farhad take blame and we will get rid of it, Farhad turns around, Kirti shocked to see its Farhad and not Raghav, Kirti sees Pallavi standing behind her, Pallavi walks to Kirti and says I know Raghav was trying to save you and this was all my plan because when I asked you about 1st December you said that night you didn't have car, so if you weren't here how do you know details, Farhad was just helping me, Farhad says Kirti your confession is recorded in this pen. Kirti says I am sorry Pallavi I didn't do it on purpose, Pallavi says but you let Mandar die and also tried to frame Mandar, you are a culprit and you will be punished.
Kirti runs away.
Pre cap: Raghav drunk says sorry Pallavi I am giving you lot of trouble.
Pallavi hands Police proof and tells Jaya she has found the culprit.
Raghav says to Pallavi if you want to fight then sorry I will chose my sister.
Pallavi at police station points gun at inspector.
Update Credit to: Tanaya
The post Mehndi Hai Rachne Wali 10th July 2021 Written Episode Update : Kirti exposed appeared first on Telly Updates.