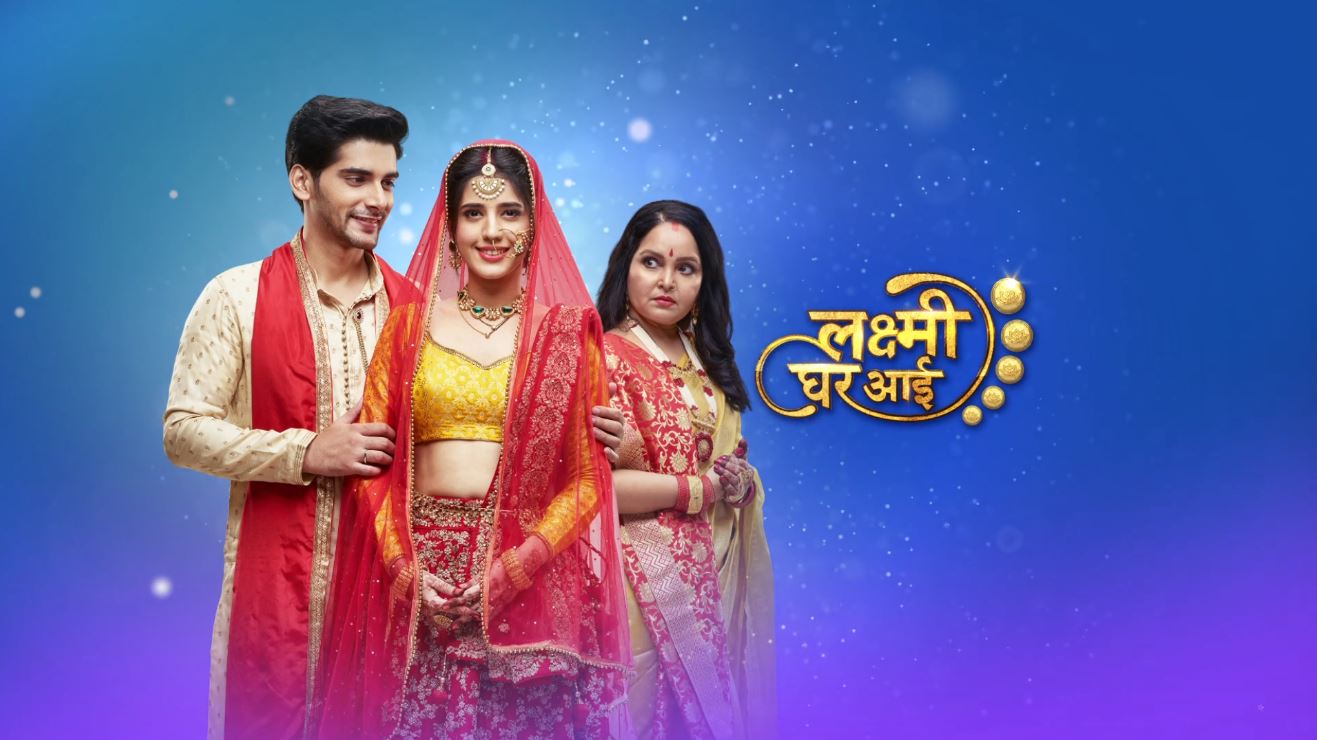 Lakshmi Ghar Aayi 15th July 2021 Written Episode, Written Update on TellyUpdates.com
Sandya returns home from gym and calls Maithili. Aarti asks if she needs anything as Maithili is on terrace. Sandya says she will speak to Maithli. She gets her friend's call reminding her about kitty party. Aarti thanks god that kitty party saved Maithili. Raghav rescues Maithili from rioters and runs with her among burning streets. Dil se re.. song plays in the background. Goons attack people. Raghav rescues her again, and they both hide. Arun returns home and asks Sandhya if she doesn't know about riots in the city. Sandya says maybe her kitty party ended because of that. Arun asks about children. She says Aarti and Maithili are on terrace and calls Bhavana to find out if she is fine. Police reaches riot venue and announces to back off or else they will be forced to shoot tear gas. Goons throw stones at them. Raghav and Maithili escape stones, and hide in a pot shop. Maithili's dupatta gets stuck in a door shutter. She tries to pull it back and calls for help. Raghav asks her not to shout as they escaped with great difficulty. she sees him holding her hand and warns that she knows martial arts. He says he is a decent boy who aspires to become an officer and buttons his upper shirt. She laughs and tries to call, but finds no network.
Arun walks into Aarti's room and watches riot news. Aarti gets tensed seeing the news. Arun thanks god that they both are at home and asks her to call Maithili to have tea together. Aarti nervously informs that Maithili wanted to go to Shikha's house and hence she sent her out lying mom that she is on terrace. Sandhya gets angry hearing that and asks aarti to call Maithili. Aarti tries to call Maithili. Arun calls Shikha and finds out that Maithili didn't come there. Aarti says she sent Maithili into riot area. Arun calls police and goes to bring Maithili. Sandya accompaines her.
Raghav with Maithili's help tries to open shop shutter and they both slip and fall. His shirt b outtons break, and she apologizes. He says she was discussing about herogiri sometime ago. She apologizes and seeing broken pots feels sorry for the shopper's loss. He says what will they do now. She says they should fix the pots and grow plants in the broken ones. He likes her idea and tries to prepare pot with mud. She says she is afraid. He says if she gets afraid, how will she perform. She remembers him telling same a few days ago to kids. They both prepare pot, and she gets happy. He says his parents and siblings have great hopes on him and wants him to become an officer, he failed twice and doesn't want to fail thrice or else his family's dreams will shatter. She remembers Sandhya discouraging her to study further and Arun encouraging her. He asks if she thinks he is talking like a TV serial hero. She says he is a real life hero. After sometime, she feels thirsty. he goes to bring water for her.
Rani sees neighbor injured and asks what happened to him. He informs her about riot and Raghav also getting stuck in riots with a girl and their news being shown in TV. Rani switches on TV and informs parents. They both rush to riot venue. Arun with Sandya reaches riot venue, calls Aarti to find out if Maithili returned home and with police searches Maithili. Jwala and her husband search Raghav. Raghav brings water and finds Maithili asleep. Sandyhya sees Maithili's dupatta and orders police to open the shutter. Jwala and her husband see them and follow them. They rush into shop and are shocked to see Raghav and Maithili together.
Precap: Sandhya asks Maithili if she knows that boy.
Maithili says his name is Raghav who wants to become an officer. Raghav informs his family about Maithili, then reaches Maithili's house.
Update Credit to: MA
The post Lakshmi Ghar Aayi 15th July 2021 Written Episode Update: Raghav Rescues Maithili appeared first on Telly Updates.