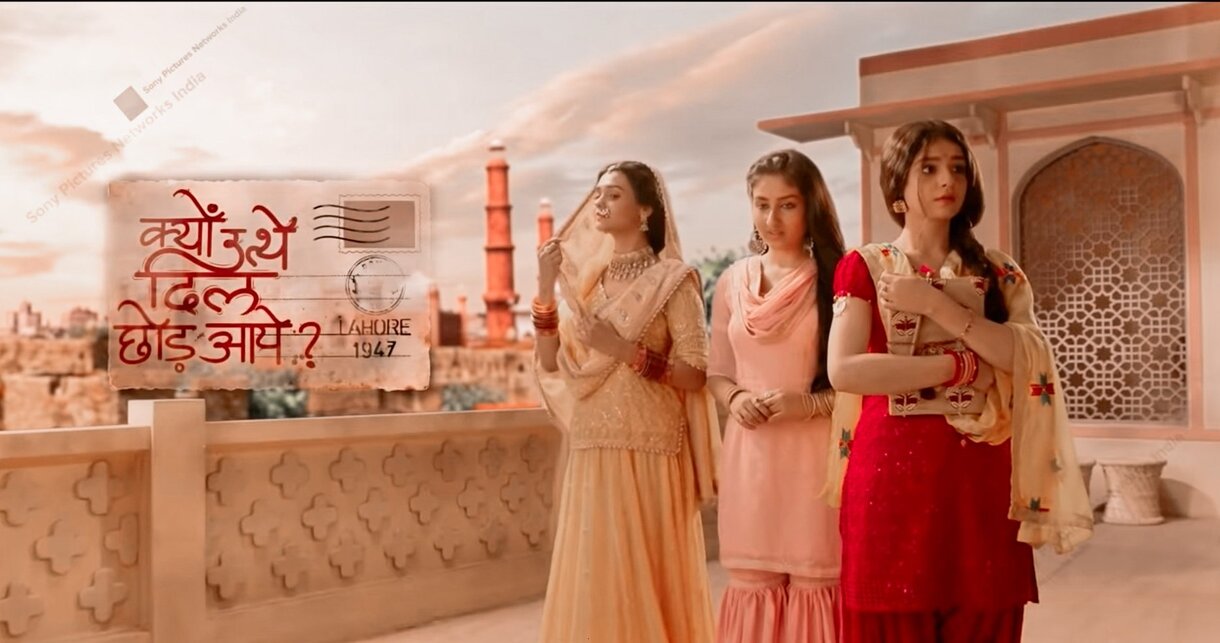 Kyun Utthe Dil Chhod Aaye 20th July 2021 Written Episode, Written Update on TellyUpdates.com
The Episode starts with Amrit faking a fight with Kaveri and Nalini. She thinks I want Randhir to come and believe this drama. Kaveri throws Amrit's parents' pic and calls it a junk. Amrit shouts. Kaveri tears the pic. Nalini worries. Amrit asks why did you tear my parents' pic. Kaveri says I didn't know that. Randhir comes. Kaveri asks Nalini to make her expressions right. Randhir asks what happened, Amrit. Amrit asks Nalini why did she let this happen. Kaveri says Amrit is shouting on Nalini, I was just throwing the junk, I have torn a pic. Amrit says it was my parents' last pic, it had my memories, I just asked you to… Kaveri says I didn't know it, just do what you said, apologize to Nalini. Amrit says no, Nalini did a mistake, she knew that its my parents' last pic, she didn't say anything, she will apologize to me. Nalini cries and says you are blaming me. Randhir holds her. She acts dizzy. He takes her. Amrit cries and picks the pieces of the pic. Kaveri says that pic was torn by me, she can misbehave with me, not Nalini, Nalini is Ranimaa, Amrit insulted her, its not right. Randhir asks did the pic get torn unknowingly.
She nods. He asks are you saying the truth. She asks why would I lie. He asks her to take rest. He goes. She asks Kaveri why did you tear the pic. Kaveri says I had to make the fight look real, Randhir will believe the fight, Amrit's parents are dead now, what's the problem if they can help us, make Amrit apologize, don't let your anger cool down. Uday teaches hockey to Manak. Mohan comes. Manak says coach uncle is teaching me well. Mohan gets shocked seeing Uday. He thinks I can't let Vashma or Uday's shadow fall on Manak, Uday has to leave. He asks Manak to go inside. Manak goes. Mohan scolds Uday. Uday says you are making a loss for Manak's future, he is playing so well like his blood has hockey. Mohan asks him to get lost. Uday leaves.
Amrit tries to join the pic. Randhir comes to help. He says trust me, mum didn't do this. She says she didn't stop Kaveri. He says maybe it happened so soon that she couldn't stop Kaveri, please forget this. She says I can't do this, I can't give a test every day, I have no place left here. Randhir and Amrit go to see Nalini. Kaveri scolds Amrit. She says Nalini is refusing to have food, she can't take such an insult. Randhir asks Nalini to have food. Nalini refuses. She says Amrit's parents are no more, but I m alive, don't you think I m hurt by her words. Randhir says but Amrit… She asks him to decide, who is right. She says I have decided, until Amrit apologizes, she won't have food. Randhir asks Amrit to apologize. Amrit goes. He worries. Mohan teaches hockey to Manak. Manak says I want Uday as my coach. Mohan gets angry on him. Bindu comes and stops him. She says you won't raise hand on my son now. Mohan says ask him to stop taking Uday's name. Bindu thinks to do something to keep Manak happy.
Amrit gets food for Nalini. She asks Nalini to have food and medicines, their fight is just a drama. Nalini asks would Randhir believe our drama. Amrit says yes, Kaveri has torn my parents' fight, my anger wasn't fake, you didn't stop Kaveri. Nalini says I didn't know that, trust me. Amrit says but you didn't stop her, it means you are in hurry to make me leave from this palace, its fine, I will do as you say, I will keep my promise and make myself away from Randhir, you don't need to stay hungry. She goes.
Randhir is with Uday. Uday says Mohan gets angry seeing me with Manak. He asks Randhir what's the matter. Randhir says I m in a dilemma, Amrit and Nalini aren't agreeing. Uday says Amrit doesn't do this normally, her values aren't such that she asks elders to apologize, Amrit was worried when dad left the food, she didn't have food until he had the food. Randhir asks do you think she is hiding something. Uday says maybe.

Precap:
Randhir says I m a lover, I love a girl a lot, I want to marry her right now. Amrit gets shocked.
Update Credit to: Amena
The post Kyun Utthe Dil Chhod Aaye 20th July 2021 Written Episode Update: Mohan warns Uday appeared first on Telly Updates.