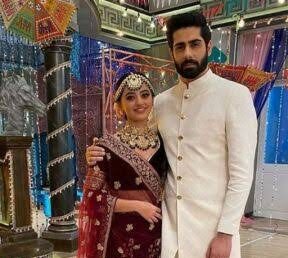 Is it too late to realise my mistake
Continues……
Vansh decided to confront her about the thing which doctor told him last night….."Riddhima did you had panick attack??" he questioned…. Riddhima was shocked…" V…va… vansh….wh..who told yo..you thi..this" she asked stammering….Vansh was now confirmed…."It's not the matter that who told me this….the matter is did you had panick attack"….. Riddhima knew that there is no gain in hiding it from him so she answered " Yes….I had panick attack"……"Didn't you found necessary to inform me? Huh? Don't I have any right to know about your and baby's health?"….he said trying to control his anger….
This angered Riddhima " No I don't think it was necessary to inform you…..when you were the reason behind it…now why are you faking this care you only care for your business "……now Vansh became furious and pinned her to wall….how dare she to call his care for them fake…."You think I am faking this care ….huh?… for whom am I doing this work…for you…for us…for our secure and better future"…..
Riddhima jerked his hands from her shoulder and said straight looking into his eyes while tears were brimming through her eyes "Do you think we can live happy without you….Do you ever thought what would happen to me after you…I will die….and this child which is in my tummy will become orphan…..Vansh here nobody after you cares for your Riddhima they always believe her as a outsider…who is just your wife for them…and nothing else….Do you think I joined hands from your enemies to destroy you…to betray you….when you were lying lifelessly in jungle….my mind stopped working….I just wanted to save you…..so at that time what I thought was right I did that….Vansh think through my point of view….and coming to panick attack….when you left me without even informing me I was restless….I was searching for you….hellucinating about you…but you told Angre about your plan but not found it necessary to tell me….and you are expecting me to share everything from you"….Vansh was shocked after seeing her outburst….now he was understanding her point of view… Riddhima left from there while Vansh was in his thoughts….." How can I be so selfish….I need to talk to her" saying this he moved out to search for her….
After searching whole resort he came to pool side and saw her lying there….he ran to her…for only to notice her being unconscious…and blood coming from her nose and forehead which had a cut……he panicked seeing her like this….he quickly took her in his lap and patted her cheeks to make her conscious….she slightly opened her eyes and was murmuring something….Vansh put his ears little closer to listen…" Save my baby….it's paining"…..and again she fell unconscious….. Riddhhhiiimmmaaa he shouted…..listening to his scream Angre reached there first….." Bhai what happened to bhabhi" with full of concern in his voice….." Angre call the doctor immediately "…..he said with broken voice…..
He lifted her in his arms and moved towards his room……reaching there he led her in bed…then his eyes fell on her white kurti which has now turned red near her abdomen….he panicked when he understood that she was bleeding…. several negative thoughts covered his mind….is my baby safe? Is Riddhima fine?…..tears were continuously flowing through his eyes thinking that he might lose them……
"Angre where is the doctor??"……he said shouting on his bodyguard….." Boss I have contacted a lady doctor she is coming in few minutes" Angre informed him….." Damn….she is bleeding here and I can't do anything…..if I have to open a new hospital to save them then I will"….." Bhai calm down…..you sit here with bhabhi try to make her conscious….I will come with that doctor"…..vansh quickly went and sat beside her….." Sweetheart open your eyes….I know you are angry on me…okay get up and beat me, punish me do anything you want but please get up jaan….I can't afford to lose you both" he said in broken voice….just then Angre came with doctor….. doctor told them to move out…..
It was fifteen minutes since doctor was checking her….vansh was restlessly moving outside……then doctor came out…..he ran to doctor and asked " how is she? She is fine na? Our baby is safe? Doctor please answer"……."Mr Raisinghania calm down….let me speak….your wife's health is serious…..we have to shift her in hospital….or it can be dangerous for them??"
To be continued…..
Hii guys!! I hope you all are safe and sound….sorry for being late but I was busy with my classes….so didn't get time to write….but finally I am here…please tell how was it…..as I am new here there can be some mistakes but please ignore them….thank you all for your support on my previous updates….byy…take care
The post Is it too late to realise my mistake? #Riansh TS # Part 2 appeared first on Telly Updates.