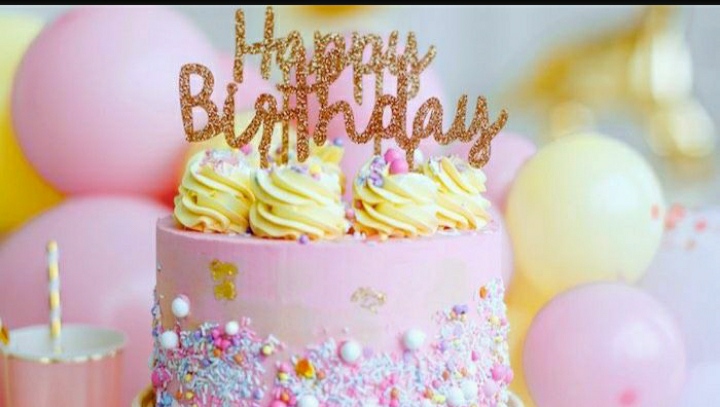 Again a short one!!
---
It is her birthday!" the voice message was sent to all the members of VR Mansion except Riddhima.
Just then, a six year old girl came holding her teddy bear.
And rubbing her eyes, she started looking for someone. And a sudden smile appeared on her lips. Maybe, she found that person.
"What happened to my princess?" Vansh spoke.
"Nothing, daddy! Why all these preparations are going on?"
"It's your mumma's birthday!"
"Offo" the little girl facepalmed with her chubby hand. "Why you didn't reminded me, tommorow?
" We call the passed day as "yesterday" and coming one as "tommorow".
"I know that, I was just testing you" the little said while giggling.
"Oh! Is it so?" Vansh said making her cute daughter sit at his lap.
"What will you gift, mumma?" enquired the little girl.
"Her favourite Vanilla cake!"
"Oh! I will gift her a hand made birthday card and then I'll have to help other members too!"
"My little girl is having so many works, today!"
She nodded. And said- "Daddy, I'll be busy today, so please don't disturb me!"
"You are just like, Riddhima"
"I have a question!"
"And what is that?"
"You didn't answered me last year too! Why mumma doesn't comes out of that picture to cut her birthday cake! I know as Siya bua told me, that she is busy in helping people. But, she can atleast visit us on her own birthday, Right?!"
"But…."
"I miss her, Daddy!"
"I too miss her, princess." he said, kissing her on her forehead.
______________________________________
Don't stay awake for too long, don't go to bed
I'll make a cup of coffee for your head
It'll get you up and going out of bed
A/N- I won't be active here for 15 days. Anyone will miss me or not, I don't know, but it's better to inform. So, yeah! See you guys on 15th. And there will be a long update on 15th. Atleast 2000 words! I promise! Sorry for not replying the comments on previous update. Love you all<3
The post ~Her birthday~ (Riansh, Ishq mein Marjawan 2) appeared first on Telly Updates.