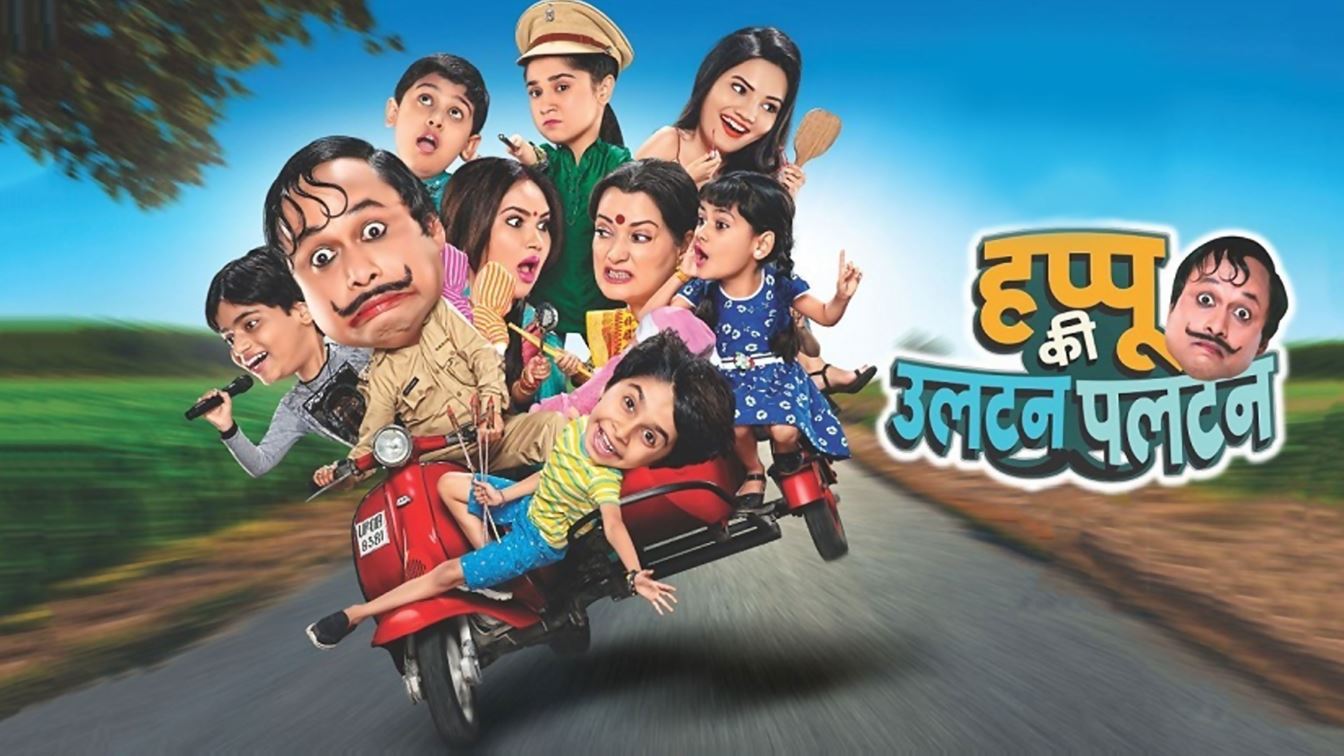 Happu Ki Ultan Paltan 20th July 2021 Written Episode, Written Update on TellyUpdates.com
The Episode starts with Happu running back to his room and finds the window open. He thinks the naagin will not leave him. He has the feeling that Naagin is coming from all sides, when a snake falls on his neck. Happu cries. Hritik and Ranbir come there and asks him not to move, tells that they will take the snake out from around his neck. Happu says he couldn't even take breath and tells that this snake is icchadhari naag. Hritik tells that he will take out the snake from around his neck and will caged it in the bag. He takes it around and cages it in the bag. Happu praises him. Hritik asks for the reward. Happu gives them money. Hritik and Ranbir take the money. Rajjo comes there and asks him not to give money to them. Rajjo opens the bag and shows the fake snake. Happu jumps and sits on the bed. Rajjo says this is rubber snake, they fooled you, threw snake on you, to get money from you. She asks him to look up. Happu sees Chamchi sitting on cupboard and threw fake snake on him. Happu scolds them and tells Rajjo that he was never mischievous like him. He says he was very shocked. He asks Rajjo to keep the doors and windows closed. He thinks he can't tell her.
Kat talks to Kamlesh and asks why you took Papa when you came to take me. Kamlesh apologizes and tells that your Papa was talking nonsense. Kat asks how she was looking today? Kamlesh gets scared seeing Naagin outside his window and says Naagin. Kat thinks he is telling her and ends the call angrily. Naagin blames Kamlesh for killing her husband. Kamlesh says it happened as Happu diverted his mind. Naagin says she will kill him. Kamlesh closes the window.
Happu asks Amma why she is drinking early morning. Amma drinks. Happu hears song on radio. He says you are changed. Amma says I am still the same, but you are changed, you had thrown the cow urine, and that's why I am drinking wine. Happu agrees to drink it. Amma says Guru ji didn't have cow urine now. Happu says it is a big problem. Amma asks if some problem came. Happu thinks he can't tell Amma. The kids come there and tell him about Naagin waiting for Happu. Happu asks them not to fool him. They swear on him. Happu gets afraid and tells that he will not go to PS now. Amma tells that they come out in this weather. Happu thinks how to tell Amma that this is icchadhari naagin and came to take revenge of her husband's dead.
Kat comes out. Malaika asks what happened? Kat asks do I look like Naagin? Malaika says no. Kat says Kamlesh told her that she is looking as Naagin. Malaika says let that crow come. Kamlesh comes there. Malaika beats him for calling her sister as Naagin. Kamlesh apologizes. Kat asks him to take her to come back naagin film. Kamlesh says no. Happu hears them and scolds him. Kamlesh takes him to side and tells that he saw icchadhari naagin. Happu asks what did she tell? Kamlesh says she told me that she will kill me. Happu says she told me too and asks him to come to PS with him. He says I will ask Manohar to call the snake charmer there. Kamlesh looks at Kat. Happu asks him to ride the bike.
The snake charmer plays the flute while Manohar dances like Naagin. Happu scolds him. Manohar goes. Happu and Kamlesh apologized to snake charmer and tell that it seems Naagin threatened you. Happu asks how do you know? Snake Charmer says he can see fear in their eyes. Happu says we will give 15000 Rs. Kamlesh asks Happu to give money to him. Happu refuses. Snake charmer asks them to give 25000 Rs each. Happu asks Kamlesh to go to ATM and get the money. Kamlesh goes.
Amma prays to God to protect Happu. Dada ji comes there and dances like Naagin. He says he came to see her Naagin dance and reminisces her dancing moves. He asks Amma to dance like Naagin. Amma dances. Rajjo comes out and is surprised to see Amma dancing. Amma tells that Dada ji requested her to dance. She says real Naagin came to kitchen. Amma thinks she is jealous of her. Rajjo asks her not to do Naagin dance and greets Dada ji. She takes the tape recorder with her.
No Precap.
Update Credit to: H Hasan
The post Happu Ki Ultan Paltan 20th July 2021 Written Episode Update: Kamlesh and Happu seek Snake Charmer's help appeared first on Telly Updates.