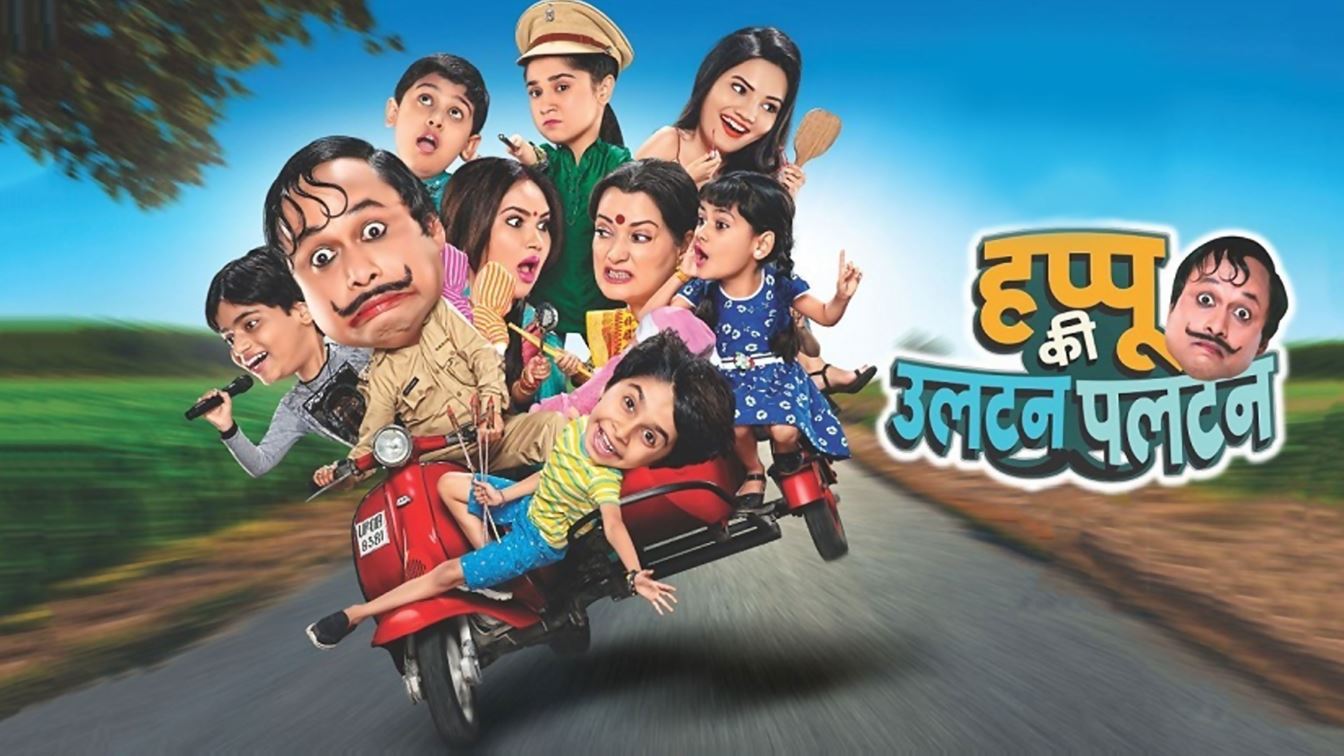 Happu Ki Ultan Paltan 19th July 2021 Written Episode, Written Update on TellyUpdates.com
The Episode starts with Rajjo coming to the room and waking up Happu. Happu wakes up and laughs, hearing her. He asks her to take him in her embrace. Rajjo says I told you many times to buy saree, bindi and lipstick for me, but you didn't bring. Happu says he will bring and asks her to come. Rajjo says she has to go and wash the clothes. Happu asks what is the use of washing the clothes, when it gets rat stinking smell? She sits on the bed to smell his vest. He pulls her closer. Amma comes there and asks him to put the cowdung cake on his head. She tells that Pandit ji told about the trouble on your head and asks him to drink cow urine. Happu says it is stinking. He distracts Amma and Rajjo and throws the cow urine from the window. Rajjo says I will not come near you now. Hritik says Papa threw it on Ranbir. Amma worries for Happu and prays for his safety.
Kamlesh comes on his bike. Kat collides with the bike and falls down. She tells Kamlesh that she is going to heaven and closes her eyes. Kamlesh asks her to come back. Kat gets up and checks her phone. She says she was making the video for pik pok. Kamlesh says don't do this again, and if you want then inform me first. Kat tells that she will show the video to him. She checks her phone and says she has forgotten to switch on the video. Kamlesh asks her to come with him. Happu sees them going and stop them. He asks who is responsible if my daughter falls down from your bike. Kamlesh says you came suddenly infront of my bike. Happu asks him to give him test ride and says if I get sure then you can go with Kat. Kamlesh takes Happu on his bike. Happu gets down infront of Police Station. Kamlesh says you are very clever, you brought me to drop you to PS. Happu gives him money and asks him to fill his tank.
A snake charmer comes there and tells Kamlesh and Happu that their bike killed the shapeshifting snake when it was romancing with its female counterpart. He asks them to give money to do the puja and shows the dead snake's body. Happu doesn't believe him. The snake charmer asks them to come to him. He goes.
Amma worries for Happu. Dada ji comes there and asks what is she doing? Amma says this is cow urine, this is for Happu. She says I will show its power and tells that if she sprinkle it on him, then he will disappear, but the cow urine falls down from her hand. She worries and says what I will make Happu drink now. Dada ji asks her not to worry and kiss on her hand. Amma asks if you are pulling my leg. Dada ji asks her to blow on her hand and say I love you. Amma scolds him and says both father and son are same.
Happu is drinking with Beni, when he sees snake on the chair. He asks Beni to see if Naagin is sitting on the chair. Beni wears his specs and says it is belt. Happu sees again and finds belt. He takes a sigh of relief and asks Beni, if he was scared. Beni asks why you are talking strange and seems to be afraid. Happu says I was afraid and tells everything about taking lift from Kamlesh and then about Snake charmer's words. He asks if the shape shifting snakes really exist. Beni says yes, and says if they are after a person then they take revenge. Happu says you are scaring me, rather than boosting my courage. Beni asks him to do naagin dance if snake comes infront of him. Happu goes from there. He comes out of Beni's house and sees a moving tail. He looks at the snake lady and asks if she saw any snake here. The snake lady asks how can I look at myself, as there is no mirror here. She turns to him and is ready to bite him. She accuses him for killing her husband. Happu is afraid and tells that he was sitting on the back side of the bike. He calls her aunty. The snake lady says she will bite him. Happu asks her to marry some other snake and runs away.
Chamchi tells Amma about teacher giving her Homework for 10 days, due to hritik's complain. Rajjo asks her to be like Dr. Ambedkar and study hard like him. Amma says you said right. Rajjo says if you study well, then teacher will never believe Hritik or anyone. Chamchi asks him to tell more. Rajjo tells him about And TV show. Amma says we will watch it altogether.
Precap: Happu is scared and feels like Naagin is coming from all sides. Just then snake falls on him. The snake lady comes to Kamlesh and threatens to kill him.
Update Credit to: H Hasan
The post Happu Ki Ultan Paltan 19th July 2021 Written Episode Update: Happu and Kamlesh's life in danger appeared first on Telly Updates.