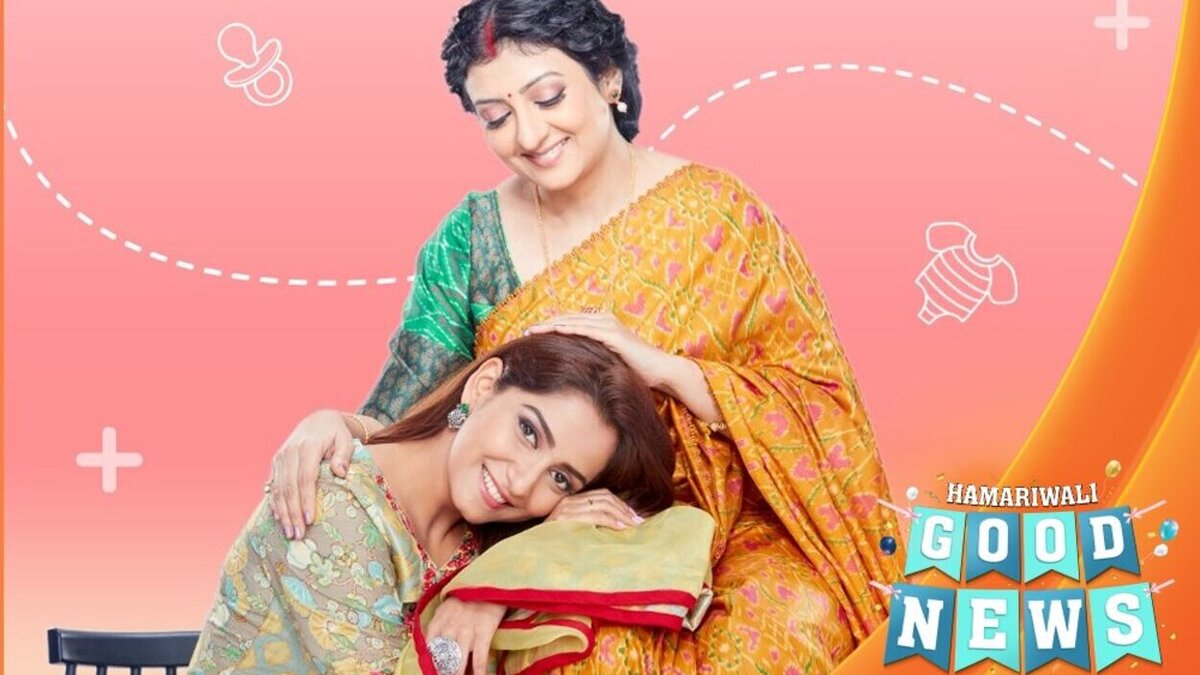 Hamariwali Good News 5th August 2021 Written Episode, Written Update on TellyUpdates.com
The Episode starts with Ritvik saying I m not able to figure out who is in the ghunghat. Navya says its not tough. Renuka comes in Meera's disguise. She falls down. Everyone rushes to see. Meera hides and looks on. She recalls asking Renuka to go and do the puja with Mukund. Servant falls down. Adi and Ritvik go to attend him. Renuka goes with Mukund. Meera signs her. Renuka decorates the temple. Ritvik says it looks beautiful. Navya says Renuka used to decorate the temple same way. Adi also likes the temple and says I recall my Agra house temple seeing this, who decorated it. Ritvik says I had seen Meera here, maybe she did it. Ritvik asks Navya to have fruits. Adi asks Akki to finish the milk. Akki jokes and asks him to finish it, without wasting it. Adi drinks the leftover. He asks Akki to have the banana.
Meera gets the servant Ganga's disguise. She sees Mukund coming. She gets dizzy. He asks her to sit. He sees her mangalsutra and gets shocked. He says Meera ji, what's happening, why did she wear Ganga's clothes, something is going on between them, I have to find out, maybe Meera is in some trouble. He goes out. Navya asks why do you look worried. He says nothing, I was asking if the diya is lit in the temple. He sees the lamp lit. Navya says you hide things from me, tell me, what's the matter. He says I feel some disaster is going to happen. Akki asks what's happening. He says I have seen Meera's mangalsutra worn by Ganga, it means Meera was in Ganga's disguise, why, Meera won't tell me the truth if I ask her, what is she hiding.
They see Meera coming. Meera takes Akki to the room. Mukund says Navya, I knew she will do this. Navya says maybe she is in some trouble, she isn't telling us. He says we have to find out, what is it, I know one thing, I won't let anything happen to her. She says we will not let Meera stay alone. Meera reads out the story for Navya and Akki. Ritvik says we will keep an eye on Ganga. Adi says yes, Navya and Akki will keep an eye on Meera. Servant says everyone has become spies here, I have to inform Sumitra. He calls Sumitra and says everyone is doubting Ganga, what shall I do, okay, sure. Mukund gets the dhol artists home. He says its a way to stay busy until you all break the fast, how do you like my arrangements. He plays the dhol. Everyone dances. Ritvik and Adi ask the servants to keep the fans. They see Ganga coming and start the fans. Mukund looks on. Navya and Akki come. Their ghunghats get off. Navya says switch off the fan. Adi says where is Ganga. Navya says we didn't find her anywhere. Renuka looks on. She recalls Meera's plan.
No Precap

Update Credit to: Amena
The post Hamariwali Good News 5th August 2021 Written Episode Update: Mukund suspects Meera appeared first on Telly Updates.