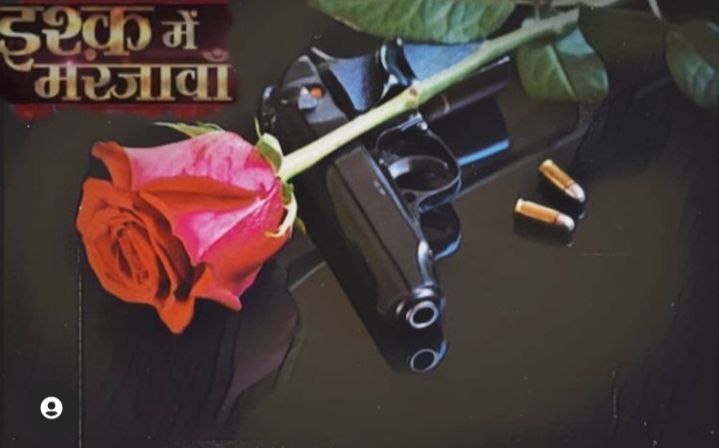 @FaizaRowan sorry!!! I am going to disappoint you
but I decided this before your comment….
Ridhima got arrested and taken to the police station. After some time Kabeer arrived there and smirked looking at Ridhima. He thought now no will come in between us as vansh hates you for your betrayal and all thanks to me for created this fuss in your life. Jaan you don't know how much I love you and to take you back I have to create this mess in life. I will take you far from vans and my love will help you to forget that blo*dy vansh. Don't be I am here nah I will take you out and then we will live together and our baby. You know what when Aryan told me that you are pregnant so initially I very angry at you but now I understood it isn't your fault because I know that vansh only forced you to get intimate with him. I promise you Jaan I will make vansh's life hell…he torched you nah..and he has to pay for his deed.
Kabeer ran to Ridhima and said, " Ridhima you here….how???"
Ridhima didn't say anything. " I know who is behind this….that vansh"
Ridhima: No!!! Ragini made me arrest.
Kabeer: Ridhima you are too innocent….he is only behind this.
Ridhima: Kabeer I know him…he loves me and he can't do this to me.
Kabeer: okay!!! Don't forget that I am with you and always will be.
He called the inspector and asked why she is arrested. Then Kabeer asked for solid evidence and he takes her out with help of bail. Ridhima thanked him and said she is going to the hospital she is admitted.
Kabeer: why are you going back to that hell.
Ridhima: Kabeer I love vansh and we have a little misunderstanding but don't worry I will make everything ok.
Kabeer: bye!! Take care..and remember I am always with you.
After some time she reached to hospital where online was as he sent everyone home and they were also interested in staying there. Vansh On seeing Ridhima he dragged her out of the hospital.
Vansh: why are you here??? When You were doing all this you. Have you ever thought of me? What I will feel when I get to know this.
Ridhima cupping his face " Jaan you are thinking that I am betraying but it's not true…I do one that I love You."
Vansh: again a lie.
Ridhima: nhi vansh!!! Yes, I was a spy but now I am the wife of Vansh Raisinghania. Vansh I was blind and Kabeer gave me a false narration of you.
Vansh: Ridhima how could you…
Ridhima: Vansh that in the office I was going to reveal my whole truth but you said that my past doesn't matter to you.
Vansh: leave about past tell me why have you hurt my sister.
Ridhima: your sister….vansh really…
Vansh: yes!! Mine
Ridhima: what do you want to say that she is nothing to me.
Vansh: yes!! If she was anything then why you attacked her.
Ridhima: Vansh you think this low about me….leave it…vansh I can never hurt siya she is a friend cum sister and how can I hurt siya. It's all a lie and Ragini is doing so to create a rift between us.
Vansh: this means she is lying, ..she is lying that you didn't threaten her. Tell me god damn it.
Ridhima with a heavy voice: yes I threatened her but I didn't hurt Siya.
Vansh(anger): Ridhima how can I believe you when I know you that you came to VR mansion to put me in jail. How can I believe that you are not lying and Ragini is lying?
Ridhima: Give me a chance I will prove that I am not lying. I will do anything because I love you.
Vansh: you will do anything because you love me.
Ridhima: Tum jaan dene ko bologe mai Apni Jaan dedugi.
Vansh: Them leave me and never show me your face.
Ridhima tears started rolling and she was shocked, looked bewildered at him. She is unable to digest the fact that her love asking her to leave him." Vansh you really wants me to leave you"
Vansh shouted "haaan…haann…chali jao..get out of my sight"
Ridhima: vansh I really love.
Vansh interrupted her " Ridhima if you really loved me then why had always you blamed me….you accused me of murder even when you didn't know the reality. Now you don't have to fake your love for me. Tell me you married me out of love or for sending me to jail.
Ridhima:Vansh it was the initial days and I didn't know about you.
Vansh: you don't know me but you very well knew that I am cold-hearted, ruthless, arrogant and criminal, mafia…(smiled sadly) devil..cruel whatnot.
Ridhima:If your happiness is in my death then I am ready to die for you because I can't live without you. I can't live in a world where my vansh is not with me. I will leave you for happiness but don't say that I didn't love you and my love is fake.
Vansh: leave I don't want to waste my precious time in talking to people like you.
Ridhima: vansh today you don't want to talk to me….I will pray to God that he will never show a Day when you will crave to talk to me and hear my voice and I will no more to you hear you and talk to you….I love you Vansh.
She left the hospital…..and time passed it was night.
Ridhima was sitting in a temple and crying and reminiscing their memories..
In VR mansion
Vansh was playing the piano and drinking continuously. He was recalling moments with Ridhima. His eyes were red and his hairs were messy. His legs were in the air due to drinking.
Vansh: Ridhima kyu aadat ho gayi hai tumhari….maine tumhe ghr se to nikal diya hai dil se kaise nikalu….why….why Ridhima you deceived me…why…
He shouted "RRR.IIII…DDD…HHHH..II…MM.AAAA"
In temple.
Ridhima: Vansh I know you need me…..I am coming to you. My Vansh wants me because I know there is no one to take of you…
She started moving from there and her bad luck there was no vehicle so she started walking faster without thinking it is dangerous for her to walk on road alone that too in dark. She didn't know anything except that her Vansh wants her beside him to reduce his pain and suffering.
"How can I be so stupid..this time he needs me most…he is broken and there is no one who can mend him. There is no one with whom he can share is his pain and talk as Angre went to send Ishani abroad. I know he said all this in anger….and…and..he loves me."
VR mansion…
Vansh came to his room but he left the habit of living in his room as he was living in the guest room with his Ridhima. His room is giving the feeling of loneliness so he went to the guest room. But today this room was also eating him and he was missing his presence.
He moved to the couch and caressed lovely. He got flashback "when he was with Ridhima and lost in kissing her and marking her his" A smile crept on his face.
Then he moved to her Wardrobe and took out his suit which she to wear to attend the office and lost in memory when they kissed for the first time in the office.
Then he moved to the dressing table and hold the comb. He got the flashback " how he messed her hair due to his less control over his desire and then how he made her hairstyle or should I say horrible hairstyle."
He was laying on the bed and remembering how they use to sleep in each other's arms. Today he is unable to sleep as there is no one whom he can take in his arm.
He was lost in Ridhima thought when she came. Her eyes widened seeing her and in a second he ran to her and wrapped her in his arms tightly.
Vansh: Are you made sweetheart?? Why you left me alone….don't you know how badly I was missing.
Ridhima: Sorry Jaan!!?
After breaking the hug he captured her lips and she also reciprocated with the same intensity. While kissing he lifts the lift his right leg with his left arm and wrapped around and his waist and the second one she did by herself with tightening her grip around his neck. They moved to the bed. They broke the kiss due to the lack of oxygen. now both are panting heavily and looking into each other.
He get up and went to the couch. Ridhima also get Out of bed and went vansh held his hand said "Vansh"
Vansh: why you came…
Ridhima: I am sorry Jaan!! Please forgive me.
He pulled her close to him and griped hard Ridhima hissed in pain"
Vansh: why you left me and listen carefully you are not allowed to move out of my life.
Ridhima: you asked me nah…!!
Vansh: tumhe pata hai mai gusse mai kuch bhi bol deta…tum kahi jaane k baare me sochogi nhi chahe hamara kitana bhi bada jhagada ho jaye because I need you…and I want you "He kissed his forehead " I when say to move out then I want to more close to me" and kissed his cheek " mai kitna bhi cheekhu chilalau or gussa kro…tum mujhe chhor ke nhi jaogi" he kissed another cheek " when I say I hate you it means I want you more because you are not only my wife you are my strength…you are not my love you are my life…" Hugged her tightly and Ridhima smiled and hugged him tightly.
They slept in each other's arm peacefully. Ridhima woke up earlier than vansh and prepared coffee for him. When he woke up his head was spinning and aching too. When Ridhima offered coffee to him he looked at her like that he had seen a alien.
Vansh: why you came when I asked you to leave.
Ridhima: yesterday you were angry because I left you now you are angry because I came back…first you decide why you want to yell on me.
Vansh: there is not one reason for which I should scream at you…
Ridhima: Sorry vansh!!!
Vansh: your sorry can't bring my sister out from coma.
Ridhima: vansh how many time I have to tell you I didn't hurt Siya. Why are you not listening to my?
Vansh: because I don't want to listen.
He held his head with both arms.
Ridhima: okay!! Please drink this coffee. This will give relief to your pain.
Vansh: what about the inner pain that you gave me.
Ridhima cried inwardly and covering her emotions she forwarded coffee to him. Vansh stood up and pushed mug as denial and moved out. Force was more mug dropped from her hand hot coffee spilled on her hand and foot too.
She looked at the door with pain but there on one as vansh moved out of the room
(Things that he said to Ridhima yesterday night was due to alcohol so don't get confuse by his behaviour he is still angry with Ridhima)
In two days Ridhima tried hard to mend things and talk to vansh but refused all the time. She tried to talk so that she can tell her whole truth about her past but vain was not in the mood to listen to her so she wrote all the things on paper and kept it in his room but Aryan stole and thrown in the dustbin on the command of Kabeer. whole family badly taunted Ridhima in these two days and vansh also mocked everytime. Ragini also insulted Ridhima badly.
Today whole house is decorated like bride. Firstly Ridhima get confuse, why the whole mansion is decorated then she recollected that today is her and vansh wedding anniversary. She was very happy and go to her room to get ready for the party even though no one informed her about the party and invited her but she didn't mind all these things. She got ready in a grey saree with loud makeup. She also wore nuptial chain and vermillion.
When she was coming downstairs but Ragini stopped her said You are not allowed.
Ridhima: this party is for me then why will I am not allowed.
Ragini: this party is not for you…this is for me.
Ridhima: shut up Ragini.
Ragini: you shut up!!! Today vansh is going to introduce me to whole world as his life partner.
Ridhima: you are lying!!
Rigini: then ask your husband.
Ridhima and Ragini both went vansh. Ridhima" this party is not for our anniversary"
Vansh in mind: yes this party is for our anniversary but I will not tell you.
Vansh to ridhima: yes this party is for other occasions.
Ridhima: this means Ragini is right…
Vansh thought " I thinks she told her another reason that I got the award for which I am throwing the party "
Vansh: Hmm…
Ridhima: why are you doing this….and why you didn't you told me earlier we can sort it out nah…you can't deliberately take this decision.
Vansh: why will I am going to ask you…and who gave you this right.
Ridhima: now I don't have any right on you.
Vansh: yes! I have many things other than you so move out.
Ridhima came to a room with tears and sobbed badly." Ridhima if I would have in your place…I must leave this house but look at you…you don't have any shame in you." Ragini mocked her.
Ragini: soon I will become Mrs VRS then by which right you are going to live here.
Saying this she left from there.
Party is now over. At the whole party, Vansh eyes were only searching Ridhima but she was nowhere. Vansh was in his library and thinking about Ridhima when Angre came.
Vansh: did you see Ridhima.
Angre: No!!! Boss
Vansh: go and check…
Vansh in mind: Ridhima I am angry with you but this can't change the fact that I love you. I only have the right to love you, shout you, threaten you, break you and care for you and you have to bear all this because you are mine only mine.
Angre came back and told vansh that " Ridhima left the VR mansion" vansh world collapsed and his heart ached. A shiver ran to his whole body and his eyes widened in shock. His Ridhima left him and a fear cover his face. Soon he took out his phone and traced her location as today she was wearing his nuptial chain which contains a transmitter.
Vansh drived to Ridhima's location. She was in the forest area. There was a small hut made by woods. Vansh goes in the hut where Ridhima was sitting and sobbing. There was no light only a fire lamp was placed near Ridhima.
Vansh: " Ridhima"
Ridhima looked at vansh and ran, hugged him. Breaking the hug she kissed his whole face. " vansh!!!!! I know you will come to me "
Vansh: why you came here…
Ridhima: vansh wo…
Vansh got a message he took out the phone when he saw it from unknown on screen he ignored. Again he looked Ridhima to continue…
Ridhima: vansh wo party that…
Now he got many message one after again he got irritate by notification. He opened msg and got shocked. He looked at Ridhima with wide eyes. He shouted " Ridhima….you have an affair with Kabeer my enemy"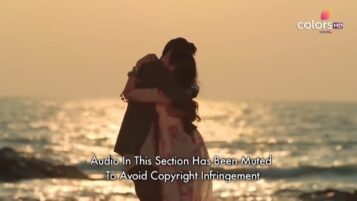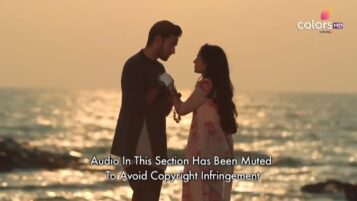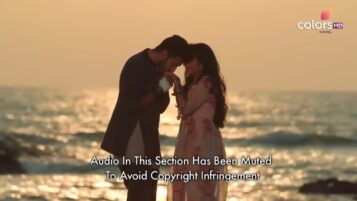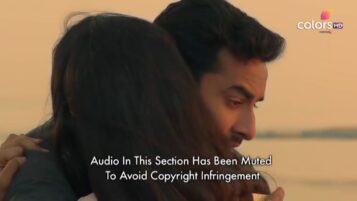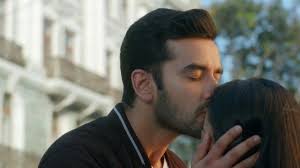 Ridhima: vansh I told you..
Vansh (angry): when?
Ridhima: yesterday….i wrote everything in a paper and placed in your room.
Vansh: again a new lie….I didn't get any letter….
Ridhima: vansh believe me…
Vansh: Ridhima…believe on you is now out of box…How many time you are going to betray me.
Ridhima: vansh I am not lying…I
Vansh shouted " you cheated on me with your boyfriend Kabeer. You faked your love to trap me….Ridhima I never thought that you can stoop so low."
Ridhima (crying): Vansh I broke up with Kabeer …he…he was my past but you are my present and future.
Vansh: how could you think that I would live with Traitor….you blo*dy cheater…"
Ridhima sobbing " Vansh!!"
Vansh: don't call my name from your filthy mouth.
Ridhima: please believe me….I can't live without me….i will die..
Vansh: then die!!!!
Ridhima tried to hold Vansh hand but he jerked and moved out. due to jerk Ridhima lost her balance and collided wall near her and fell on floor. Her hand scrambled with firelamp…..lamp came to floor. Ridhima was laying on floor and blood dozzing from her head. Her eyes were blinking and she said only one thing that is " Vansh I love you!!!"
Soon whole hut catches fire as it was made by wood and lamp fell and oil spilled on the floor which helped to catch fire even more faster.
Vansh drove away from hr but and even he turned back to see her last time…..he was gone leaving her for dying.
Soon hut become ash and all the things that were inside now gone from this world.
Ishq Mein Marjawan
---
Har prem kahani ush din suru hoti hai jab do log milte hai aur khatam jab wo bichharate hai…
lekin in dono ki kahani khatam jab hogayi tab ye mile the….
kyu ki bichharane sayad inke moqdarr me tha..
(Translation: each love story starts when two people meet and ends when they get separated…..
but their love story was ended that day only. when they met…..
because the separation was in their Destiny)         

                           ***************************
End
This book is completed now….let me know who want new book….they can raise their hand in comment section.
Thank you to all who tolerated my story this long…I never thought I could write a ff and you all motived me a lot….Thanks to Riansh because of them I found I writer in me and you all supported me in this journey



by complimenting my content…..thanks to all who read my ff and big thanks to my constant supporter @attrictive user @parita @neetu @charusherma @Jayashree @jj @vkjhp @niyati @annoyinguser @Thakur Priyanka @sakshi @mahira @Zara @angela @farhana @ishu @Aarushisoni @salma @priyasingh @Qt @vershini @B.B.O @Riansh lover @parul @alisha @anannya07 @cutuuu @Riya data @isha @mennahusain @tanvi_5117 @sree @prayadarshini @Tg @achhu @Aishwarya Wanjari @mj @cutie @Aisha08 @prabhleen @akshara @prapti @samisha @palak @diya @N ayisha
If I forgot who are constant support please pardon me



…
Thanks to all who secretly read my ff


..
I will see you all in my second ff Tu jaroori sa hai…
Tab k liya tata…bye..bye…..see you soon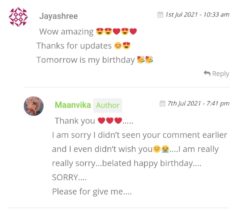 Didi Sorry wasn't replied on time please forgive me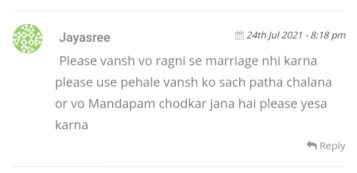 But there is no marriage track…i think you misunderstood something….

For this you have to wait for my next book…there you will witness heartless Ridhima

I broke your trust sorry
…..I know many of you wanted to Riansh together but….
The post Guns and Roses #Riansh (Immj2) Episode 32 appeared first on Telly Updates.