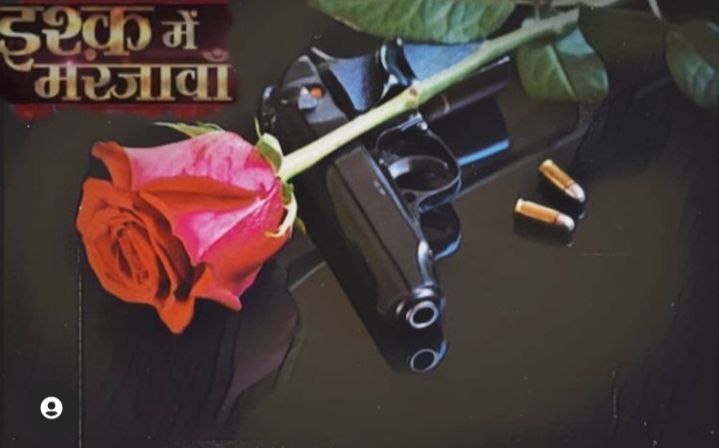 thank you for your support and love to my ff… Thank you to all who comments….and this time silent readers came forward and  dropped comment but regular one didn't

…. Tell me if you didn't like my content….
Episode start….
In morning..
Vansh was sleeping shirtless on the couch with help of his stomach and Ridhima was sleeping on his back hugging him wearing his shirt. when vansh phone rang his sleep get broken. He slowly makes her lay by his side and kissed her lips." You are taking advantage of sleeping women" with closed eyes she spoke.
Vansh: I am better than you who always take my advantage even I awake that too with proper planning with my little sister.
Ridhima hits his chest and a blush overpowers her. Hugging him more tightly " your phone is ringing, receive the call otherwise he will come."
Vansh: How do you know that he is calling me not she.
Ridhima: because I know except Angre no one can call you this early. Why don't you make him merry? If he gets married then he will stop running behind you.
Vansh: Ridhima he never runs behind me….He always runs with me.
Ridhima: I know vansh. Sorry I didn't mean that.
Vansh kissed her forehead and said " I know. Bye, I need to go and check why he is calling me." He moved but ridhima holds his hand.
Vansh: Ridhima, I need to go. This is not time for romance.
Ridhima: I didn't stop you for romance. Just look at yourself vansh.
He was going out without shirt." Ooh sorry! Give my shirt, fast" Ridhima move to the washroom and soon handed his shirt to him.
Vansh went to Angre." Boss!! Chang wants to do deal with us. He ready to give good money for the diamonds." Told Angre.
Vansh: when we will go?
Angre: Tomorrow Boss. But I doubt on him that may he cheat us. should I call off the deal?
Vansh: no…not…if he will try to cheat us then I will not leave him.
Angre: But boss….it can be dangerous.
Vansh: Angre, we always played with danger. Our business is only all about danger.
Angre: okay Boss.
He was looking down and hesitate.
Vansh: Angre tell me what you want to say….you know you are like my friend cum brother.
Angre: I am happy for you and Bhabhi that everything is settled between you and her.
Vansh: yes Angre..Finally, everything is sorted.
Angre: but what about Ragini?
Vansh: she is creating problem between us but you nah Ridhima. So she doesn't affect us.
Angre: okay boss
Vansh: but how do you know that everything is sorted between us…I didn't tell you.
Angre smiled a little bit and said " Boss I know you better than yourself….and this mark (pointing to hickey)
Vansh felt embarrassed and blushes.
In jail..
Kabeer: what happened why you called me.
Anupriya: Kabeer when will you take me out.
Kabeer: mom you have to wait for some time as I am busy.
Anupriya: I have an idea for making things easy for you.
Kabeer: what??
Anupriya: As much as I know Ragini loves vansh but he started loving Ridhima. If you want ridhima out of vansh's life so you can take help from ragini.
Kabeer: why will Ragini help me. He knows how much I hate vansh.
Anupriya: because she is madly in love with vansh. You can easily manipulate her.
Kabeer: Today I will try to contact her them I will execute my further plan. This time JAAN you can't run away from me.
Anupriya (In mind): once she will be out of vansh life then it will be easy for me to kill her.(smirks)
Kabeer: mom don't worry I will take you out soon.
Anupriya: I am waiting for that day, beta.
In VR mention
Everyone was sitting at the dining table. siya whispered " Bhaiya where is Bhabhi"
Vansh leaned to her and said "she must be in her room"
Siya replied in low voice: I checked she is not there.
Vansh looked at her said " what"
While all this Ragini also noticed a hickey on vansh's neck and her face became red in anger. She left the dining table in anger.
Aryan : what happened to her.
Ishani: Mujhe kya pata…abhi to ridhima bhi nhi hai.
Aryan : leave her….she is toh already mad.
Ishani: yes!! Useless too.
Aryan: well said.
On the other hand….
Ridhima after practising shooting, she went to the office even before the vansh. She was in her cabin when Angre came to her.
Ridhima: what happen Angre?
Angre: files that I gave you yesterday….
Ridhima interrupted" blue wali" and Angre nodded. " I handed to vansh."
Angre: okay!! Today's schedule for Boss.
Ridhima: I have to see and then I will tell him.
Angre: ok!! Bhabhi if need any help then let me know….
Ridhima: Sure Angre…
In vansh cabin.
Angre: Boss owner of Rk industry want to associate with us…
Vansh: have you checked the background?
Angre: yes Boss! Everything is clear.
Vansh: ok set the meeting today….
Angre: Boss it can't be possible.
Vansh: why?
Angre: He didn't live in India but soon he will be settling here.
Vansh: ok!! And what about Chang?
Angre: Don't worry Boss. Mai sabhal luga.
Ridhima knocked at the door.
Vansh: come in Ridhima.
Ridhima: This is today's schedule and these are some file which needs your signature.
Vansh Signed angre to go out and he followed his order.
" what happened Ridhima? Are you not feeling good.? Why so you so irritated. Look at yourself how exhausted and pale you are."
Ridhima: vansh I am okay.
Vansh: But not looking so..
Ridhima: It's nothing new vansh during the period all girls feel irritated and stomach pain.
Vansh face turned dull and said then why you came office? You should take leave and rest at home. Just look at yourself Ridhima.
Ridhima: Vansh it's not for one time and we have to face this every month. vansh you don't know there are many girls who can't walk due to high pain in stomach and waist.
Vansh: Ridhima I don't know much about it but I can't see you like this.Tell me what I can do to give relief from this pain.
Ridhima: sometimes MASALA CHAI gives relief from it.
Without wasting a second vansh picked her in his arm and took her to the bedroom which is attached to his cabin." Vansh what are you doing" asked him.
Vansh: you take a rest here and I will come after some time with your MASALA CHAI. Don't you dare try to walk out?
Ridhima: But…
Vansh with anger: Ridhima! I said something.
Ridhima didn't dare to oppose him otherwise his anger going to touch the peak. She laid there like an obedient child and slept. Vansh went to the pantry and add all the stuff out of the pantry. Staff was shocked as it was the first time when vansh to the pantry. He called the head of the pantry and ordered her to take all the things required for MASALA CHAI.
She wants to ask him "why he is doing this when all the workers are present there to do this" but she didn't dare to ask anything to her Boss The great Vansh Raisinghania. To keep her mouth shut is better than face his cold behaviour.
Soon Angre arrived there as the whole office was filled with gossips about the entry of vansh in the pantry. " what happen, Boss? You are here."
Vansh: Hmm!!!
Angre: why are doing this when all staff is here…is they did anything wrong.
Vansh: nhi Angre…..chlo mai aata hu..
Angre: ok Boss…
Vansh prepared MASALA CHAI taking the help of the pantry head. When vansh reached his cabin, Ridhima was sleeping." Ridhima wake up…your Masala chai is ready."
While saying this he hugged her." What happened vansh?"
Vansh: your tea is ready to go in your pitty stomach.
Ridhima sipped tea and said " vansh you made this for me". She was very happy as vansh never did anything like this for anyone. This showed that how much he loves her and how important she is. Her eyes became teary.
Vansh: yes! Ridhima. If you cry like this then I will not do anything as I don't like tears in your eyes.
He wiped her tears as they rolled down after hearing "yes" from his mouth. He pecked her forehead and asked "how are you feeling now"
Ridhima: much more better than earlier.
They heard a knock at the door.vansh goes to check it was Angre who brought things which vansh asked him to bring. After taking them from Angre went to Ridhima.
Ridhima pointing to the bag asked " what is in this bag'
Vansh: these things for you sweetheart.
Ridhima with a puzzled face " for me but I didn't ask for that."
Vansh: these are some dark chocolate when you feel irritated have them as they contain potassium so they are help in muscle functioning but eat in limit because massive consumption will  trigger your blow flow and this is a hot water bottle that will give you relief from your stomach pain. Or ha…whenever you feel that you need masala chai just call me, I will prepare for you.
Ridhima was overwhelmed by his caring gesture, vansh was always caring toward her but these things are special and touched her heart.
Vansh: what happened? You need anything else…if you want then tell me as I don't know much about this…these things I got to know from Google so I brought.
Ridhima with a broad smile " nhi vansh…these are sufficient"
Vansh: okay!! In night I will tell you some exercises which will also help you in your periods…
Ridhima: what the need of this…
Vansh: Ridhima don't act like kid…they will sooth your pain….not only you even all girls should take these measures during monthlies….and stop giving these looks….I will not change my mind.
Ridhima: yes my lord!
Vansh: good!
Ridhima: vansh why you brought these books.
Vansh: these are also for you only…. the day before yesterday you told me nah you want to know my office work.
Ridhima: ooh yes! I told you…
Vansh: what happened?
Ridhiam: kitani moti moti books hai…
She picked a book in her hand and flipped pages…
Vansh: why are you again making faces…
Ridhima: vansh I don't like maths…
Vansh: first of all, this book is of economy… it contains simple maths of class 10 that too statistics….what is the problem in this. Class 10 tk to sbhi maths padate hai…
Ridhima bowed her head down." Don't tell me ridhima that you didn't have maths in 10″
Ridhima: vansh in my school we can leave maths in class 9 only and we have the option of home science if a student is weak in maths…as our school don't want to spoil class 10 result due to maths. So I took home science instead of maths.
Vansh: okay don't worry I teach you most efficiently.
Ridhima: okay!!
Vansh hugged her from back and said " Ridhima…"
Ridhima : Hmmm
Vansh: Ridhima what will you do when our child will ask any question from maths…
On hearing " our child " she started blushing and she got the glimpse of last night when they about have but what happen you know all….
Vansh: Don't shy Ridhima. Tell me Nah…I am your husband.
Ridhima: I…I will tell them that ask your Dada. He is the one who taught me maths and he will teach you also…
Vansh smiled and said " them " not bad Ridhima. Achha tell me how many children you want as you said " you will tell them"
Ridhima started burning and she started cursing her tongue." Tell me Ridhima!!" again he asked.
Ridhima: one prince and one Princess.
Vansh nuzzling in her neck and said" okay then we should start the process". Before Ridhima could react to his words he captured her lips in between his and started nibbling and bitting. All this happen in a fraction of a section and Ridhima eyes widened in shock. vansh slipped his one hand in the gap of the shirt between the buttons and by other, he opened her hair. As vansh hand touched her belly Ridhima opened her mouth giving the entry to him soon this kiss change into a passionate one. After leaving lips he attacked her neck and started marking there. She moaned his name and pulled him more closely. When vansh bites her neck, she clenched his shirt tightly.
Suddenly vansh parted himself and looked at ridhima whose eyes were still closed. He softly pecked the marked part and said " Sorry Ridhima!!! You were already in pain and I lost control….and…"
Ridhima placed a finger on his lips and said " vansh!!! You can never hurt me. I Love You Vansh."
Vansh: I Love You Ridhima!
Ridhima stood up from the bed and started tying her hair. Vansh also stood up and grabbed her hand. Ridhima looked at him and asked through her eye "what?".
Vansh: mujhe tum aise hi pasand ho….jab tumhare baal hawa me udate hai to meri saase ruk jaati hai….
Ridhima smiled at him and said " vansh this is an office and my all hairs are already messed up by you. I can't leave them free."
Vansh: okay!! You sit here I will make them and I will give best style of the world.
Ridhima sat on the bed and vansh gave her a hairstyle." Let's see what hairstyle you gave me". Vansh stopped her and said " not like this. First you close your eyes then I take you to the mirror then you will see my talent."
Ridhima did the same and when she opened her she was shocked to see her hairstyle and stood like statue.
Vansh: Ridhima tell Nah how is it?
---
Tell me guys…Kaise hogi hairstyle Ridhima ki…
The post Guns and Roses #Riansh (Immj2) Episode 28 appeared first on Telly Updates.