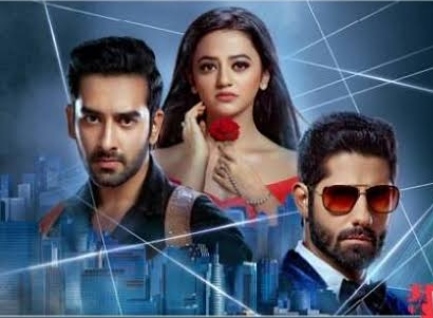 Hello everyone. Hope you all are doing well. I am back with new chapter 4 of our FF Eternal love. And ya thank you all for your appreciation. So now we can start new chapter
**************************************
Episode starts with
After thanking vansh Riddhima goes from there . Vansh sit in the car and goes .
AV hospital
Vansh reaches hospital. Aangre asked about Dr Anand Malhotra's cabine. Receptionist is doing some work so she said
Re : just 2min sir
5 min passes Receptionist is busy so Angre again ask her but again she said him to wait
After some time almost 30 min passes Receptionist's work didn't end . Vansh is losing his patience. To avoid any problem Aangre again ask her. Receptionist said
Re : sorry of inconvenience sir just 2min
Now Vansh losses his control and said in Anger
V : from past half an hour you are saying 2min. Is this is the way to treat visitors
Re : Sorry sir I am doing some imp work that's why…..
V : Keep your sorry with you just tell dr Malhotra's cabine
Riddhima is passing through. She heard angry voice of someone from reception area so she move there to see. She see Vansh is talking with receptionist in angry tone . Listing Vansh she goes toward them and said
R : What is happening here
Re : Dr he….
Vansh cut her in middle and said in anger tone
V : from past half an hour we are asking her about Dr Malhotra's cabine but she is busy in her own work . Is this the way of behav……
Riddhima Interrupt
R : Firstly you tell me are you always talk rudely with everyone.
She takes a breath and said
R : Anyway I am not in mood to argue with you. Dr Malhotra's cabin is on 2nd floor. Right turn after comeing out from lift
Vansh and Angre move to Dr Malhotra's cabine and Riddhima also goes to her cabine.
They both reaches Dr Malhotra's cabine. Angre knocks. Then they goes inside. Dr Malhotra said
Dr M : how may I help you
A : yesterday night you went to treat a patient to his home
Dr M : yes… Any problem
A : no problem we want his address and information.
Dr M : sorry but I can't tell you. This is against the rule of hospital
Vansh already is in bad mood because of that reception and the way Riddhima talked to him and now this doctor only rising his Angre. But he is trying hard to calm and said
V : and after treating patients not mentioning about that in record is in rules of hospital ( note sarcasm)
Dr is shocked he said to divert the topic
Dr M : if you have work then say or you can go.
V : I am asking you for last time tell me otherwise
Dr M : Otherwise
Vansh point gun toward him ( note Vansh is very short tempered )
Dr Malhotra gulped
Dr M : What are you doing. This behaviour doesn't suits on a respectable buisness man like you
V : then tell me about that patient
Just then Riddhima arrive
R : Dr that patient of bed num….
She see someone is pointing gun toward Dr she become shocked. Vansh turn listing her voice
Riddhima look toward vansh with hurt and disappointed expression. And leaves from there without doing the work for which she came.
Vansh sigh and put his gun in his pocket and and said to Angre
V : let's go
Angre is not able to understand what happen to him. This behaviour is totally opposite. Vansh didn't leave anyone if they try to outsmart him and here he is saying for leave without getting what they come for . So Angre said
A : boss about that……
Vansh glares him. Vansh and Angre leaves from his cabine. Dr Malhotra take a deap breath of relief.
They both goes toward exit just then Aangre collide with someone and car key fall down but he didn't notice. Riddhima sees that pick the keys and goes behind them .
They both are about to reach near car then
R : Mr Aangre…. Mr Aangre…
They stop and trun . They see Riddhima coming toward them . Aangre said
A : yes
R : your car key fall…. And handed keys to him
A : Thank you.
Vansh recive a call so he goes side to attend the call. Riddhima also started to leave . Just then she hear blast sound . She turns and see Vansh car blast
Aangre is slightly injured. Vansh is safe as he is standing away from car to receive that call. Gards injured badly. Riddhima is horrified with this.
People and Gaurds who are injured taken aside and received best treatment
Angre denies for treatment because he want to investigate matter by himself without any delay not even of 1 min but vansh insist him. Angre goes for treatment with Vansh . Nurse is going to start his treatment but Riddhima Interrupt and said to Nurse
R : I will treat him
Nurse noded and goes from there. Riddhima exam the wound and suggest for surgery. Angre is going to deny but vansh's one glare and he shut his mouth
After surgery Riddhima comes to vansh and said
R :Vo….. The…. The surgery is complete. We can see exact condition when bandages open.
V : ok
After investigation inspector comes to vansh and
I : hello Mr Raisinghnia
V : hello inspector
I : I want to talk with you…. related to blast
V : Continue
I : we have checked CCTV footage . By seeing that we are sure that Bomb is fixed before you came to hospital. Did you stop somewhere in your way
V : No
I : then we can conclude that bomb was fixed in your car when it is parked in mansion. So it is possible that someone intrude in mansion or this work is done by your fam….
V : Don't you dare inspector
I : Please Mr Raisinghnia we want your cooperation. That bomb was fixed when your car was in mansion. Rest is on you. You are intelligent enough to understand this .
Saying this Inspector went to complete his investigation. Vansh and Angre also leaves
In treatment and surgery of injured people time passes. It's evening. Riddhima become tired so she decided to leave
Riddhima and sejal house
Riddhima reaches home. She is very tierd so she said to Sejal
R : Yrr Seju I am very tired . Please make a black coffee for me
Sejal noded and Riddhima goes to her room for freshen up . After sometime she comes and set on sofa. Sejal gives her coffee and set beside her
S : I heard that Mr Raisinghnia….
R : Seju…. (Glaring)
S : What ( casually)
R : nothing


S : His car blast
R : Hmmm
Sejal sighed and asker her about what reply she will give to Kabir. Riddhima just said that she don't want to thinking about this now. She want to go somewhere so that she can get peace. So they decide to go to park and after getting ready they left
Meanwhile at VR mansion
Anupriya is tensed and waiting for vansh . They arrive . Anupriya come toward vansh and tell him that Aryan told them about car blast. Vansh assure Anupriya that he is totally fine.
Aryan comes to hall . Vansh warn him to don't poke nose in his matter . Aryan just roll his eyes.
They both goes toward study area
V : Angre take rest . I said you to rest in hospital but you didn't. Now here atleast you take rest
A : boss someone try to kill you… How can I take rest. My first priority is to punish them who dare to do this .
V : You will not listen to me. But just don't exhaust yourself
A : yes boss
V : tell our men to keep eye on Dr Malhotra . I am sure he knows something about that masked man. And bring CCTV footage recording
Angre come with footage recording and they started to watch . They notice someone near car doing something . Angre said
A : boss maybe he fixed bomb in your car.
V : find about it. And fire all the Gaurds they all are useless.
A : yes boss
V : and also found about that girl. She treated you but she is party planner. She is colliding with us again and again. Collect all information about her also.
A : ok boss
Angre want to ask something but hesitate . Vansh notice this and said
V : You want to ask na that why we left from there without talking to Dr Malhotra
A : ji boss
V : sometime there is no reason behind something, they are right according to that time.
A : Boss I am not understanding
V : somethings are not easy to understand. You can go. And ya do take rest for sometime
Angre goes and Vansh started to do some work to be precise buisness work. Then at night goes to his room and sleep.
At park
Riddhima and Sejal are roaming in park. They eat ice cream. Then they see children are playing and also started playing with them. In short they are enjoying without any stress
They are so engaged in playing that they didn't notice that it's become dark and it's going to be night. They are hungry so they decide to eat in restaurant.
Then after eating they went home and as they are very tired so they directly go inside there ro and sleeps.
That it for this chapter
**************************************
So what do you think . Who is Malhotra. Why he becomes tenses listing vansh . Is he know about that masked man . If yes then what is there relation. Why Riddhima get disappointed and why she is hurt after seeing vansh pointing gun toward Dr Malhotra. Who fixed bomb in vansh car. Why Riddhima glare Sejal when she mention Vansh as "Mr Raisinghnia".
To know all this stay tuned
And ya please ignore spelling and grammatical mistakes.
And do share your views about chapter in comment section
I will back with next chapter soon.
Stay safe , stay happy
The post Eternal love (Ishq mein marjawan 2 FF) Chapter 4 appeared first on Telly Updates.