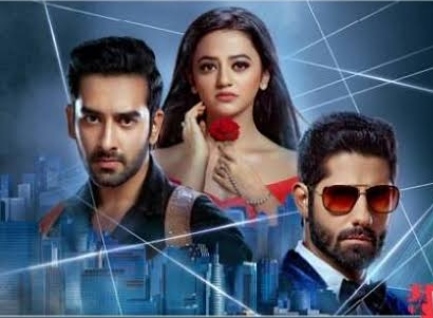 Hello everyone… I am back again with 3 chapter of our FF Eternal love. I am updating 3rd chapter as a compensation of being late so enjoy…
**************************************
At Mumbai
After meeting with Kabir Riddhima goes to beach as she want some alone time. She started playing guitar (she purchased it on the way as this is the only thing make her calm) . The place is isolated so she can play there.
She played like as she try to remove her pain . Like There is a tornado going inside her . She is showing her emotion through her guiter. She is very much depressed by what Kabir said to her
She get cut by guitar strings. Then only she sense that it's night . She leave for her home
Riddhima reaches home and press the bell . Sejal open the door
S : where were you. Why you are late
Riddhima is not ok that's why without replying Sejal she move toward sofa and seat there. Sejal come near her and said
S : what happen
Then Riddhima tell everything to Sejal. Party, shootout, masked man, meeting with Kabir in hospital, Kabir's proposal, her reply, Everything which he told about vansh
S : so now what will you do
R : I don't know. I am unable to believe that



…….
Sejal also has not any reply so she takes a sigh and said
S : what you will say to Kabir
R : I don't know…. I going to sleep
S: Eat some……..
But she goes to her room and lock the door.
Riddhima rest on her bad then she open her Pendent stare it with teary eyes . Then after some time she sleep
( Ridhdhima pendent- it is of gold. Heart shaped. A photo is attached inside pendent. )
VR Mansion (at night)
Vansh is waiting for Angre in is study . Aangre comes
A : Boss you called
V : did you found about that masked man
A : Nothing yet
V : till when…. I want every information about him as soon as possible
A : yes boss
V : I have seen those eye somewhere. His voice is also familiar
A : soon I will found about him
V : You can go now
Angre leave from there. Vansh also goes to his room
Vansh lock his room and then open a locker and that locker contain many things like, many pics of someone , anklet (single not in pair) earing , nuptial chain, vermilion box etc
He stare them for sometime like he is missing someone. Then take a pics from the locker and said
teri meethi meethi yaadon ko palko pe saja rakha hai,. Sath guzare lamho ko dil mein basa rakha hai.
He is getting week
V : Why you did this to me. It doesn't matter how many time I try I am unable to forgot you. You gave me pain when you was only medicine.
Then he again kept that pic inside the locker and sleep.
Next day
Riddhima and Sejal house
Sejal is preparing lunch. She is hurt by her behaviour. She is afraid for her. Just then Riddhima some there and ask Sejal
R : What happen
S : that's what I want to ask what happen to you. I know that you are not ok that's not mean that you skip your food.
R : Please just listen to me
S : first you listen to me , nither you ate your dinner nor you ate your breakfast. If anything happen to you what I will say to them
R : I am sorry
S : What sorry . You go and lock your room stay there only no need to come outside
R : Please, sorry , I will not do anything thing like this again . Just tell me what I do to pacify you. I will do anything
S : I will not talk to you… You know that very well if you will not eat anything you can't take medicine. And if any dose miss then you will….
She is not able to complete that sentence and started crying


R : I promise next time I will not do anything like this. I am just worried about what Kabir said.
S : he is the only important person for you
Riddhima make puppy face and request. Finally Sejal smile
S : I will not talk to you if you again do anything like this. I know you are worried for him that not mean you will not take care of yourself. Now eat lunch than take medicine ok
R : ok , listen today I am going to hospital . ( Actually Riddhima is in Holiday for some work)
They both eat lunch together. Sejal give her medicine. Then Riddhima leaves
Meanwhile at VR mansion
Vansh is working on laptop. Angre comes there. Without taking eye away from laptop he ask
V : Any information about that masked man
A : boss it is getting difficult to collect information about him. That masked man get shot that's why I sent our men to different hospital. And they informed me that from AV hospital a doctor goes to treat a patient in his home who had shot so I myself went there but it was not mentioned in record.
V : then why you didn't ask about it
A : I had asked but no one was ready to tell anything.
V : Interesting very interesting. Find about that doctor I myself talk to him.
A : ok boss
After 30 min Angre come hurriedly and said
A : boss I got information about him.
V : so what are you waiting for tell me
A : he is one of the best doctor of India Dr Anand Malhotra
V : fix appointment. I want to meet him
After 30 min Angre said
A : boss over appointment is at 1:00 pm
Vansh look at watch it 12:30 so they left for hospital
Riddhima is crossing the road and come on front of a car and fall. That is vansh's car Driver apply break so car stoped with jerk. Vansh yelled
V : what the he is this
D : sir a girl in come in front.
A : boss she is that girl who is came for planning beach party
Vansh come outside and goes toward riddhima. He give is hand Riddhima hold it and get up. They share eyelock.
( Situation is like first meeting of SRK and Kajol in DILWALE , Bulgaria vala scene)
Angre interpt
A : boss we are getting late
It broke their eye lock . Riddhima realised what just happened and started looking here and there then said not meeting her eyes with his
R : Thankyou for help
And she goes from there. Vansh sit in car and goes
That it for chapter
**************************************
So how is the chapter.
Why Sejal is worried about Riddhima, about which medicine they are talking. About whom Sejal is talking. Who is Dr Anand Malhotra. What is the relation between masked man and Dr Anand Malhotra.
To know about all these stay tuned
Stay safe. Stay happy
The post Eternal love (Ishq mein marjawan 2 FF) Chapter 3 appeared first on Telly Updates.